Former Brown defenseman Brendan Whittet has accepted his alma mater's offer to return to Providence as the Bears' 22nd head men's hockey coach.
Dartmouth Athletics confirmed initial reports of the move on Tuesday, as the 11-year assistant to Bob Gaudet — who himself coached Whittet at Brown in the early 1990s — moves back to his home state of Rhode Island to fill the vacancy left by 12-year helmsman Roger Grillo.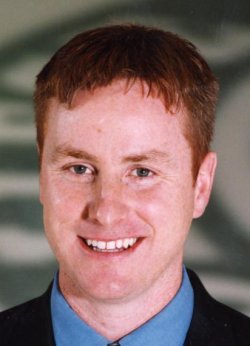 "We're really excited about it," said Gaudet, who served as Brown's head coach between the fall of 1988 and spring of 1997. "He's a guy with a lot of passion for the game and for Brown. He wore the uniform down there, and I think that is going to translate to the players, the passion he has for the school.
"He was a defenseman, but he played on some really solid hockey teams, so his remembrance is going to be of a lot of success at Brown."
Wherever Whittet has gone, success has seemed to follow.
A native of East Providence, R.I., Whittet played high school hockey at powerhouse Mount St. Charles under the legendary Normand "Bill" Belisle, where Whittet was named the state's Defensive Player of the Year in 1988-89. Whittet enrolled at Brown following a post-grad year at the Kent School, and contributed to the Bears' Ivy League title in 1992, ECAC Championship appearances in '93 and '94, and the program's last NCAA berth in '93 as well. A member of the class of '94, Whittet graduated with a Bachelor of Arts degree in organizational behavior and management.
The newly minted alumnus promptly joined Gaudet's staff as a volunteer assistant coach in '94-95, where the Bears won another Ivy crown. Whittet jumped to Colby the following season, and the Mules responded with an ECAC East Playoff Championship. Whittet found Gaudet once more in New Hampshire the following year.
In Hanover, Whittet was primarily responsible for the Big Green's defensive and penalty-killing systems. His skill was especially notable in 2004-05, when Dartmouth boasted its lowest goals-against total (2.37) in 44 years. During his tenure, the Green claimed a Cleary Cup as ECAC regular-season champs, an Ivy League title, two championship game appearances, and a string of seven straight winning seasons ending with 2006-07's squad.
Whittet takes over a program that has struggled lately under recently departed Grillo, going 5-23-5 last season — its most losses and lowest winning percentage since 1988-89, which was coincidentally Gaudet's first season at the helm. In 83 seasons of men's ice hockey spanning 113 years, Brown has never won an ECAC Hockey regular-season or tournament title, nor a national championship, and hasn't qualified for the NCAA tournament since Gaudet's fifth season, 15 years ago.