No matter who graduates, who gets hurt, or who the unproven freshmen are, Niagara is always at or near the top of the CHA standings.
Niagara expects that.
Most years, Niagara succeeds and this year, the expectations are the same as they always are.
"I'm happy with the depth we have at each position," NU coach Dave Burkholder said. "I think that lack of depth maybe hurt us last year down the stretch, but now we have three goalies who can play, nine defensemen who can play and a good group up front."
Leading the forwards will be All-CHA preseason team selection Chris Moran and senior classmate Egor Mironov. The two combined for 28 goals and 59 points a season ago and, with the loss of Vince Rocco, will be heavily leaned upon to shoulder some added offensive responsibility.
"It's our [upperclassmen] job now to make sure each game that this team is ready to go," Moran said. "We've got a big, solid team and a big freshmen class. Our non-conference schedule is probably the toughest in the country, but the guys have worked hard and I think it's our time to shine.
Juliano Pagliero graduated last year, leaving what would appear to be a huge hole in net, but Burkholder is going to give junior Adam Avramenko every chance to take the ball and run with it.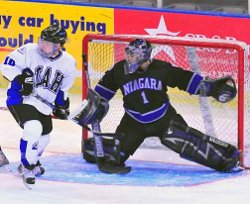 "Adam Avramenko has earned the No. 1 moniker and has played really well the past two seasons," Burkholder said. "He's done all we've asked and more."
In front of Avramenko, the Purple Eagles' defense will be solid with seniors Ryan Annesley and Tyler Gotto. Those two are captains along with senior forward Ryan Olidis.
"We made Annesley a captain as a junior and you don't see that a lot in college hockey," Burkholder said. "We feel our three captains are the voices and examples on this hockey team. Olidis will get more chances to help out offensively and I think he'll do well in his expanded role."
NU will also have home-ice advantage next March as the CHA tournament will be contested at Dwyer Arena. Before that, though, are the tough league schedule and an even tougher non-conference slate that Moran mentioned.
"Our schedule speaks for itself, but we've always done well against teams from the big four (conferences)," Burkholder said. "We've played better and better against those teams each year."
To step right in and play Colgate this Friday, the freshmen will be thrown right into the fire. It's a situation Moran thinks won't be an issue as the freshmen new to Monteagle Ridge are dynamic players.
"Guys like (defenseman) Danny Weiss and Marc Zanette, Paul's younger brother, will fit right in," Moran said. "Weiss has a blast of a shot and looks solid and Marc can really throw the body.
"We have four freshmen defensemen," Burkholder noted. "And I think they'll all play for us. I also think our junior forwards are ready for breakout years."
Rocco and Ted Cook (NU's all-time leader in goals), both of whom signed minor-league deals this past offseason along with defenseman Dan Sullivan, will be difficult to replace, but the freshmen coming in should grow fill those roles, Burkholder said.
Also new to NU — well, sort of — is new assistant coach Tim Madsen, a 2008 Niagara graduate. Madsen, who won a national Tier II Junior A championship last year as an assistant coach with the St. Louis Bandits, will be a valuable resource for the Purple Eagles.
"It was unfortunate Tim had to retire with concussions, but he's been a winner everywhere he's went," Burkholder said. "He'll be great for recruiting and with the contacts he has in the hockey world, he'll be a big asset."
At the end of the day, though, one thing and one thing only matters in the minds of the Purple Eagles.
"We want to get to the (NCAA) tournament," said Moran. "And make some noise."