It was about time Alabama-Huntsville started getting some ink in this column.
After starting out the year en fuego, the Chargers tailed off, but came back alive last weekend in sweeping Niagara at a place they hadn't played in 75 days — the Von Braun Center.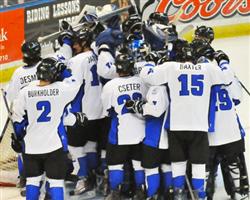 Also sweet was that the sweep was UAH's first since the 2005-06 season when Wayne State lost two straight in Huntsville Feb. 24-25, 2006.
"You go through enough reps in practice and you find yourself in the game and cash in, and that's the way it should be," Alabama-Huntsville coach Danton Cole said to the Huntsville Times. "You have to win close games, you have to win the third period and elevate your play at the right time.
"I thought the guys did that [last] weekend."
Saturday afternoon, the Chargers came from behind and topped NU, 3-2.
A late hooking call gave UAH a man advantage as the clock was winding down and it paid off with 24 seconds remaining when Keenan Desmet found Neil Ruffini out in front of the net, and Ruffini made no mistake.
Tom Durnie and Cale Tanaka tallied the other goals for the victors, who got 31 saves from Cameron Talbot.
Chris Moran and Bryan Haczyk scored for the Purple Eagles.
Chris Noonan took the loss in goal, but did turn aside 35 shots.
"Considering all the momentum that we had, especially in the second period, we just couldn't score the back-breaking goal," Niagara coach Dave Burkholder said. "We just couldn't put them away. They played well enough to stay in it and got some power plays at crucial times."
Friday night, UAH took a 3-2 win on the strength of goals from Jamie Easton, Matti Järvinen and Andrew Coburn.
Derek Foam and Marc Zanette scored for NU.
Talbot picked up the win in net for the Chargers with a 30-save effort, while Andrew Hare took the loss making 27 saves.
"Alabama-Huntsville played a real thorough game," Burkholder said. "They didn't give up much when we had the puck and were very opportunistic on their chances."
UAH is hoping this sweep gives them some momentum as the final month of the season is now here.
"We've been working hard all year, and we had a slump for a couple of weeks, but now things look like they're coming together," Ruffini said to the Times. "After this, I think it's our time."
RMU, Bemidji do Splits at Glas
Maybe Bemidji State is losing some momentum.
Maybe Robert Morris is gaining momemtum.
Maybe.
Last weekend in Bemidji, the Beavers and Colonials split their series, with BSU winning Friday night and then falling Saturday night.
Friday night's 5-1 win was Bemidji State's 500th at the Glas Fieldhouse. The Beavers, who are in their 43rd and final season calling the Glas home and are just months from moving into the new 4,300-seat, state-of-the-art Bemidji Regional Events Center, have logged 684 games on their current home ice and have compiled a record of 500-143-41.
Jordan George and Ian Lowe each scored a pair, while Tyler Lehrke added the other for BSU.
James Lyle scored RMU's lone goal.
Dan Bakala picked up the win with a 32-save outing and at the other end, Brooks Ostergard finished with 28 stops.
Bemidji State's senior class of Kyle Hardwick, Lehrke, captain Chris McKelvie and Chris Peluso was honored in a pre-game ceremony Saturday night, but the Colonials spoiled the game with a 5-2 win.
Ostergard led the way in net for the Colonials as he picked up 26 saves.
Nathan Longpre, Zach Hervato, Denny Urban, Stefan Salituro and J.C. Velasquez were the goal scorers for RMU.
"Hats off to Robert Morris," BSU coach Tom Serratore said to the Bemidji Pioneer. "They outworked us and were the better team [Saturday]. We seemed flat and stale the whole night. We didn't play with any emotion."
Robert Morris, however, did have the emotion. Hence the win.
NU, RMU Play to 'Tired' Tie Wednesday
Sam Goodwin's wraparound goal with 1:29 left in the third period brought Niagara into a 4-4 tie with Robert Morris in western New York Wednesday night.
The game was the make-up game from a game in December postponed due to brutal weather.
"Both teams looked tired," Burkholder said. "For us to come back and salvage a point is big. Goodie made the play when we needed it."
Tyler Gotto, Moran and Ryan Olidis scored the other NU goals, while Adam Avramenko, who stepped in for Noonan at the beginning of the third, made nine saves. Noonan was pulled after allowing four goals on 18 shots.
Joe Harcharik had two assists for the Colonials — his first two NCAA points — while Urban, Nick Chiavetta, Salituro and Hervato scored.
Ostergard finished with 27 saves.
Akers Leaves Niagara for USHL
Kurt Akers saw little playing time with Niagara, so with junior eligibility remaining, the forward caught on with the Tri-City Storm of the United States Hockey League.
"I left Niagara for better opportunities," Akers said on USHL.com.
"He hasn't been here very long, but since he has, he's done real well," said Storm assistant coach Eric Fink in the same article.  "He's fast, he's got a decent amount of skill. He can be gritty, too. He can get in and hit guys, which makes a big impact on the game."
Akers made an impression with a goal in his second game, which sparked a rally and gave the Storm a 4-3 win over Sioux Falls. 
"He proved that he can score," added Fink. "Hopefully, that's a trend that he can continue and not be a one-game thing."
Akers played in just six games last season, going pointless, and had yet to see the ice this year. He would be eligible to play for another Division I team the second semester of next season.