With just three weeks remaining in the regular season, the pressure is on to really refine the level of play in order to garner as many points as possible in the final half dozen games of the season. This refinement will not only help define the teams' playoff positions but also set the stage for moving into the playoffs with the right focus and game plan to make a run at a conference championship.
"A good analogy is looking at being a builder," said Bowdoin head coach Terry Meagher. "We have done all the heavy lifting, pouring the foundation, framing the house and such early in the season. Now we are really working on the trim and finish work and getting the house ready for sale and showing off how solid and good the construction really is. With a 'one and done' tournament format you want your team playing at a high level with attention to the little things that will help you be successful — the finished work."
Right now everyone is hoping the construction is solid and in some cases looking at the "master contractor" on their roster to help expedite the process of building a championship run.
Babson Success Coming Out of the Woods
While Babson head coach Jamie Rice's team is no stranger to winning the ECAC East title (two in the past four seasons), this year's team has had a number of new experiences to challenge the mental toughness and resiliency of the entire roster. And from those challenges a new team leader has emerged that has the Beavers turning their game on at the right time of the year.
"In all my years of coaching, I have never had a year like this one," said Rice. "If you told me at the beginning of the season that we would lose our leading scorer, best defenseman and another key senior forward from roster for virtually the entire season, I would say that would cause big problems for a young team looking for production and leadership from those key guys."
Babson has in fact lost Jason Schneider, Gabriel Chenard-Poirier and Corey Griffin to season ending injuries so far has weathered the loss of the seniors, albeit with some other hardships along the way.
"Everyone has injuries," noted Rice. "It's a part of the game that every team has to deal with and nobody ever uses it as an excuse for performance or how the team is doing overall. This year has been strange in that losing the three kids was a big deal but since our first day of practice we have never had our full 26 players on the roster on the ice.
"We are lucky when we have 19 or 20 sometimes so we are learning to get by with the players who can go and have been developing the experience and confidence along the way especially with the young players."
A clear leader for Babson has been their leading scorer, junior Terry Woods. His 12 goals and 13 assists lead the offense for Babson and his goals have been big ones contributing on the power play, man-down situations as well as two game-winning tallies so far this season.
"In the six years I have been here, I have never had a kid more valuable to his team than Terry [Woods] is this season," said Rice. "He is really underrated even going back to his days at Andover Academy. I think the four game streak he is on right now is incredible and certainly something I don't remember seeing here at Babson."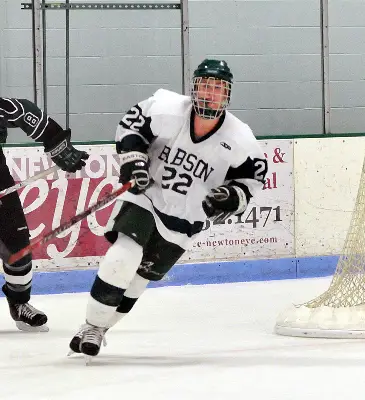 During the past five games, where the team has gone 4-0-1, Woods has paced the offense with seven goals and six assists for 13 points. The current five game unbeaten streak is the longest of the season for the beavers and something the coach hopes can continue during the final weeks of the season.
"He [Woods] is a kid that just loves to compete," said Rice. "Some kids don't like to practice against him because he is always full bore on the ice. He has a high level of competition and is one of those kids who really leads by example and what he does more than what he says."
Babson's current streak — which includes last weekend's 3-3 tie against undefeated Norwich, the second ranked team in the nation — reflects a more consistent game overall and the focus that their coach is expecting where the games are all key to final standings and controlling one's own destiny.
"We have played a lot of close games this season," said Rice. "Almost all of our games early on were 1 goal games or empty net goals at the end for the final differential. Those are very close and competitive games that, while we didn't win them all, should be valuable experience for this part of the season and moving into the playoffs. There is no doubt that with the close games and the need to overcome our injuries, the team has gotten closer and really has been playing with a passion that we need to be successful."
This weekend the Beavers are hosting St. Anselm and New England College and hope that the team and Terry Woods can continue their late season run towards another conference title.
Pilgrims Looking for Ways to Win
The New England College team is finding themselves in unchartered territory late in the season as they look up at the teams ahead of them, with eyes on eighth place overall. While their current position is not where head coach Tom Carroll would like to see his squad, he understands the competitive nature of the league and is focused on his team being just three points out of third place in the standings.
"We are really trying to compete hard every game," said Carroll. "We have just a few games remaining in the regular season and this is the last weekend where we play teams from our conference since we finish with our last four games against NESCAC teams.
"All of the games are important and certainly we are just focused right now on playing against a very good Babson team on Friday night. They are playing very well right now so it will be a good challenge for our team to play well and fight for much needed points."
For a team that boasts only one two game winning streak this season (three consecutive victories in early January), the Pilgrims are trying to establish consistency in their game so they can improve their position in the standings and be ready to play at their highest level come playoff time at the end of the month.
"For us it is really about competing hard and doing the little things on a consistent basis in order to be a successful hockey team," said Carroll. "We have definitely had some ups and downs over the course of the season but we have a great group of kids and I am confident that we can get it going at the right time of the year."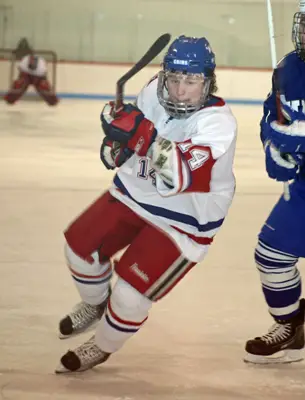 One guy who has had it going all season for the Pilgrims is senior forward Alex Muse. The Lynnfield, Mass. native has had a great senior year and has been a key offensive player for the Pilgrims on every shift and especially on the power-play unit. Muse has a team leading 23 points with 10 goals and 13 assists. He also has seven power-play goals to lead the team and his productivity has not been a surprise to his coach or teammates.
"We were always very confident in Alex's abilities," said Carroll. "He has been a key contributor in his time here at New England and this year he has just taken it to a higher level. It's been great to watch him play this season and have success and I hope he can continue his level of play over the remaining games in the regular season and into the playoffs."
One of Carroll's new assistants may also have a say and some input with how this Pilgrim team finishes off the season.
Former league all-star and NEC graduate Mike Carmody has taken a hiatus from professional hockey to join the coaching ranks with NEC. His recent success at the school as a player under Carroll certainly is something the coach thinks has resonated with the players.
"Mike is very interested in coaching and has come back to school to finish his course work while recovering from an injury that kept him out of the game for awhile," Carroll said. "I think he brings very valuable experience to relate to the players since he was here not too long ago and provides a great outlet for kids to open up about what their facing on the ice with somebody who was just there going through the same things. He has been a great addition to the staff and is really learning about all of the aspects of coaching on a first-hand basis."
The Pilgrims play their last two home games this weekend before finishing the final two weeks of the regular season on the road. Every game is a must win situation right now but the Pilgrims will need to improve on their 1-4-2 conference road record if they want to move up in the standings and compete for a home ice berth which is only 3 points away from where they sit now in the conference.
Joe Concannon Award Celebrates Tenth Anniversary
Back in 2001, the first Joe Concannon Award was bestowed upon Norwich forward — and current Washington Capital — Keith Aucoin. The honor, which is named after the distinguished sports writer from the Boston Globe, celebrates the best American-born player at the D-II/III level in New England.
The award keys on on-ice performance, sportsmanship, leadership, and off-ice values, including academic and citizenship on campus. The press release announcing this year's nominees just came out this week and with every New England conference represented, there are a lot of great hockey players on the list and no clear cut winner defined right now, which should make the evaluation for the award committee members very challenging over the final weeks of the season.
Here is the list of nominees in alphabetical order along with their hometown and school affiliation:
Scott Barchard, goalie, Reading, MA, Tufts
Chris Chambers, forward, Crofton, MD, Plymouth State
Billy Crinnion, forward, Smithtown, NY, Colby
Bryan Curran, defense, Defense Wilmette, IL, Middlebury
Tom Derosa*, forward, Charlestown, MA, Tufts
Vinnie Jacona, forward, East Stroudsburg, PA, UMass-Boston
Skylur Jameson, forward, Long Beach, CA, Wentworth
Zach Joy, forward, Dover, NH Southern Maine
Ryan Kligensmith*, goalie, Morton, PA, Norwich
Alex Muse, forward, Lynnfield, MA, New England College
Coleman Noonan, forward, Norfolk, MA, St. Anselm
Pat O'Kane, forward, Hollis, NH, Assumption
Alex Smigelski, forward, Mt. Lakes, NJ, Williams
Eric Tallent, defense, Garland, TX, Norwich
Terry Woods, forward, Duxbury, MA, Babson
Dennis Zak*, forward , Dover, NJ, Westfield State
*Repeat Nominee
Every team is focused on performing when it counts the most. Every player is expected to pull their weight and play with focus and determination while even more is expected from those leading their teams to continue to have success and provide the production and leadership every hockey team needs at this time of the year. The races are tight and every weekend sees the standings get jumbles again so let the scoreboard watching begin.
Drop the puck.