It's Playoff Time
And with it comes this midweek column to preview the play-in round. There are two rematches of a different sort in the first round. A rematch from last year, and a rematch from last weekend.
Potsdam and Brockport do it again one year later, once again at the Tuttle North Ice Arena as Brockport tries to repeat history.
Morrisville and Fredonia do it again three days later as the result from this past Saturday determined these two teams meet again.
It's a single game elimination with 20-minute overtime periods, if necessary.
Play-In Previews
(All statistics in the previews are for conference play only.)
Potsdam (9-13-2 overall, 5-10-1 in SUNYAC) at Brockport (13-11-1, 7-8-1)
Last year, Brockport hosted a playoff game for the first time, and then won their first ever playoff game. All against Potsdam. This year, Brockport hopes to repeat history as they host their second playoff game in school history looking for their second playoff win. Once again, against Potsdam.
The Bears, however, have other thoughts. To do so, they are going to have to overcome a dismal second half of the season after having a strong midyear performance. Potsdam finished 3-8, going 2-6 in SUNYAC play. They went from a potential third place position to just barely making the playoffs.
The teams split their series this year, each registering home victories: 6-3 for Potsdam and 4-2 for Brockport.
"First game against Potsdam, we learned we did things well for 30 minutes," Brockport coach Brian Dickinson said. "Then they did things well for 30 minutes. For the second game, it was a good college hockey game. We definitely had the better goaltender, and we played well for 60 minutes."
Brockport will once again have to rely on Todd Sheridan (3.50 goals against average, .903 save percentage), the senior goaltender who has been the foundation for their recent success.
"He is healthy," Dickinson said. "Played great against Oswego."
Leading Brockport in goals within the conference is assistant captain Sean O'Malley with nine. James Cody (six goals, six assists, 12 points), assistant captain Ray Tremblay (2-11-13), and captain Justin Noble (5-7-12) will also be looked at to get the offense going.
However, it is the defense that Brockport will have to rely on as they only score 2.69 goals per game, better than only one team. They gave up 3.56, fourth best in the league.
Potsdam doesn't have trouble scoring: 3.50 per game, fourth best in the league. It's giving up goals where the Bears are dismal, last at 4.62.
The offense is led by captain Connor Treacy (10-18-28), Todd Hosmer (11-10-21), and Fraser Smith (7-11-18). Though the goaltending has greatly improved this year, Trevor O'Neill and Andy Groulx have still let up a lot of goals, partly due to a defense prone to mistakes.
The key to beating Potsdam? Very simple, but difficult to execute, as Dickinson explains: "We definitely got to shut down their top three — Treacy, Hosmer, and Smith. We can't let them get loose. We have to limit their chances."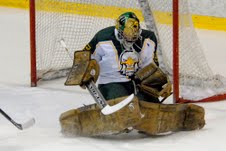 The key to beating Brockport? Beat Todd Sheridan. The only way to do that is to get him to move around in the net. If you simply take shots from outside giving him time to track the puck, it's going to be a long night.
"Playoff hockey is pretty much the same when you get the four and five match up," Dickinson said. "It's always a close game."
Morrisville (8-16-0, 5-11-0) at Fredonia (17-6-2, 9-5-2)
"We're going to see them back here in 72 hours," Fredonia coach Jeff Meredith said after his team defeated Morrisville, 7-1, to ensure the rematch. This is the third time in four years Fredonia finished the regular season and started the playoffs against the same team.
Jordan Oye (11-15-26) will have to stay hot for his Blue Devils along with Alex Morton (9-13-22), Bryan Ross (8-13-21), assistant captain James Muscatello (9-1-16), and rookie sensation Mat Hehr (9-8-17).
Each goalie appeared in 10 conference games with sophomore Kody Van Rentergem having the better numbers (2.55, .921) compared to senior Pat Street (4.57, .861). Expect to see Van Rentergem get the start for the playoffs.
After a one year absence from postseason play, Fredonia had a strong year, finishing in third place.
"We're excited to play at home," Meredith said. "We're excited to get into the playoffs. Brian Grady does such a good job with that team. They've had such a fantastic year. We just need to continue to stay focused, play a hard game, and play to our strengths."
Morrisville is in the playoffs in their first year of eligibility.
"It's huge," Morrisville head coach Brian Grady said. "We certainly had the goal to make it this year."
The main reason they made it is because of senior netminder, Caylin Relkoff (4.31, .884). However, his defense has sometimes let him down as Morrisville is tied with Potsdam for the league's worst 4.62 goals allowed per game.
"He's as focused as anyone," Grady said. "He's a leader not only on the ice with his play but also in the locker room. He knows there's another night. We know we are going to get his best."
Up front, captain Andrew Alarie (7-22-18) leads the way, along with Matt Salmon (9-3-12), Bobby Cass (5-8-13), Rob Sgarbossa (4-8-12), and assistant captain Dana Calderone (5-6-11).
Fredonia has not been as stingy on defense as in years past. They rank fifth at 3.69. However, they are third in offense at 4.44.
The key to winning? Continue to stay out of the penalty box as the Blue Devils have the second lowest penalty minutes per game at 12.3. This will allow them to spend time using their forechecking to create offensive opportunities like they have all year.
The key to a Morrisville coming out ahead? Stick to the basics, don't go beyond their means, and depend on Relkoff.
"We just need to get back to what got us to this point," Grady said. "We played 120 minutes on the weekend and that prepares us for this postseason. It's a quick turnaround here, but we're used to that. I think we have to approach it the exact same way.
"We're not looking to make any drastic changes or anything. We have to execute a little better. We have to take care of the puck better in our own end. Stay out of the box. It's a one game season. We'll give it our best, and they will give theirs."