Oswego Lakers (26-2-0 overall, 15-1-0 in SUNYAC)
The last time the Oswego Lakers won the national championship in 2007, they had to travel way out to Superior, Wis. The following year, the national tournament was moved to nearby Lake Placid. Oswego didn't make it. Lake Placid hosted it again. Oswego didn't make it. Lake Placid got it one more time while it was announced it would move out to Minnesota the year after.
Oswego finally made it with an emphasis, thrashing Bowdoin, 9-2, in the quarterfinals.
"Thank God they're hosting again," Oswego head coach Ed Gosek said. "It's awesome for our fans. Feels great."
Teams between regions don't get to see each other much, but St. Norbert is probably the one western team Oswego is most familiar with lately. They met in the 2007 national semifinal game, which Oswego won 4-3 in overtime. Then, the following year, St. Norbert came to the Oswego Pathfinder Classic, though they did not face each other.
The year after that, Oswego returned the favor, traveling to Green Bay for the St. Norbert Thanksgiving Tournament where the Lakers defeated the Green Knights, 4-3.
(In fact, 4-3 seems to be the magical score. Oswego won both games in the 2007 championship weekend by 4-3 scores, both in overtime, and Oswego won both games they ever played against St. Norbert by 4-3 scores.)
"They are as usual very good defensively," Gosek said. "And when I say defensively, I mean the whole team philosophy, not just good individual defensive skills. Opposite of Bowdoin. They take their chances and opportunities only when you offer it to them. They don't give up odd man rushes. They have firepower up front."
Speaking of firepower, that's something Oswego has many times over. Every coach who faces Oswego says the same thing — Oswego has the best group of finishers in the game.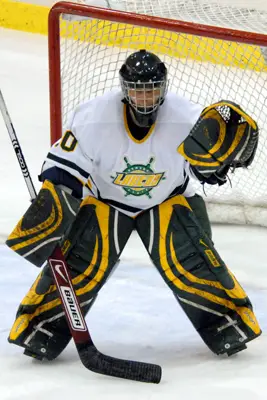 "They're the second best team offensively I've seen this year and the other one is going to be millionaires in 10 years — the under-18 national team," Bowdoin coach Terry Meagher said.
"They came as advertised. That is a very skilled and talented group. Their finishing ability is special. In the game right now that's what everyone is striving for at any level. I've seen a lot of good teams but I've never seen as dynamic and as gifted and as opportunistic as that one. It was a pretty special show. I expect them to make a lot of noise in Lake Placid."
Six players have double digit goals with the lowest sitting at 13 (one less than the highest goal scorer for St. Norbert) and Neil Musselwhite has six shorthanded goals. The forth line lately, as well as a defenseman who only scored one goal prior to the playoffs, are lighting the lamp up. This is a team that does not have to outplay their opposition. They just need enough opportunities to outscore their opponent because they hardly miss.
The key question on everyone's mind is will the Olympic size ice surface be an advantage to the speedy Lakers?
"I don't know if it matters when it comes to this point to change what you do because of the ice surface," Gosek said. "You stick to what you do. What got you here. You still have to win the 1-on-1 battles, defend, and distribute the puck properly. Maybe it will give you that little bit of extra time to make a move with the extra space compared to a smaller rink, and then we can be in a position to use our speed."
One thing speed does do is wear a team down. During the postseason run, Oswego has exploded in the second or third period. Against Morrisville, they fired in four third period goals to break a 4-4 tie. The next week, Oswego got three second period goals to pull away from Plattsburgh to an eventual 6-3 win. Then, versus Bowdoin, the Lakers burned the lamp out in the second with five goals.
The scoring by periods this season displays this progression: 38 goals in the first period, 54 in the second, and 59 in the third. While defensively, Oswego keeps it consistent, 19, 18, and 18, respectively.
"I thought in the first period it was pretty even play," Bowdoin captain Colin MacCormack said. "But then in the second period … It was pretty impressive to watch."
"Everybody looks good," Gosek said of his team's health. "At this time of year, everybody has their bumps and bruises, but no injuries that will keep anyone out."
The question is, can any defense keep the puck out of their net against Oswego.
St. Norbert Green Knights (23-3-3 overall, 14-2-2 in the NCHA)
With a 4-3 opening round win over Adrian and a 3-1 victory over Gustavus Adolphus in a quarterfinal last Saturday, St. Norbert College has again advanced to the Final Four.
Hosted in Lake Placid, N.Y. for the second straight year — and site of the Green Knights' 2008 national championship — it will mark their sixth Final Four appearance in school history, with all coming since 2003. The Green Knights will face Oswego State in Friday's first semifinal. Game time is 4:00 p.m. EDT.
"Well it's awesome," said St. Norbert head coach Tim Coghlin, who is in his 17th season behind the Green Knights bench and holds an overall record of 346-103-39. "I'm really really proud of our guys. I think we've done so much together this year and I think we've grown so much as a group so it's exciting to be able to end it with the final weekend of hockey in Lake Placid.
"What a rewarding experience for our seniors, our staff, our fans and all of the administration on campus."
St. Norbert's first foray into the Final Four in 2003 ended with a loss to Norwich in the semifinals, but the Green Knights' returned in 2004 to score a semifinal win over Plattsburgh state before becoming yet another Middlebury victim in the championship game.
After bowing out in the 2005 quarterfinals, they made appearances the next three seasons, and lost to Middlebury in the 2006 title game and Oswego in a 2007 semifinal before finally breaking through in 2008 with wins over Norwich and Plattsburgh to earn the national championship.
It might seem the return to Lake Placid is something that might work in the Green Knights' favor this weekend as it will be a somewhat familiar experience, but Coghlin doesn't necessarily think that will be the case.
"Does it help to know a little bit about Lake Placid? Probably. But we don't know any more about it than any of the other teams do. These are three of the same four teams that were here in 2008, so in the end I don't think our experiences will be any sort of significant advantage."
And as to how national championship experience pertains to Oswego itself:
"It's interesting because all the seniors on Oswego's roster played in one of these and won a national championship when they were freshmen. Then a lot of our guys won a championship when they were sophomores or freshmen. Both teams have the advantage of having guys who have been in that spot."
The Final Four often has a bit of mystery to it, especially in the case of East-West match ups as unfamiliar opponents can often create unexpected results. In this case, however, St. Norbert and Oswego are no strangers to each other as they have met twice in the past three seasons.
The Lakers are 2-0 in those contests as they dropped St. Norbert 4-3 in overtime in the 2007 semifinals before traveling to St. Norbert a year ago and once again downing the Green Knights 4-3. St. Norbert also participated in the Oswego Pathfinder Bank holiday tournament in 2008, but the two teams failed to meet.
"When we played them in that '07 game it was a really hard fought tooth and nail sort of game, and of course they won it in overtime," Coghlin said. "Then they beat us here a year ago so we've actually crossed paths with them a few times the past couple years and now we have a chance to do it on the big stage with them, which I know I'm excited about."
This year's Lakers have proven to be a juggernaut since the early portion of the season, especially on the offensive side of things. Their 5.39 goals per game ranks second in the nation as a team and their top line of Justin Fox, Eric Selleck and Chris Laganiere has been the most prolific in the country this year, having scored a combined 143 points. These are all threats St. Norbert is well aware of.
"They are a high-powered team," said Coghlin. "You can see the way they explode like when they scored six in the second period last weekend. They are capable of doing that.
"I think they are a little more offensive where we are a little more defensive minded but opportunistic offensively. At the same time, though, it's not like we get outshot every night and we're not a team that sits back. I just think this has the makings of being an excellent, excellent game."
As far as the Green Knights go, defense has once again been the name of the game. The Green Knights have allowed only 1.69 goals per night on the season, which is good enough for second best in the land. At 10-0-2 in their last 12, St. Norbert has allowed more than one goal only three teams and never conceded more than three.
Goaltender B.J. O' Brien has been up to task when called upon and enters the semifinals with a 23-2-3 record, 1.58 goals against average and .923 save percentage.
The Green Knights bring a veteran group of blueliners to the table, including senior Jason Nopper, and juniors Nick Tabisz, Mike Bernardy, Adam Hammerbeck and Sam Tikka. Freshman defenseman Justin Favreau has also been a major contributor this season.
Much of St. Norbert's defensive prowess can also be attributed to the stellar defensive play of its forwards, specifically the Brandon Longley-Scott Pulak-Johan Ryd line. Often called upon to shut down the top line of the opposition, they have performed in stellar fashion down the stretch.
Coghlin admits, however, they might not be able to do it alone this Friday against a team as potent as Oswego. The Green Knights will be the home team and have the last change, however, which will certainly not be a hindrance in this regard.
"We've had an opportunity to [have last change down the stretch]," Coghlin said. "Sometimes we've matched lines for lines and something it's been a D pairing or two. We certainly have taken advantage of that and I don't expect this to be any different. I don't know if you can use one line to contain them or not, though. Clearly they are a team that scores a lot of goals so I don't know if we will be able to contain them or not. At some point we might have to make adjustments and come up with another plan."
Coghlin also hopes the Green Knights two most recent playoff experiences helped prepare them for a team with the firepower of Oswego.
"Adrian is a high-powered, high-skilled team that has a lot of guys with a lot of points and that didn't phase us. It was the same thing with Gustavus. I thought Martinson was dynamite the other night and he played excellent but he wasn't on the scoresheet."
Beyond the defensive capabilities of the Green Knights' forwards, they have proven to be plenty competent on the offensive end as well. Though St. Norbert has largely scored by committee this season, prominent scorers include seniors Shane Wheeler (13 goals, 18 assists, 31 points), Tyler Allen (14-16-30) and Matt Boyd (9-19-28). Ryd has chipped in 26 points while freshman Cody Keefer has added 24 and Longley 23.
With the Oswego game only two days away, much talk has once again circled around the Lakers' team speed and whether St. Norbert will be able to keep up with the pace. While we'll know for sure come Friday, but for the time being the Green Knights' remain confident in this regard.
"I think our team speed is good and I don't have an issue with it," Coghlin said. "We've played some very, very good skating teams this year including the last two teams we saw. In particular I thought Gustavus Adolphus was an extremely strong skating team and that's a group that made it all the way to the finals last year."
The same can be said for the fact that Herb Brooks Arena features an Olympic-sized ice sheet.
"Part of the mystique of the bigger sheet is to just remember not to put yourself in bad spots and we've talked about that. Our guys are pretty comfortable with that and I don't think it's going to be an issue," Coghlin said.
Everyone will know how all the unknowns will shake once the puck drops on Friday, but as of now, the Green Knights appear confident with what they will be bringing to Lake Placid.
"We try to talk about ourselves and do what we need to do and we've done a good job of that," Coghlin said. "We've won 23 games this year for a reason; we've played in big games, and in tough road situations. We're a battle tested group and I like what we bring to the table — we don't seem to get too out of sorts.
"I like our demeanor right now, I like our intangibles right now, and I still think our best 60 is in front of us. With Oswego I'm always reminded of what a great group of young men they have there and what a storied program they have. It's going to be a heck of a hockey game."