Walk on to All-American
It may not exactly be a rags-to-riches story, but it's pretty close for Norwich goaltender Ryan Klingensmith, who was just named First Team All American.
"I'd like to have him four more years," Norwich coach Mike McShane said. "A great story. He came on as basically a walk-on goalie. He got better each and every year. We put him in a game a few years back, and he proved that was right. The defense loves him."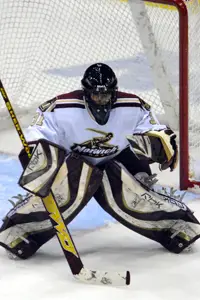 Klingensmith made 29 saves in the Cadets victory over Plattsburgh. He led the nation in goals against with a minuscule 1.34. He's also had great success against Plattsburgh, allowing just one goal in each of the regular season match ups and two tonight.
"The rivalry that we have and we've developed with Plattsburgh — we don't really like them very much," he said. "As a goalie you know there are going to be tough games [against Plattsburgh], and you have to battle in net. If you don't like a team, then that's the game you want to win."
"Obviously, he's pretty good," Plattsburgh head coach Bob Emery said. "He's pretty good against anybody, just not us. We knew going in, we had to keep it out."
The senior has one more game to cap off his walk-on to All American ascension.
Stayed On
St. Norbert's Cody Keefer has 13 goals and 13 assists so far in his freshman year. But none were as big as his first college game winner with 39.4 seconds left in the game against Oswego. And, he wasn't even supposed to be on the ice.
"I was going to go for a change," he said. "Saw the puck come loose. It wound up on my stick, and I just shot it."
Jones' Replacement
The last time St. Norbert was in Lake Placid, all the talk was about Kyle Jones, the all-everything goalie for the Green Knights. He shutout the entire competition, leading St. Norbert to their first national championship. Then, he put the icing on his career when he was invited to the NCAA Frozen Four Challenge, and was the only goalie the entire competition to not let up a goal in any of the drills.
After he graduated, St. Norbert struggled, finishing in fourth place in the NCHA and getting bounced in the semifinal round of their league playoffs. B.J. O'Brien and Blake Basher split duties that season. Coach Tim Coghlin did not like any of their performances, so last spring, he told them they will compete for the number one spot, and the winner was going to see the majority of the work.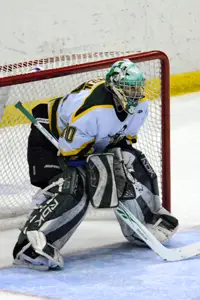 O'Brien came out on top and played in 29 of the 30 games this year, going 24-2-3 with a 1.63 GAA and .921 save pct.
"B.J. was the biggest difference from last year to this year," Coghlin said. "He made a couple of huge saves during those Oswego flurries."
O'Brien has one more game to go down along with Kyle Jones as a winning goalie for a St. Norbert national championship.
Even Years
St. Norbert has played in the national championship game four consecutive years ending in an even number. So far, all of these games ended in a shutout. In 2004, they lost to Middlebury, 1-0, in overtime. They were shutout again by Middlebury in 2006, 3-0. They won the title in 2008 with their own shutout, beating Plattsburgh, 2-0.
St. Norbert has now won six consecutive NCAA playoff games, and have never lost in Lake Placid.
Last Time
The last time Norwich made it this far, they won the national championship, beating Oswego, 2-1, in 2003 on home ice.
First Time
This is the first time Oswego has lost in the national semifinals. Whenever they have made it this far, they always got to the finals. In 1987, they defeated St. Cloud State, 5-2, before losing to Plattsburgh, 8-3, in the final. Sixteen years later, they shutout Middlebury, 6-0, but lost to Norwich, 2-1. They won the national championship in 2007 with a pair of 4-3 overtime wins over St. Norbert and Middlebury, respectively.
No Shorties
Four teams in Division III did not let up a short-handed goal this season. Three of them are in the SUNYAC, and two were in Lake Placid — Oswego, Plattsburgh, Fredonia, and Williams (NESCAC).