Passion is a funny thing.
Throughout 2009-10, the Miami RedHawks dominated the CCHA with their physical play. Fearless in the corners, a team that always finished hits and certainly one never to back down from extracurricular activities, Miami's on-ice style dictated the way of the league's entire season. The RedHawks lost just two conference games.
That physicality however, resulted in many penalty minutes. Miami finished the season averaging nearly 20 PIMs per game, second in the nation, but since the RedHawks also had the second-best penalty kill in the country, the minutes were a stat that rarely seemed to matter.
"They put a big emphasis on high hits this year and protecting the puck carrier, and that's how it's going to be called," said Miami captain Tommy Wingels. "We've got to play by the rules and I think at times, the too many penalty minutes hurt us this year.
"But our special teams were pretty good this year, the penalty kill, and we gained momentum off the penalty kill. At times, it can be a blessing in disguise; take a penalty and kill it off."
Tonight offered no such blessings for Miami. The first two goals the RedHawks gave up to Boston College were with someone sitting in the penalty box. It took BC's Ben Smith just five seconds to make Joe Hartman pay for a holding call at the end of the first. The Eagles went up 2-0 before the second period was three minutes old when Jimmy Hayes scored two seconds before an interference call to Will Weber was about to expire.
It would be hard to blame coach Enrico Blasi for sounding a little frustrated when this one was over.
"The first penalty of the game, the puck was nowhere near the guy. That's just a very foolish penalty. Second period, same thing.
"First goals are so big in these games. There didn't seem to be a lot of energy for some reason. It just kind of snowballed and they got the second one. We just made poor decisions — little plays, like icing the puck that leads to their goal, just not paying attention to some of the detail stuff."
Two weeks ago in the Midwest Regional, the RedHawks played their most disciplined hockey of the season. In its 2-1 win over Alabama-Huntsville, Miami took six penalties to UAH's 10. In the regional's deciding game, the double-overtime 3-2 win over Michigan, each team had seven infractions. Miami scored on the power play in each contest, and in neither game did the RedHawks relinquish their physical style of play.
In fact, it was a Miami penalty that led indirectly to the RedHawks' win over the Wolverines. At 2:37 in the first overtime, Wolverines forward Kevin Lynch put the puck in the net just seconds after play was blown dead to assess a high-sticking penalty to Hartman.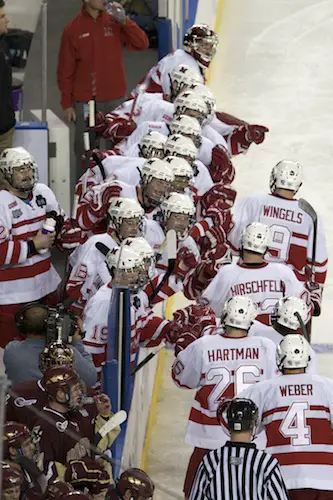 Tonight, therefore, is something of a mystery to Miami.
"Certainly, when you look at our season as a whole, our success was always based on us being very physical," said Blasi. "I don't want to make excuses because Boston College is a pretty darned good team, but we weren't as good as we could have been, and I think the score is indicative of that."
"They're small and skilled," said Wingels of the Eagles. "They have a lot of speed and when a team is pushing shifts like that, it's tough to play a physical game against (them). I don't think we did a good job of the things we talked about in the week leading up to this game. We talked about not turning pucks over, and with skilled guys like that, you might not be able to play a physical game.
"We're at our best when we're forechecking and controlling our game. If that's based off of us being physical — first guys in there…and winning battles — that's what we want. We're a blue collar-type team that's going to work hard, and we really didn't stick to that tonight. We're not the most skilled team, but we're one of the hardest-working teams."
Two weeks ago, Blasi said that special teams would be a significant factor in games this weekend. Tonight, the Eagles were two-for-five on the power play.
"We knew they had a good power play," said Wingels. "I didn't think those were penalties we needed to take."
Losses like these often teach tough lessons.
"As a whole, that's something we can work on going into next year," said Wingels, "the penalties."