Quick Strike
Wisconsin struck quickly in both the first and second periods of Friday's Frozen Four semifinal, scoring the first goal of the game at 1:27 and the third goal of the game 2:18 into the second period, taking RIT out of the game early.
"I thought we were a little flatfooted," said Tigers coach Wayne Wilson. "I don't want to say in awe or anything. But I thought they looked much more determined, and then as the period went on, I thought we started doing some better things in the middle of that period, after they got to that 2-0 start."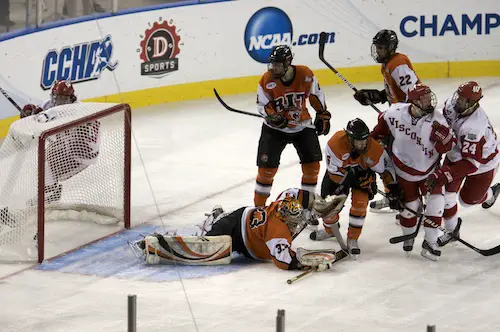 Blowouts
As bad as the final score was for RIT, it can take heart that it wasn't on the losing end of the biggest blowout in Frozen Four history. That dubious honor belongs to Boston College, which was on the losing end of a 14-1 decision to Minnesota on March 13, 1954.
The last time a team won by seven goals was on March 15, 1969, when Denver beat Harvard 9-2. The last time there was a greater margin of victory than seven goals was in 1960, when Michigan Tech beat St. Lawrence 13-3.
The largest margin of victory in a prior Frozen Four in Detroit was in 1990, when Wisconsin beat Colgate in the title game 7-3. That was matched by the third-place game in 1979, when Dartmouth beat New Hampshire 7-3.
Conditions
Temperature in the arena at the start of the game was 54.9 degrees and the humidity was 46.8 percent. The temperature of the ice was 24.2 degrees.
"The ice wasn't ideal, but it was the same ice for both teams," RIT goaltender Jared DeMichiel. "It was snowy up against the boards. The boards weren't totally consistent. But both teams had to battle that, both RIT and Wisconsin."
Binoculars
For the first time in the history of the Frozen Four, binoculars were available for rent on the concourse.
Not Even a Mouse
While it wasn't quite as quiet as the Christmas poem states, the crowd definitely seemed subdued down by the ice, and felt removed from the game.
"I had the chance earlier today to go walk around, and you look from up above, it definitely has a wow factor; it looks awesome," said Wisconsin coach Mike Eaves. "You get on the bench, the crowd noise seems so distant. At the end of the game, the RIT fans were chanting in support to of their team, and I heard that, but a lot of the noise, it really wasn't a factor. It seemed pretty quiet in there, which is fine, because on the bench, the players can hear us."
Tigers Subbing
At 14:55 of the third period, DeMichiel was pulled and replaced with freshman Shane Madolora, who played in five games this year. Madolora gave up goal seven at 17:28 and was replaced with junior Jan Ropponen, who gave up goal eight at 17:48, 20 seconds after being put in. It was the first time Ropponen saw action since Feb. 26 against Canisius, when he played 9:12 of the third period, and only the fourth time in his career that he played in a game.
"I got both my other goalies in the game as well," said Wilson. "Unfortunately, they were on the score sheet. I put them in a tough situation. I want them to experience it. You never know when you're going to get back here. So I wanted them to enjoy that.
Balance
Seven different Wisconsin players scored, making for a very balanced attack. Four players had multi-point games, with Derek Stepan notching two goals and an assist and Brendan Smith scoring five assists.
"We talked about it all year, how one of the strengths of our team is our depth," said Hobey Hat Trick finalist Blake Geoffrion.
Experience
This was RIT's first game playing in a football stadium, and Wisconsin's third, and both teams acknowledged that Wisconsin's experience on such a big stage may have had an effect.
"Knowing what to expect, with the temperature and the mind-set about the ice and adapting to that, it definitely helped us," said Geoffrion.
"How many times do you get to play hockey in a football stadium?" asked DeMichiel. "There's not too many people that can say that except for Wisconsin. I guess they've done it twice this year. So they're pretty lucky."
Winning Percentage
Wisconsin now owns the second highest winning percentage in Frozen Four history, going 16-5 with a .762 winning percentage.
Mementos
After the press conference, RIT's Cameron Burt and DeMichiel got laughs from the assembled reporters when they asked moderator Dave Fischer if they could keep their paper nameplates with the Frozen Four logo on them. Fischer laughingly obliged.