College hockey is about to go under the microscope in the land where it's much more common to go under the knife.
The home of plastic surgery — Los Angeles — will play home to the 2010 NHL Entry Draft this weekend (7 p.m. Eastern Friday, Versus/TSN; 1 p.m. Eastern Saturday, NHL Network/TSN) and possibly more than any recent year, people will be looking to see how hockey's most important constituency — namely the NHL and its 30 member teams — look upon college hockey's top prospect.
Related link: Scouts Rate the Collegians
Some consider this year's draft an important one for college hockey after last year, when the top half of the opening round was absent a player with college ties. It wasn't until Nick Leddy was selected with the No. 16 pick by Minnesota that the college game got any recognition.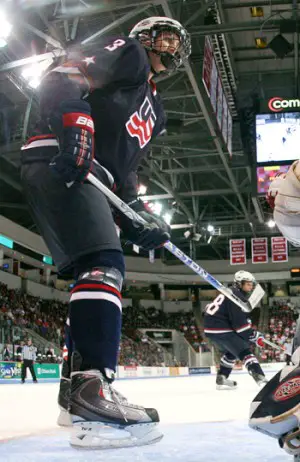 How the mighty have fallen. This year's draft marks the 10-year anniversary of college hockey's one-two punch when Boston University's Rick DiPietro and Wisconsin's Dany Heatley were chosen first and second overall, respectively. Heck, just three years ago, the top two picks were American-born players (Patrick Kane and James van Riemsdyk) and the two of the top three and 10 of the top 30 picks had college ties.
But the last two years have been a bit of a drought for the college game. And, unfortunately, the 2010 draft class doesn't look like it will fare much better.
The top-ranked college player is North Dakota freshman-to-be Derek Forbort, who played last year in the U.S. National Team Development Program. Forbort, a strapping 6-foot-5 defenseman, is thought of as a great two-way player who NHL Central Scouting says will be a top-two NHL defenseman some day. But being a blueliner can often be a challenge when it comes to the draft, particularly if the teams in the wheelhouse of when the player would be picked are hoping to bring along offensive talent.
Still, U.S. Under-18 coach Kurt Kleinendorst sees offense as something that's a big part of Forbort's game.
"Derek continues to improve every day," said Kleinendorst, who led his team to the World Under-18 Championship this past season. "He is strong on both sides of the puck, but his offensive instincts are what really jump out."
Forbort might be college hockey's only chance this year at a top-10 selection. While the NHL ranks him ninth among North American skaters, the International Scouting Service ranks him only a tick lower at 10th.
Following Forbort is this year's Mr. Hockey, Nick Bjugstad, who is ranked 13th by Central Scouting but placed a conflicting 24th on the final ISS rankings. Central Scouting says Bjugstad is a much better developed player than the Boston Bruins' Blake Wheeler was when he was drafted. Bjugstad stands out for a center at 6-foot-4, but that he's one of the younger players (17, will turn 18 on July 17) could be a drawback.
Another NTDP player, Jonathon Merrill, who will matriculate to Michigan this fall, is the next college player on Central Scouting's list. Merrill, a 6-foot-3 defenseman, is ranked 21st by both Central Scouting and the ISS. His game is thought to be similar to former Minnesota blueliner Jordan Leopold and scouts have been impressed with how well he's developed in the past year.
"He's very intelligent on both sides of the puck, makes good decisions, and defensively is good about keeping himself in good position," said Kleinendorst. "There are a lot of things to appreciate about his game, including his size and his dedication in the weight room."
One of the most-watched players this weekend might be Notre Dame's Riley Sheahan. Originally ranked fifth by Central Scouting in the midterm rankings, the 6-foot-2 Sheahan took a major nosedive all the way to 22nd when final rankings were released. It's not clear whether the reason was a sub-par rookie season, the fact that Sheahan was arrested come season's end for underage drinking or a combination of both. The ISS kept Sheahan among its top-ranked players, placing him 13th, and it wouldn't be surprising if a team that values a defensive-minded forward with solid skills makes him a top-10 selection.
It's highly likely that should the opening half of the first round be absent collegians, the lower half might see a college hockey parade on the Staples Center main stage.
Other players in the opening-round mix could be super-sized defenseman Jarred Tinordi, who will head to Notre Dame in the fall; 6-foot-3 center Brock Nelson, nephew of former NHLer and 1980 Olympic team member Dave Christian, who will play for North Dakota next season; center/right winger Charlie Coyle, who will follow his cousin Tony Amonte's footsteps and head to Boston University in the fall; and right wing Beau Bennett, who will attend Denver next year and could have the loudest cheering section this weekend, having grown up in nearby Torrance, Calif.
Among goaltenders, the top-ranked collegian is Zane Gothberg, who is set to attend North Dakota in the fall of 2012. It's unlikely that Gothberg will be an early-round draft choice; he's ranked sixth among North American goaltenders.
One story line that might be the most notable this weekend is the highly-ranked players who once had college ties but have since been snatched by Major Junior teams. Leading that list is Tyler Pitlick, who played last season for Minnesota State but will jump ship to play in Medicine Hat next season. He's thought to be a certain first-round pick. Joining him is goaltender Jack Campbell, who last winter led the U.S. to the gold medal in the World Junior Championship. Campbell originally committed to Michigan but has since signed with the Windsor Spitfires.