Rob Kenny, a three-year letterwinner and former assistant captain for Northeastern from 1989 to 1992, was killed in an automobile accident early Wednesday morning on Interstate 75 in Weston, Fla. He was 41.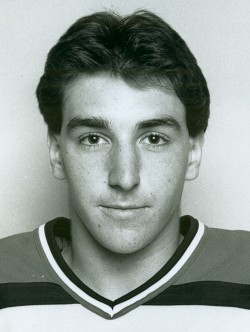 The Vienna, Va., native joined the Huskies as a walk-on for the 1989-90 season. In his three seasons, he quickly became one of the top players for the Huskies, leading the team in scoring his final year with 19 goals and 33 points. After graduating from Northeastern, he had a successful minor league professional career, playing for the Binghamton Rangers of the AHL and a number of IHL and ECHL teams as well.
Current Northeastern assistant coach, Sebastian Laplante, played with Kenny.
"Rob was one of the best teammates I have ever had," said current Northeastern assistant coach Sebastian Laplante, who played with Kenny. "He was as good a teammate as you could find, on and off the ice. He became a leader on our team with a very short amount of time."
For the last several years, Kenny ran a successful hockey program in southern Florida and was an avid supporter of the Northeastern hockey program. Kenny was constantly reaching out to the Huskies staff to recommend talent he knew of in the area.
Kenny is survived by his wife, Janelle, and their three children: Ryan, Sean and Ella.