How much is too much when it comes to a good thing?
When a team with a dozen freshmen coming off a season with a dozen wins knocks off the defending national champion, that's a good thing.
When that young team is the first team to hold the defending champ to a single goal in 18 games — dating to Feb. 12 — that's even more of a good thing.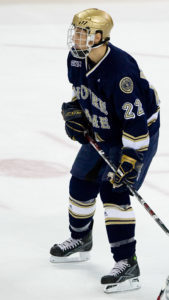 When that young team is the first team to beat the defending champ in 15 games — dating to Feb. 15 — it's even better.
But when that team plays in the CCHA and the champs don't, it's delicious.
Notre Dame got more than a few pixels in my first column of the season just a few weeks ago, but it's hard to resist revisiting the Irish after what they did to Boston College last weekend.
The score? Irish 2, Eagles 1.
"They're a program we want to emulate," Notre Dame coach Jeff Jackson said.
I'd say that toppling the No. 1 team in the country is a good way to emulate the No. 1 team in the country.
What's remarkable about the Irish is that they've done this before — many times. Under Jackson, Notre Dame has beaten the top-ranked team in the country three previous times, including a 7-1 win over Boston College on Oct. 21, 2006.
Before Jackson took over in South Bend, the Irish defeated York's Eagles when BC was ranked No. 1 twice in recent memory (Oct. 22, 2004, Oct. 23, 2003).
How does Notre Dame do it?
"Generally, you don't have to do a whole lot of motivating," Jackson said. "It's more a matter of controlling their emotions in a game like that — not getting too high or too low.
"You don't have to give a pep talk before playing a team like Boston College."
The Eagles led after the first period, but senior Calle Ridderwall notched two in the second. Sophomore Mike Johnson had the win.
"For the first 10 minutes," Jackson said, "we were kind of chasing due to playing a team with that kind of speed. We figured out that we had to be smarter with the puck, and once we did that we played better.
"Mike Johnson played extremely well in goal, which did a lot to hold us in the game."
Aside from winning the game, one big, tangible positive the Irish can take away from this contest is the way in which the team responded after trailing the defending champs in the early going.
"They learned right within the game that they couldn't make the cute plays," Jackson said, "because Boston College was just too good. We didn't have to say much to them."
Now that Jackson has seen his young team play a few games, he has a clearer sense of what he has and why it's so good.
"Andy Slaggart recruited a hell of a class," Jackson said. "It's got a good balance. This class has made us grittier, which is something that we needed to be. These kids don't know any better than to crash the net and get into the dirty zones."
One drawback? "We don't really have our power play going," he said.
Last season, the Irish started slowly before the injuries began to pile up at midseason, resulting in the first year in four that Notre Dame hadn't made a trip to the NCAA tournament. Jackson said that the newfound success of the Irish program had unintended repercussions.
"I think that due to the previous couple of years that there was a little sense of entitlement," Jackson said. "Maybe it was more about 'me' scoring … or their career after, as opposed to guys thinking about the team first.
"I think that we could have been a much better team in the second half similar to what Michigan did, if we didn't have all the injuries. We never got healthy. It never settled down.
"I think we had some talented players that never got … were not shown the right direction early on."
Jackson said there's pretty much no chance of taking things for granted this season, given the senior leadership on the team, including that from Ridderwall.
"That's one of the reason why he's wearing an 'A,' because he leads by example, whether it's in the weight room, or in practice, or in the classroom," Jackson said.
This weekend, the Irish play a home-and-home series against a hot Western Michigan team. The Broncos are coached by someone Jackson has known "since he was a little kid." WMU coach Jeff Blashill grew up in Sault Ste. Marie, Mich., when Jackson was coaching Lake Superior State.
The Broncos will play a style similar to Miami's, Jackson said. "We'll have our hands full."
And how does a young squad follow up such a high-profile win?
"We're probably going to find out," Jackson said. "I'm sure it's good for their confidence. Let's hope it's not too much."
It's good to know I'm not alone
"Any time you get into a shootout, you lose. You're not very happy. It's a ridiculous way to decide a game, but that being said, that's just the way it is."
Those were the wise words of the very wise Rick Comley, whose Spartans were denied a shootout goal when referee Keith Sergott blew the whistle in the Oct. 22 1-1 tie against Alaska, a game in which the Nanooks earned an extra point for a shootout "win."
Comley said that the league called him the next day to tell him it was a blown call — Dean Chelios did play around too much with the puck and pretty much reversed his own momentum, resulting in a good call in my opinion — but he didn't make a big deal about it at all. Sure, the point could come back to haunt the Spartans, but Comley's smart enough to know that there are many places points can be gained and lost through a given season.
I just love the fact that Comley dislikes the shootout, as do I. It's silly to decide points based on something so wholly unconnected from the game itself.
Perhaps now that Detroit Red Wings general manager Ken Holland has opened a conversation about the shootout in NHL play, the CCHA will consider revisiting the issue.
Notable
Four CCHA goaltenders are among the top 10 nationally for lowest goals-against averages: Western Michigan's Nick Pisellini (1.56), Ferris State's Pat Nagle (1.60), Michigan State's Drew Palmisano (1.92) and Alaska's Scott Greenham (1.97).
David Wohlberg's goal eight seconds into Saturday's 6-1 win over Nebraska-Omaha set a record for the Wolverines' fastest goal.
With their home sweep of Alabama-Huntsville, the Falcons extended their win streak to three games, Bowling Green's longest win streak since Nov. 2007, when BG won five in a row.
Carter Camper had a goal and seven assists against Northern Michigan last weekend, and he wasn't one of the two guys that joined Miami's 100-point club. Those two guys were Pat Cannone and Andy Miele. Camper reached that plateau last season.
The CCHA went 7-1-1 in nonconference play Oct. 22-23.
I'm still getting the hang of USCHO's new format and publication schedule, so expect this column, the Monday weekend wrap-up and the Friday morning picks blog to evolve throughout the season. I'd love to hear what you'd like to read in Tuesday's regular "15 things" blog post.