Niagara's first year in Atlantic Hockey has been a unmitigated success. The Purple Eagles, who won 12 games last season, are 13-7-2 overall and 10-5 in conference, good for a tie for second place with Robert Morris. Niagara has a game in hand on the Colonials and two in hand on first-place Rochester Institute of Technology, which it trails by five points in the standings.
Niagara is led by senior linemates Paul Zanette and Bryan Haczyk. Each has 18 goals so far, tops in the nation for goals per game.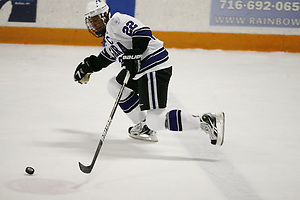 "They've played on the same line all four years," said Niagara coach Dave Burkholder. "They've been in secondary roles in the past because we've had a lot of talented forwards here like Ted Cook and Les Reaney. Matt Caruana is in the AHL right now.
"They were on the third line and killing penalties and this year we kind of put the whole season in their laps. They're our go-to guys and have taken a young team and put it on their shoulders."
The Purple Eagles had to deal with the setback of a season-ending injury to rookie goalie Carsen Chubak on Nov. 23, as well as the departure of another netminder, Andrew Hare, who transferred to Division III Oswego at the semester break.
Niagara brought in Cody Campbell from Cedar Rapids in the USHL over the holiday break and Burkholder wasted no time getting Campbell into the action. The rookie made 35 saves in his first collegiate start on Jan. 7 in a win over Holy Cross.
"Chris Noonan had a good start for us in an overtime win against Colgate right before the break," said Burkholder. "But both guys had a good week of practice and it was a last-second decision to play [Campbell]. They split time last week [in a sweep of American International] and it worked out well.
"We made the move to get Cody as soon as Andrew Hare left. You can't really practice with two goalies, and if you're down to just two you're just a flu bug away from going out to Air Force with one goalie. We put some feelers out and were surprised to find at least 10 quality guys that were looking to make a move at Christmas, so we were able to get a very good goalie. Initially, I had thought we were looking for a practice goalie but we were able to bring in someone that can help right away."
When a healthy Chubak comes back next season, Burkholder, a former All-American goaltender at the Division III level, will have a problem on his hands with three talented netminders.
"It will be a good problem to have, but we'll work it out as long as guys put the team first," said Burkholder.
Niagara will host Sacred Heart this weekend and then play teams from the western scheduling pod for the remainder of the season.
"Sacred Heart is a dangerous team," said Burkholder. "There's no night off in this league and almost every game is for points, which is an adjustment our guys have had to make coming from the CHA. There we had 18 league games and 16 non-conference games, and sometimes the non-conference games overshadowed our league games.
"I think this season the regular season is more meaningful. Every point counts and every game has ramifications."
Hobey Watch
Hobey Baker's birthday was last week (born Jan 15, 1892) so it seems fitting time to take a look at potential candidates from Atlantic Hockey.
Elliot Olshansky does a good job of breaking things down in USCHO.com's Hobey Watchblog and I agree with his assessments.
When the AHA has had a Hobey finalist, it's been someone who clearly dominated the league, like Air Forces' Eric Ehn in 2007 and Jacques Lamoureux in 2009 and RIT's Simon Lambert in 2008.
Last season, either Cory Conacher from Canisius or Sacred Heart's Nick Johnson could have been a finalist, but they may have split some ballots. I think the same thing may happen this season with Zanette and Haczyk from Niagara and Robert Morris' Nathan Longpre in the running but possibly canceling each other out if voters are going with just a single AHA candidate like in years past.
TUCked in
The NCAA Division I men's ice hockey committee recently changed its definition of a "Team Under Consideration" for the national tournament from the top 25 in the Ratings Percentage Index to any team with an RPI at or above .500.
That means that Robert Morris is now a TUC, and games against the Colonials will count in NCAA selection criteria. Niagara and RIT are just off the bubble with RPIs of .499 and .492. You can see the PairWise here.