This weekend is the closest of the season to Valentine's Day, and every longtime reader of this column knows what that means: a bitter, divorced, middle-aged woman is doing the writing this week. Of course, that differs very little from any other week in the season, but at this time of year, the Ghosts of Valentine's Day Past manifest themselves in strange ways. Endless Barry Manilow. The memory of being snubbed by Nate Guenin. And Valentine's Day, 2006.
Ah, yes. Best Valentine's Day date of my life. Nate Guenin was involved, but only enough to prevent a third-string goalie from making a really big mistake. That was the night that the Miami RedHawks clinched the regular-season CCHA title with a 6-3 win over Ohio State in a packed and rocking old Goggin Arena, an event that prompted then-Miami hockey sports information director Jess Bechard to comment, "I think I got a picture of Rico smiling."
Could it be magic?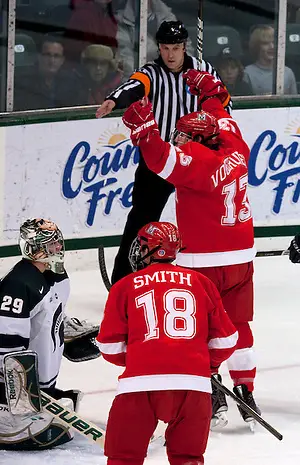 Five years later, and look who's on top of the CCHA standings again this week. After sweeping Michigan — no easy thing to do, even in one's own barn — the RedHawks played themselves into first place. With 45 points — one ahead of the Irish, two ahead of the Wolverines — and two fewer league games remaining than ND and UM, Miami is doing its best to make this an interesting month.
I'm lousy with the math and this year the whole three-point thing makes my head hurt. A quick look at the standings, though, shows me the following. I think.
• Miami can win out and still not take first place.
• Michigan can win out and still not take first place.
• Notre Dame can win out and take first place.
• Western Michigan can win out and take first place.
• It is still mathematically possible for Ferris State, Lake Superior or Ohio State to climb to first place, but each would need a lot of help from other teams and possibly some freaky planetary alignments (with planets not yet detected and named within our own solar system).
• Bowling Green can finish no higher than 10th.
• It is still mathematically possible for Michigan State to finish fourth. In addition to a lot of improbable help from other teams and nearly impossible planetary alignments, the Spartans might need actual divine intervention to make that happen.
• It is still mathematically possible for Alaska or Northern Michigan to finish second. See the bullet point about Michigan State.
I think one of the weirdest things of all is that Miami could win out but still finish third, unless the RedHawks receive significant help from other teams — most notably Western Michigan and Ohio State, I believe.
I'm dizzy from this. Just this month, I thought it was years of grad school, underemployment and a recent total uprooting of my life for a new life in Flint that sent me to the chiropractor. Now I'm beginning to think I see the real culprit.
Home again
In the remaining three weeks of the regular season, four teams have two of their three last regular-season league series at home: LSSU hosts Alaska and Miami; UM hosts OSU and WMU; MSU hosts NMU and BGSU; OSU hosts LSSU and FSU.
Of those four, the Spartans have the toughest road trip remaining — Alaska — while the Buckeyes spend their last two weeks in the comfort of Value City Arena.
The team with the toughest schedule remaining is Western Michigan, which plays Miami, Michigan and Notre Dame and only one game of the home-and-home against the Fighting Irish in Kalamazoo.
Something's comin' up …
… and it's Miami junior goaltender Cody Reichard's stock that's rising. Reichard — who has shared time in net with classmate Connor Knapp since they were freshmen — had both wins in the sweep of Michigan, stopping 53 of 55 shots.
Both Miami goaltenders posted better numbers in their first two seasons, and on Inside the CCHA radio, Reichard said that there are a number of reasons why things look a little different this season.
"Everyone this year is kind of in a little different role," said Reichard. "We obviously lost one of our main keys there in Chris Bergeron."
Bergeron, Bowling Green's first-year head coach, was an assistant at Miami.
"We've changed a couple things this year and stressed having D-men jumping into the play and be more offensive, so obviously this year is a little different from last year. As long as we can tie up some wins here, we're not too worried about it."
So, now you know.
It's a miracle
Before Miami's series against Michigan last weekend, senior forward Andy Miele talked about Miami's plans for the final stretch of the season. In an interview with College Hockey All-Access on NHL Home Ice, Miele did something that really surprised me. He talked about the PairWise Rankings.
"It's definitely something that we have been looking at lately," said Miele, who quickly emphasized Miami's focus on more immediate games.
Coming from a program where the party line has been, "We don't look ahead," Miele's comment was a revelation.
Frankly, I'm relieved. I was beginning to think that the RedHawks weren't prey to normal human temptations.
This one's for you
Saturday, Feb. 5, marked the one-year anniversary of the death of Brendan Burke, the Miami student team manager whose life was cut short by an auto accident on snowy roads near the Ohio-Indiana border. Mark Reedy, a friend of Burke's and a student at Michigan State, also was killed in the accident.
A year later, and it's still difficult to wrap my head around the full impact of this young man's death. In a column last week, Dave Starman talked about the legacy that Burke left behind. I'm still haunted by the photo of the Miami players exiting the church after his memorial Mass, wearing their jerseys and weeping.
To be so young and to lose someone so close, someone who was close to all of your closest friends, is something life-changing. To do so in a year that was filled with other drama close to home — some of it hockey-related, some of it happening to other people whom you care about — is nearly unfathomable.
Not surprisingly, the RedHawks did something significant to honor the anniversary. There were jerseys that framed players' numbers in a big red shamrock. There was a ceremony honoring the Burke family, which attended the game. Then there was that 3-0 win, too.
"It was a really tough day on Saturday," Cody Reichard told Inside the CCHA radio. "Having Burke's family there meant a lot to us, that they wanted to share that day with us. Burke's dad talked to us Saturday morning a little bit and that was obviously very touching. His closing comment was [that] if we really wanted to honor Brendan, there was no better way to do than a victory on Saturday night."
Brendan Burke's father, general manager of the Toronto Maple Leafs Brian Burke, has publicly committed to ending homophobia in hockey. That's another good way to honor Brendan.
Good news
Congratulations to Miele, the RBC Financial Group CCHA Player of the Month for January. Miele finished the month with five goals and 11 assists for 16 points in eight games.
Congratulations to Western Michigan freshman Chase Balisy, the CCHA Rookie of the Month for January. Balisy finished the month with five goals and seven assists for 12 points in eight games.
Miele is also this week's CCHA offensive player of the week after recording his fourth consecutive five-point weekend (1-4–5) in the RedHawks' sweep of the Wolverines.
Lakers senior Matt Cowie is this week's CCHA defenseman of the week, Miami's Cody Reichard is the goaltender of the week and LSSU goaltender Kevin Kapalka is the rookie of the week.
I write the songs
Well, sort of.
In November, I committed to the National Novel Writing Month (nanowrimo.org) challenge and wrote 51,000 words in 30 days. It's not quite the draft of a novel — lots of fits and starts — and it's total crap (insert punch line here), but it was a fun, creative experience that I found really rewarding.
Now it's February: February Album Writing Month (FAWM.org). The goal is 14 songs in 28 days. Until last week, I'd never written a single song. Now I've written two. I think they're OK — but this challenge is so much more difficult for me than NaNoWriMo (as it's known) was in November.
I'm not publicizing this to toot my own horn (ha ha) but because I think someone reading this column might enjoy the FAWM challenge, too. I doubt that I'll be able to write 14 songs in 28 days, but I've already written two — and that's two more than I'd ever written before. I'm no musician, and if I can do this so can a lot of other novices.
The FAWM online community is supportive and there's an interesting variety of songwriters. The important thing is that it's really, really fun.
April's right around the corner, and April is Script Frenzy! from the same people who bring us NaNoWriMo. One-hundred pages of script — screenplay, teleplay, drama for the stage, radio drama — in 30 days. Mark your calendar!
I've got no Manilow song for this one
This is how I voted this week.
1. Boston College
2. North Dakota
3. Yale
4. Minnesota-Duluth
5. Denver
6. New Hampshire
7. Wisconsin
8. Rensselaer
9. Michigan
10. Notre Dame
11. Western Michigan
12. Merrimack
13. Union
14. Miami
15. Boston University
16. Nebraska-Omaha
17. Maine
18. Colorado College
19. Dartmouth
20. Princeton