The final four Atlantic Hockey teams will settle things this weekend, each on a different mission with the same goal in mind.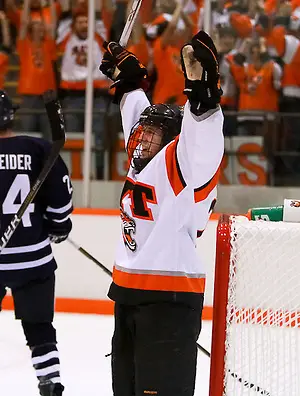 "The teams here have different motivations," said Rochester Institute of Technology coach Wayne Wilson. "For UConn, it's been four years and Holy Cross is new to coming to Rochester. Air Force won three titles and wants to take it back. For us, it's protecting what we think is ours."
Wilson's Tigers won it all last year and shocked the college hockey world by advancing to the Frozen Four. I asked him if things feel different this time around as his team tries to recreate the same magic.
"It's not really different," he said. "We're in the same situation as we were last year — win or go home. We're not a multiple [NCAA] bid league; maybe someday but not now. You have to win your way in, and that's the same every year. We know what we have to do."
Breaking them down
Here are your semifinal capsules for each team:
No. 1 RIT (18-10-8)
Outlook: RIT has made the league semifinals each of the four years it has been eligible. The Tigers take a lot of penalties (19.6 per game, the second highest in Division I) so their penalty kill (83.7 percent) will be key. RIT swept Connecticut this season and is 16-6-1 all-time against the Huskies. The Tigers are 20-6-2 against Holy Cross, including 1-0-1 this season. RIT and Air Force have had some epic battles since joining the AHA, with the all-time series tied at 13-13-3.
Players to watch: Goaltender Shane Madolora won the starting role in December and has put up some of the best numbers in the nation (.934 save percentage, 1.97 goals-against average). Forward Tyler Brenner is tied for sixth nationally with 26 goals. Senior Andrew Favot is tied for seventh nationally in assists. Favot was assessed a game disqualification in RIT's 5-1 win over American International on Saturday and is suspended for the semifinals. He will only play again if the Tigers advance to the championship. Sophomore defenseman Chris Saracino leads the league in plus/minus (plus-26).
No. 2 Air Force (18-11-6)
Outlook: The Falcons return again to what AFA coach Frank Serratore calls his "home away from home," the Blue Cross Arena in Rochester, N.Y. Air Force has been there five out of five possible times, winning it all on three occasions. The Falcons are 15-2 all-time in AHA postseason play and have won six games in a row heading into the semifinals. Air Force has the second-rated power play in Division I (25.0 percent), as well as being the least penalized team, averaging just over nine minutes a game. The Falcons are 1-0-1 against Holy Cross this season, as well as 1-0-1 against UConn and 1-1-1 with RIT.
Players to watch: Senior Jacques Lamoureux has been a 40-point man all three years he's played for Air Force and leads the team in goals (21) and points (41). The Falcons have two legitimate all-league defensemen in Scott Mathis and Tim Kirby, and freshman goaltender Jason Torf has ably filled the skates of the departed Andrew Volkening. When Torf has faltered, junior Stephen Caple is 3-0-2 in relief.
No. 3 Holy Cross (17-15-5)
Outlook: The Crusaders have been one of the hottest teams in college hockey, going 10-1-3 over their last 14 games. Holy Cross is 12-9 all-time in AHA postseason play. This is the deepest they've gone in the playoffs since winning the title in 2006. The Crusaders, like their semifinal opponent Air Force, have an excellent power play. They are third nationally, right behind the Falcons at 24.5 percent.
Players to watch: Senior Everett Sheen leads the team with 17 goals, a career season best. Sophomore Kyle Fletcher is tops on the team in overall points with 38, including 16 goals. Senior Adam Roy took over the starting duties around the first of the year and has been key to the Crusaders' hot streak as he helped them move from seventh to third in the standings in the final two months of the season. Roy has a .905 save percentage and a 2.56 goals-against average.
No. 6 Connecticut (15-17-4)
Outlook: The Huskies earned a bye by finishing sixth overall but second in the Eastern scheduling pod. They swept Mercyhurst to reach the semifinals for the first time since 2007 and the third time overall. UConn is 6-8 overall in AHA postseason play. Last season, it was swept by RIT in the quarterfinals. The Huskies have won five games in a row, their longest streak of the season and longest since 2004.
Players to watch: Goalie Garrett Bartus has made 1,078 saves this season, second in the nation. He owns a .907 save percentage and a 3.38 goals-against average. The Huskies have always had good goaltending, but the difference this season has been a rejuvenated offense. Rookie Cole Schneider leads the team in scoring with a record 31 points and fellow freshman Billy Latta isn't far behind with 26. Senior Andrew Olson has a team-best 14 goals.
USCHO awards
The real winners will be announced at the Atlantic Hockey Banquet on Thursday night, but here are my picks for this year's AHA achievements:
First team
F Bryan Haczyk, sr., Niagara
F Nathan Longpre, sr., Robert Morris
F Paul Zanette, sr., Niagara
D Scott Mathis, jr., Air Force
D Denny Urban, sr., Robert Morris
G Shane Madolora, so., RIT
Second team
F Tyler Brenner, jr., RIT
F Cory Conacher, sr.,Canisius
F Jacques Lamoureux, sr., Air Force
D Tim Kirby, jr., Air Force
D Chris Saracino, so., RIT
G Ryan Zapolski, sr., Mercyhurst
Third team
F Derrick Burnett, sr., Air Force
F Andrew Favot, sr., RIT
F Scott Pitt, sr., Mercyhurst
D Marcel Alvarez, so., Army
D Ryan Annesley, sr., Niagara
G Brooks Ostergard, jr., Robert Morris
Honorable mention: Garret Bartus (UConn), Kyle Fletcher (Holy Cross), Matt Gingera (Sacred Heart), Cody Omilusik (Army), Erik Peterson (Bentley), Adam Pleskach (AIC), Adam Roy (Holy Cross), Vincent Scarsella (Canisius), Everett Sheen (Holy Cross), Jeff Terminesi (Mercyhurst).
All-rookie team
F Ben Lynch, RIT
F Ryan Rashid, Niagara
F Cole Schneider, Connecticut
D Ben Danford, Canisius
D Adam McKenzie, Air Force
G Jason Torf, Air Force
Honorable mention: Scott Arnold (Niagara), Brett Gensler (Bentley), Taylor Holstrom (Mercyhurst), Billy Latta (UConn), Adam Mitchell (RIT), Greg Noyes (RIT), Jon Puskar (AIC), Jeffrey Reppucci (Holy Cross).
Player of the year: Paul Zanette, Niagara
Rookie of the year: Cole Schneider, UConn
Coach of the year: Paul Pearl, Holy Cross
Another season in the books
While I'll be writing for USCHO.com through the AHA playoffs and the Frozen Four, this is my last Atlantic Hockey column for the season. As usual, I'm grateful for the assistance of the league's sports information directors, coaches and players, especially the seniors.
A special thanks to the new guys: Niagara coach Dave Burkholder and Robert Morris' Derek Schooley. They and their teams have been great additions to Atlantic Hockey and have made the league much stronger. Thanks again to Dave Rourke, AHA SID, who patiently answers questions and listens to me grumble about officiating.
Thanks to my editor, Todd Milewski, for catching my errors and moving my blog posts to the correct place when I continually screw that up. And as usual, thanks to my fellow radio broadcasters Scott Biggar and Ed Trefzger, as well as TV partner Gene Battaglia for putting up with me.
And of course thanks to my family, especially my wife and hockey widow of 20 years, Kathleen. We'll get to that lengthy "to-do" list when I get back from St. Paul, I promise.