The Frozen Four could see an unfamiliar face emerge from the East Regional of the 2011 NCAA Division I men's hockey tournament.
Minnesota-Duluth was last in the national semifinals in 2004. Yale last made it in 1952. Union and Air Force have never been there.
Here are the previews for the East Regional. Check to the right for game times and locations.
Coach: Keith Allain, fifth season
Record: 27-6-1 (17-4-1 ECAC, second)
How they got in: Automatic qualifier, ECAC Hockey tournament champion
Regional seed: First
Last NCAA tournament appearance: 2010
Best NCAA finish: Third place, 1952
Why they'll get to the Frozen Four: The nation's most prolific offense has strong support in goal this time around.
Why they won't get to the Frozen Four: East Regional foes Union and Air Force have already beaten the Blue this year, and Minnesota-Duluth also spent time as the nation's No. 1 team.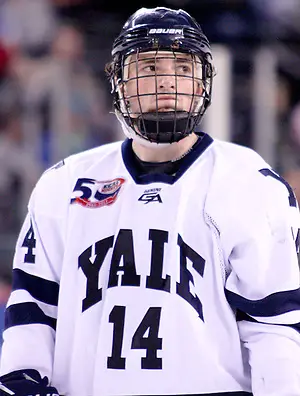 Heavy is the head that wears the crown, and the Bulldogs have been hauling around their status as the ECAC's anointed representatives for some time now.
Their only consecutive losses of the year — in a road-weekend sweep at Rensselaer and Union — ultimately doomed the Blue to second place in the regular season, but resolve and resilience (and some very hot goaltending) elevated Yale to its second Whitelaw Cup in three seasons with last Saturday's 6-0 bludgeoning of Cornell.
The Elis (and there are few teams with more nicknames than Yale) are a veteran crew that features seven double-digit goal-scorers despite an abbreviated 34-game Ivy schedule. Junior Brian O'Neill and senior Broc Little led the side with 18 goals apiece, while sophomore Andrew Miller's 45 points claims the team lead in that category.
Seniors Denny Kearney and Chris Cahill are equally lethal, combining for 73 points, but what may surprise many outside the league is how steady the Blue's goaltending has been all year: Senior Ryan Rondeau finally won the reins to the starter's position early in the season, and he hasn't disappointed with a nation-leading 1.83 goals-against average and second-best .932 save percentage. Rondeau is as hot as you can get right now, riding a 202:15, three-game shutout streak.
NCAA first-round opponent Air Force came back from a 3-0, third-period deficit against Yale in Colorado in November, stunning the Bulldogs 4-3 and giving the visitors their first loss of the season (having started 5-0-0). That was the last game in which Rondeau didn't play for Yale, and it is difficult to imagine a scenario in which the Bulldogs wouldn't take the Falcons just as seriously as any other top-flight opponent.
— Brian Sullivan
Coach: Nate Leaman, eighth season
Record: 26-9-4 (17-3-2 ECAC, first)
How they got in: At-large bid
Regional seed: Second
Last NCAA tournament appearance: Never
Best NCAA finish: First appearance
Why they'll get to the Frozen Four: D-I's best power play and second-stingiest defense bolstered Union to a 15-1-1 run through the toughest part of its league schedule.
Why they won't get to the Frozen Four: Two weeks off for an inexperienced team might take all the wind out of the Dutchmen's sails.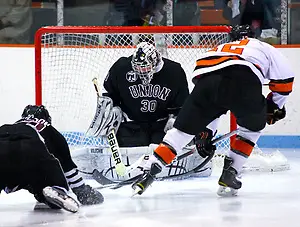 It took Union all season long to get out from beneath the formidable shadow cast by standard-bearing Yale, but the Dutchmen finally pulled ahead and held on for the one-point win in the standings. On the heels of a very successful 2009-10 campaign, the Dutchmen took it to the next level this year in obtaining their first-ever Cleary Cup as regular-season champions and earning an at-large bid to the NCAAs.
Following three seasons of play in a league dominated by Yale, it somehow seems only fitting that Union should play against another pack of Bulldogs in the East Regional … and that this new opponent would look so familiar.
"I see them actually a lot like Yale," Union coach Nate Leaman said of Minnesota-Duluth. "They have a very good top line — probably one of the best top lines in the country — and they're a very good transition team. Obviously, at one point in the season they were the No. 1 team in the country. Very good team, great offensive power, very good power play, and we feel it's going to be a real good game."
An extra week off hasn't fazed the coach whatsoever. In fact, the only thing that could've trumped the extra down time would've been the ECAC tournament's Whitelaw Cup.
"It was great for us, to be perfectly honest," Leaman said of the break. "It was exam week for us last week, so our players had finals Monday through Thursday, so we didn't see the guys 'til Thursday afternoon."
The Dutchmen returned to the ice with clearer heads and total focus, he said, as the youth-driven squad prepares for a favorable position.
"I think Bridgeport is absolutely the best draw for us," Leaman said. "With the amount of alums that we have in Connecticut and New York City areas, I think we're going to get a real good turnout of Union fans."
Union boasts nearly a half-dozen dangerous strikers, but it was freshman Daniel Carr who led the team in goals (20) and junior Kelly Zajac — does that surname ring a bell, WCHA fans? — who leads the crew with 42 points. Sophomore goaltender Keith Kinkaid has been exceptional this year with a .920 save percentage and 1.98 goals-against average.
— Brian Sullivan
Coach: Scott Sandelin, 11th season
Record: 22-10-6 (15-8-5 WCHA, fourth)
How they got in: At-large bid
Regional seed: Third
Last NCAA tournament appearance: 2009
Best NCAA finish: Runner-up 1984
Why they'll get to the Frozen Four: When the Bulldogs score, look for Nos. 12, 22 and 37 on the ice. Justin Fontaine and Mike and Jack Connolly are very good puck movers and are extremely dangerous in the offensive zone.
Why they won't get to the Frozen Four: There's a big obstacle in the way. Should UMD beat Union on Friday, the Bulldogs will likely get the tournament's No. 1 overall seed, Yale, Saturday.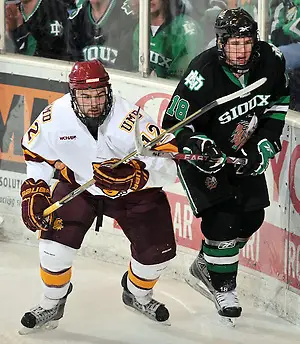 The way last weekend turned out for Minnesota-Duluth at the WCHA Final Five was the exact opposite of what the Bulldogs expected, but that's in the past and UMD has a clean slate.
Days after UMD was bounced from the Final Five with a 3-2 overtime loss to Bemidji State in Thursday's quarterfinals, the Bulldogs have shifted their focus toward what's ahead.
"One of our goals at the beginning of the year was to try and win a national championship," said forward Jack Connolly. "It's a completely new season starting this weekend, and we would love to get a couple of wins this weekend to get back and play in St. Paul."
No. 3 seed UMD will face second-seeded Union in the East Regional semifinals at 3 p.m. EDT Friday in Bridgeport, Conn. The winner will face either Yale or Air Force in Saturday's championship game.
It was the second season in a row in which UMD lost in the Final Five quarters, and the quarterfinal loss to North Dakota ended the Bulldogs' season in 2010. They finished 17th in the PairWise Rankings.
UMD was ninth in the PairWise at the completion of the conference tournaments this season, good enough for an at-large bid.
The Bulldogs put themselves in position for an at-large bid this season, thanks to their big guns on offense.
Jack Connolly's 16 goals and 39 assists make him one of 10 Hobey Baker finalists. He leads the Bulldogs in scoring with 55 points, has scored at least one point in 14 of UMD's last 15 games and has played in 121 straight games.
Connolly has failed to record a point in just six games this season.
Justin Fontaine has 20 goals and 32 assists, has a team-leading 10 power-play goals and is on an eight-game scoring streak.
Mike Connolly leads UMD in goals with 26, seventh-most in the country. He also has 23 assists and has scored points in eight out of the last nine games.
"We're focusing on this week of practice and trying to get back to the way we were playing before Christmas break," Jack Connolly said. "There's been great tempo and we're really looking forward to getting back on the rink and playing Union this week."
— Tyler Buckentine
Coach: Frank Serratore, 14th season
Record: 20-11-6 (14-7-6 Atlantic Hockey, second)
How they got in: Automatic qualifier, Atlantic Hockey tournament champions
Regional seed: Fourth
Last NCAA tournament appearance: 2009
Best NCAA finish: Regional finalist, 2009
Why they'll get to the Frozen Four: The Falcons have plenty of experience, making the tournament for the fourth time in five years. Air Force's last trip to the tournament resulted in an upset of Michigan in Bridgeport.
Why they won't get to the Frozen Four: Yale and potential quarterfinal-round opponents Union and Minnesota-Duluth will not be taking the 16th-seeded Falcons lightly. Air Force erased a three-goal deficit to defeat Yale 4-3 on Nov. 14. Plus, Atlantic Hockey has pulled off some big upsets in the tournament in recent years.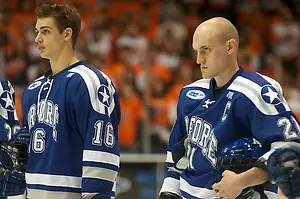 The element of surprise won't be there for the Air Force Falcons this time, not after defeating Michigan in the same building two years ago, and after beating Yale earlier this season in a game in which Air Force had 10 power plays.
"I'm sure Yale is looking forward to playing us again," said Falcons coach Frank Serratore. "Playing someone else, we might have had the chance to sneak up. But then again, anyone with a working memory knows what the Atlantic [Hockey] champions have done to No. 1 seeds."
Air Force is coming off a 1-0 win over Rochester Institute of Technology in the Atlantic Hockey finals, played in a front of a record, partisan crowd at Blue Cross Arena in Rochester, N.Y. Rookie goaltender Jason Torf was the difference, making 40 saves in posting his second shutout of the postseason after not recording any in 23 starts in the regular season.
"We'll see if the boy or the man shows up," said Serratore of his 19-year-old goalie. "He'll be going into the game with a lot of confidence. He did a great job overcoming a hostile environment [in Rochester]."
Senior Jacques Lamoureux has been doing what he goes best: score goals. The former Atlantic Hockey player of the year and Hobey Baker finalist scored Air Force's final three goals of the AHA tournament, two third-period goals to erase a 2-1 Holy Cross lead in the semifinals, and the lone tally in the 1-0 win over RIT. Lamoureux has 79 goals in three seasons with the Falcons after scoring once in his freshman season at Northern Michigan.
"He looks and find seams in the coverage," said Serratore. "He has great instincts. A sixth sense around the net. Just a knack for scoring goals. And the goals he scores, they're big goals. He had a couple [of goals] when we beat AIC 12-0 but other than that so many of his goals have been game-winners or back-breakers."
As impressive as Lamoureux and the rest of the Falcons offense has been, credit also has to go to the Air Force defense, which has contributed 27 goals and 70 assists so far, as well as limiting the opposition to just two goals in the championship semifinals and finals. Juniors Scott Mathis and Tim Kirby were named to the AHA all-tournament team.
"Our defense is mobile and skilled," said Serratore. "They've very quick and almost like another having another offense."
Playing at the Webster Bank Arena at Harbor Yard in Bridgeport also has its appeal to Serratore.
"It's familiar territory," he said. "We know the rink. We played Sacred Heart there this season and we were there last time [the Falcons made the NCAA tournament in 2009]. It's Yale country but we'll be ready."
— Chris Lerch