The coaching list for the West Regional in the 2011 NCAA Division I men's hockey tournament rates as a who's who of college hockey mentors.
Between Boston College's Jerry York, Michigan's Red Berenson, Nebraska-Omaha's Dean Blais and Colorado College's Scott Owens, there are 2,188 victories and eight national championships.
Here are the previews for the West Regional. Check to the right for game times and locations.
Coach: Jerry York, 17th season
Record: 30-7-1 (20-6-1 Hockey East, first)
How they got in: Hockey East postseason champion
Regional seed: First
Last NCAA tournament appearance: 2010
Best NCAA finish: Champions 1949, 2001, 2008, 2010
Why they'll get to the Frozen Four: Plenty of depth at the forward position, great special teams, an experienced goaltender in John Muse and easily the most tournament-tested team in the field.
Why they won't get to the Frozen Four: They probably have the toughest road to the Frozen Four with Colorado College and either Michigan or Nebraska-Omaha.
Boston College coach Jerry York, an avid golfer, compares his hockey season to golf. He said that during the season, his team tries to play difficult courses.
"We got out to play two games at Denver and a game at Notre Dame," said York, noting his team's non-conference play against other NCAA qualifiers. "Now you get to nationals and they tell you, 'Jerry to the back tees.' You end up playing a more difficult schedule here."
If York looks at this weekend's schedule, he might notice that the games themselves, where maybe they should be played at TPC Boston instead are being played at Forest Park Golf Course in St. Louis.
The good ol' scheduling quirks of the NCAA tournament have sent BC, a No. 1 seed, as far away from Boston as possible. The Eagles couldn't play in either of the Eastern regionals with Yale the host and No. 1 seed in Bridgeport, Conn., and New Hampshire, the host in Manchester, N.H., the fourth seed (remember, the NCAA frowns upon inter-conference games in the opening round).
Thus, the Eagles will pack their bags and head to the other side of the Mississippi and a city in which the Eagles last played in during the 2007 Frozen Four, when they fell to Michigan State in the national title game.
"I don't mind traveling. St. Louis is a great city," said York. "That's the uniqueness of the NCAA tournament."
Upon arrival, the Eagles will have a player who has been missing for the last two weeks — star forward Chris Kreider — back in the lineup. Kreider made a very fast recovery from a broken jaw.
"[Kreider] practiced [Monday] and is full up," said York. "He really adds a whole new dimension to our team. That's a welcome addition and a very quick recovery from a broken jaw."
As for BC's first-round opponent, Colorado College, this is a team that impresses York, and for good reason. He feels that the Tigers posses the traits he sees in his own team.
"I had a chance to watch the North Dakota-Colorado College game in the WCHA semis and I'm very impressed with the speed and just the creativity the Tigers play with," said York. "They're very quick, very unselfish and very creative. Those are adjectives we like to use to describe how we play."
Should York and his Eagles advance, they'll face either Michigan or Nebraska-Omaha. York hasn't faced Nebraska-Omaha though its coach, Dean Blais, was a perennial opponent of BC when at North Dakota. As for Michigan, it's been a while, but York easily recalls a memory of the Wolverines from 1998.
"We went head on with [Michigan coach] Red [Berenson] in '98 in our own backyard," said York of his team's loss to the Wolverines in the 1998 title game in Boston. "They took that title from us, so they've got the formula down. No problem there."
— Jim Connelly
Coach: Red Berenson, 27th season
Record: 26-10-4 (20-7-1-0 CCHA, first)
How they got in: At-large bid
Regional seed: Second
Last NCAA tournament appearance: 2010
Best NCAA finish: Champions, 1948, 1951, 1952, 1953, 1955, 1956, 1964, 1996, 1998
Why they'll get to the Frozen Four: They have a solid, blue-collar team with a wily coach and plenty of NCAA tournament experience.
Why they won't get to the Frozen Four: David Wohlberg and his 15 goals will be absent, and their goaltending is occasionally inconsistent.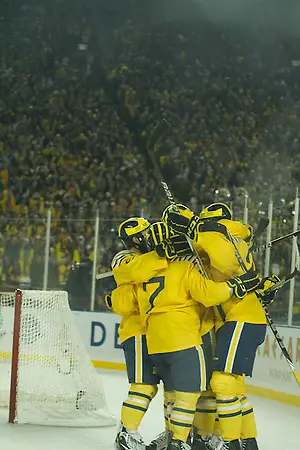 Last weekend, the Wolverines found themselves in unfamiliar territory in Detroit. Sure, Michigan is used to playing in Joe Louis Arena, having made the trip to the Joe for the CCHA championship for 22 years running. Heading into the weekend, the Wolverines were the defending league playoff champions and current regular-season title holders.
That's why it was so surprising when Michigan fell to Western Michigan 5-2 in the late semifinal game Friday. The Broncos led that one 1-0 at the end of the first, then surged to a 5-1 lead by the end of the second. Goaltender Shawn Hunwick — replaced by Bryan Hogan at the start of the third — admitted Saturday that he'd lost his cool when Western brought the heat. When Matt Tennyson scored the game-winner at 13:53 in the second, Hunwick shoved the cage off its moorings. He looked rattled for the first two periods.
"I lost my composure a little bit," said Hunwick. "I was frustrated by how things were going. I wasn't really mad at anybody but myself, and I probably took it out in the worst possible way."
Hunwick rebounded the next night with 42 saves in a 4-2 win over Notre Dame, one of the best offensive teams in the country. "As the game went on, I thought we were tired," said Michigan coach Red Berenson. "We were back on our heels and they had a lot of scoring chances. I thought Shawn Hunwick was the difference at that point."
Hunwick (2.31 goals-against average, .921 save percentage), a senior with another year of eligibility because of his redshirt sophomore season, may be the key to Michigan's chances in the NCAA tournament. As he did last season, Hunwick earned the starting role because of an injury to senior Bryan Hogan. In 2009-10, Hunwick came in when the Wolverines needed to win the CCHA championship to earn an autobid for the NCAA tournament. This season, he and Hogan rotated in the Michigan net until Hogan was injured again in December.
Hunwick is 16-5-0 with five shutouts since taking the reins, and the loss to WMU was the first for Michigan in nine games.
Berenson said that the Wolverines were hoping to be sent to either the Midwest or West Regional, so returning to the place where he ended his NHL playing career and began to coach is a good thing. "We'll hope to make the most of it," said Berenson, who says that the Wolverines "match up well with" former CCHA foes Nebraska-Omaha.
— Paula C. Weston
Coach: Dean Blais, second season
Record: 21-15-2 (17-9-2 WCHA, third)
How they got in: At-large bid
Regional seed: Third
Last NCAA tournament appearance: 2006
Best NCAA finish: Lost in first round in 2006
Why they'll get to the Frozen Four: UNO is rested and the Mavericks get plenty of scoring from a lot of different sources who always put a lot of shots on net.
Why they won't get to the Frozen Four: There have been many games UNO lost this season in which the Mavericks won the shots battle. John Faulkner (who allowed seven goals on 44 shots in two games in the WCHA playoffs) can't have an off day in goal and the Mavericks must finish on chances.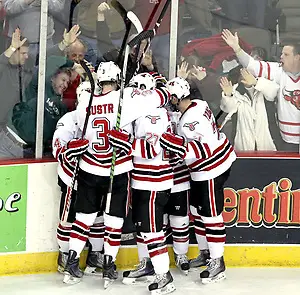 For Nebraska-Omaha's players, the national tournament is something new. Not for their coach.
Dean Blais led North Dakota to seven NCAA tournament appearances, including three spots in the national title games and two championships, not to mention numerous WCHA titles.
After five seasons away from the college bench, Blais has the Mavericks in the 16-team field in his second season at UNO. The Mavericks last reached the national tournament in 2006.
UNO drew a No. 3 seed and will take on an old CCHA opponent, Michigan, in St. Louis.
"Our guys know Michigan, and I think they all were excited to see that we're going to be playing them," UNO coach Dean Blais told the Omaha World-Herald. "We know they have a great team, but we feel like we can skate with anyone in the country. It's probably going to come down to how well we execute on our scoring chances."
UNO split with Michigan in Ann Arbor this season, beating the Wolverines 4-2 on Oct. 22 before losing 6-1 a day later. It was UNO's first loss of the season after five straight wins.
The Mavericks raised a lot of eyebrows when UNO, in its first season as a WCHA member, shot up the polls into late November with a 9-2-1 start. A midseason slump put the Mavericks on the bubble, but they won seven of their final 10 home games to finish third in the WCHA standings.
That pitted UNO against 10th-seeded Bemidji State, a team that had beaten the Mavericks three times in four games with a tie in the other game, in the WCHA playoffs. The Beavers swept UNO with 4-2 and 3-2 in Omaha, keeping the Mavericks from their first berth in the WCHA Final Five.
UNO hasn't played since the March 12 loss to BSU, and the last Mavericks win was March 5 to close the regular season at Minnesota-Duluth.
One of UNO's biggest problems this season has been the inability to capitalize on the number of shots it puts on goal. The Mavericks outshot their opponents in 11 of 15 losses, and in five of those losses, they totaled more than 40 shots.
UNO had one of the nation's highest scoring offenses for much of the season with a lot of different players contributing.
Matt Ambroz leads the team in goals with 17 and is tied for the team lead in points with 34. Joey Martin also has 34 points with 11 goals and 23 assists. Eric Olimb leads the Mavericks in assists with 24.
John Faulkner has been UNO's mainstay in goal with a 2.56 goals-against average and a .908 save percentage.
— Tyler Buckentine
Coach: Scott Owens, 12th season
Record: 22-18-3 (13-13-2 WCHA, sixth)
How they got in: At-large bid
Regional seed: Fourth
Last NCAA tournament appearance: 2008
Best NCAA finish: Champions, 1950, 1957
Why they'll get to the Frozen Four: CC is arguably playing its best hockey right now, and in a one-and-done situation, being hot is a good thing.
Why they won't get to the Frozen Four: The Tigers may have expended all their energy in the conference playoffs and just trying to get into the NCAA tournament.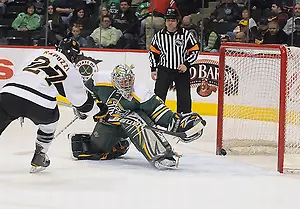 The Tigers are a deceptive team.
They've gone through stretches where they've played fantastically and stretches where they've struggled mightily. Part of the reason for that is that they're a young team — 16 of their 26 players are underclassmen — and getting special teams to consistently click with a young team can be a struggle.
That being said, CC is a team that gets contributions from all four lines and has a tendency for different players to step up at different times. Take defensemen Joe Marciano, for example. He has three goals this season and two came in CC's opening game of the Final Five, lifting the Tigers into the tournament semifinals.
Their top line of Stephen Schultz, Jaden Schwartz and Rylan Schwartz can compete with anybody in the country, particularly now that Jaden is back healthy. Goaltender Joe Howe, although he struggled some this year, can go toe to toe with the league's (and probably the nation's) top goaltenders when he's on.
The concern for the Tigers, however, may be how much gas they've got left in the tank. To some, it appeared as if they left everything out on the ice in their WCHA semifinal game against North Dakota. If they did, their opening NCAA game against Boston College could be a long one.
That being said, coach Scott Owens knows that in a one-and-done situation, anything can happen.
"Anytime you are one of the fours and you're playing a No. 1, you've got a tough opponent," he told the Colorado Springs Gazette's Joe Paisley. "BC has had success in the postseason and they have the speed and offense to match up with anybody. But it is one game and we've been playing pretty good hockey lately."
As for the comparisons between this year's team and his last to make the tournament?
"This year's team is much younger," he said. "It went through its trials and tribulations early and found itself. It played well down the stretch and earned the spot in the NCAAs. This year's team has a good team concept."
— Theresa Spisak