When you give up three power-play goals and get shut out on your own man advantage, you're not going to win very often. Maybe in some fluky regular season contest against an inferior opponent, but not in the game that determines who'll be playing for the national championship.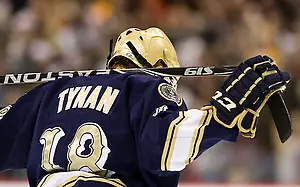 And so it was for Notre Dame in its Frozen Four semifinal game against Minnesota-Duluth on Thursday. The Fighting Irish scored in the opening minute to seize the lead, but Duluth tied it little more than two minutes later on its first power play.
The Irish again took the lead but after surrendering the tying goal, gave up the go-ahead goal and the eventual game-winner while down a man.
Meanwhile, the Notre Dame power play could muster only two shots in its own five advantages.
Not a winning equation.
"That game was dictated by one thing — special teams," Notre Dame coach Jeff Jackson said. "It's exactly what we saw on film. They have an exceptional power play, and we couldn't generate any offense on [our] power play.
"I thought we played a good game five-on-five, [but] that game was completely determined by special teams."
In truth, there was nothing fluky about Notre Dame's special teams' performance on this night. The Irish had been decidedly un-special in that respect all season long. Their power play had converted at a 16.2 percent rate, good for only eighth among the CCHA's 11 teams and tied for 39th nationally. The penalty kill with its success rate of 81.7 percent ranked sixth and 32nd, respectively.
"To be honest, our special teams this year have been a bit of a disappointment," Jackson said. "They've been one of the staples of our program for the last five years."
The numbers bear that out. In only one of the five years was the power play worse, ironically in 2008 when the Irish also reached the Frozen Four. And only in Jackson's first year at Notre Dame was the penalty kill even close to this weak.
"For some reason, even with some of the offensive talent we've had, we've had difficult times on the power play," Jackson said. "Part of that is that we don't have [someone] like Duluth's quarterback out there at the point. I think Sammy Calabrese is developing that, but [Justin] Faulk is a threat out there from a shooting perspective and he's also a good playmaker.
"We lack that right now. Hopefully we're going to have that coming in next season. At least that's what I'm planning. But that's hurt our power play, not just having that quarterback out there. That's why we use Riley Sheahan, who's a very intelligent player [at the point], but he probably would prefer to play down low."
Arguably, Duluth took Notre Dame's less-than-mediocre power play and rendered it almost totally ineffective with its stellar play on the penalty kill. It doesn't get much better than holding a team scoreless and to only two shots during five penalties.
"It was just our gaps in the neutral zone," Duluth's Faulk said. "Our forwards kind of pressured them off to one side and allowed our D or the other forward to step up and pinch them off at the blue line.
"And then even when they did get in the zone, when they were along the boards, we were able to pressure them pretty well. And when they did have shot opportunities, a lot of guys were willing to sacrifice their bodies and block a shot for the team."
As for Notre Dame's penalty kill, it's stunning that a team that has averaged a PK rate of roughly 88.7 percent over the last four years could get this far with one of only 81.7. And not stunning at all that this weakness would finally prove fatal.
"We were over 90 percent in December, and then all of a sudden because we started scoring too many short-handed goals, our penalty killing took a dive," Jackson said. "We started cheating and it never really fully recovered.
"Special teams are confidence-built, as you can see with Duluth right now. Their special teams have tremendous confidence."
And for a very good reason, much to the chagrin of the Irish.