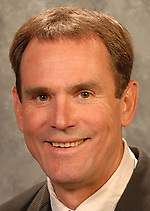 CCHA schools have picked Fred Pletsch to lead the conference through a key period in its history.
Pletsch, who has been serving as interim commissioner since March 23 after Tom Anastos became Michigan State's coach, had the interim tag removed from the title on Monday.
He joined the league in 2001 as director of communications, then became associate commissioner in 2008.
The CCHA lost Nebraska-Omaha to the WCHA in 2010 and will lose three more members — Michigan, Michigan State and Ohio State — when the Big Ten Conference starts sponsoring men's hockey in 2013.
"Fred steps into the commissioner's role at an important time for the CCHA," Greg Christopher, chair of the CCHA Council and athletic director at Bowling Green, said in a statement.
"He has been integrally involved in the direction of the conference for nearly a decade, and understands the details of the position along with the broader vision necessary to lead the CCHA. All 11 institutions have confidence in Fred and believe that he is the right person to help us navigate the future."
The vote was taken last week at league meetings in Naples, Fla.
A source said Pletsch was given a two-year contract as commissioner, which would cover the time until the Big Ten starts.
"I would like to thank the CCHA membership for providing me this opportunity to continue to serve a league with such great tradition and history," Pletsch said in a statement. "The CCHA staff is committed to maintaining the high standards of service and professionalism that have become synonymous with the conference. Together, we look forward to meeting the challenges and exploring the opportunities presented by college hockey's changing landscape."