They are calling it the "super conference."
Personally, I'll hold judgment on just how super the new conference featuring North Dakota, Denver, Colorado College, Nebraska-Omaha, Miami and Minnesota-Duluth will be. Notre Dame and another school — quite possibly Western Michigan — might also become members. So you won't hear that term for the remainder of this column.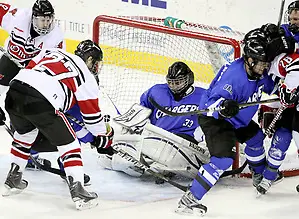 What I will say is that this new league, scheduled to be unveiled Wednesday at a news conference in Colorado Springs, Colo., has plenty of potential. Four of the six founding members have national titles. Miami came incredibly close in 2009 and Nebraska-Omaha is considered one of the upstart programs in the nation.
It will need to grow larger than six teams, though, if each hopes to continue to have success. The current NCAA tournament selection criteria will make it difficult for all six teams to remain powers on the national landscape. Every conference needs — and will always have — their haves and have-nots. The Big Ten faces the same scenario. There is absolutely no way that the six Big Ten teams and the six teams in this new conference will take up 12 of the 16 spots in the NCAA tournament field. It's simply not possible mathematically.
All that said, it's safe to say that both the Big Ten and this new conference should achieve some success. So the next question, and one that has been asked consistently for the last week, is what happens to the remaining teams.
The WCHA is left with Alaska-Anchorage, St. Cloud State, Bemidji State, Minnesota State and Michigan Tech. Ironically, or maybe not so much, these five finished eighth through 12th in the WCHA standings last year.
The CCHA has a larger remainder with Notre Dame, Western Michigan, Ferris State, Northern Michigan, Alaska, Lake Superior State and Bowling Green. But Notre Dame can be written off — it'll end up either in this new conference or in Hockey East, a desire that has been made public in recent months. Western Michigan seemingly has no desire to remain in the CCHA, so much so it launched a website (www.whywestern.com) to make a public pitch for why the Broncos are a good fit for college hockey's newest conference. It's hard to think that Western will be welcome among its CCHA brethren in the near future.
So with 10 teams combined between the CCHA and WCHA when all is said and done, it's pretty obvious one of these conferences won't be left standing when the dust settles. Or does it?
Personally, I feel that both conferences could survive. Obviously, both will need to grow to maintain their NCAA automatic qualifiers. But when you look at the remaining schools in Hockey East, Atlantic Hockey and ECAC Hockey (and independent Alabama-Huntsville), national realignment could make sense.
Many will remember the mid 1980s when Hockey East's member schools broke off from the ECAC. That significantly shrunk the average conference size. Had the Ivy League broken off its six teams (which was rumored at the time), there would have been more leagues with seven or fewer members than there was with eight or more.
That is the direction college hockey should consider. Twelve-team conferences such as the WCHA, ECAC and Atlantic Hockey (even the 11-team CCHA) can be challenging. Teams are forced to either play unbalanced schedules or face league members just twice each season, making it difficult to establish league rivalries from which college hockey thrives.
A college hockey landscape of six- to eight-team conferences can be an excellent fit. Each league member can play three or four games against league members and still have plenty of bandwidth for non-league play.
And looking at college hockey as it sits right now, it's entirely possible.
Solidifying the West
With both the WCHA and CCHA realistically at five teams right now, either could grow to six immediately by giving Alabama-Huntsville a home. There are also a number of teams that are decent geographic fits for the CCHA that are currently playing in Atlantic Hockey and are handcuffed by the league's scholarship limitations.
Mercyhurst, Robert Morris, Niagara and Canisius have all, over time, expressed interest in offering the maximum of 18 scholarships rather than Atlantic Hockey's cap of 12. Similarly, Air Force has proven its ability to successfully recruit as a military academy and geographically fits well into the WCHA.
Thus, the CCHA could grow to nine teams with the addition of Mercyhurst, Robert Morris, Niagara and Canisius. The WCHA could grow to seven by adding Alabama-Huntsville and Air Force. It's been rumored that Northern Michigan might fit better in the WCHA, being close to Michigan Tech. That would provide a nice eight-eight balance, now, wouldn't it?
What about the East?
If all of this happened in the West, the East would see a seven-team Atlantic Hockey, a 10-team Hockey East and a 12-team ECAC. I don't see any Hockey East team leaving soon. This is a league that would rather buck the trend and build a larger league than a smaller one. There's a part of me that thinks Atlantic Hockey would love to split into two six-team divisions, but that might not be realistic if teams are pilfered.
The ECAC, though, could easily break into Ivies and non-Ivies, creating its version of six-team conferences. Ivy League schools are hampered by restrictive start dates and schedule size. Grouping into a formal six-team Ivy League may have always seemed scary, but with the Big Ten and the new Western conference both targeting a similar size, at least they wouldn't be alone.
What about the easy solution?
You might be wondering why I've left out the thought of the remaining WCHA and CCHA teams pulling together to create a 10-, 11- or 12-team conference. The main reason is that I see a number of challenges to such an arrangement.
First is geography. For the sake of this argument, I want to assume Notre Dame and Western Michigan will find a new home outside of the CCHA. The longest continental U.S. trip (leaving out the Alaska schools from this discussion) between remaining schools likely would be Bowling Green, Ohio, to Bemidji, Minn. — 15-plus hours by bus. That's really not realistic for any school, thus forcing many of the CCHA schools to significantly increase their travel budgets.
The second factor is the number of teams competing for NCAA tournament bids. The conference, of course, would get an automatic qualifier but what school wouldn't prefer to compete against five, six or seven teams for that qualifier rather than nine, 10 or 11?
Fears of contraction
The one downside to smaller leagues is the fear of contraction — losing teams and dropping below the NCAA mandate of six clubs. It happened to the CHA and thus it's fresh in the minds of many schools and commissioners.
That is the main reason why I think Hockey East will sit on the sidelines as spectators in this game of musical chairs. The ECAC could take a similar stance and you couldn't blame it.
Obviously, neither the Big Ten nor the new western conference fears this whatsoever. All of those programs are established. But smaller schools in smaller conferences would be put at extreme risk.
Oh, and that, too
One thing few have mentioned: All of these teams still have to play in their current conferences for two years. Think there will be some incredibly contentious moments between now and September 2013?
As they say, "Drop the puck!"