There was a full schedule on conference games in the west this weekend, as MCHA, MIAC, and NCHA teams started the heart of their respective conference battles. There were two series featuring ranked teams, as No. 4 Adrian traveled to No. 11 Milwaukee School of Engineering (MSOE), while No. 12 Wisconsin-River Falls played host to No. 3 St. Norbert.
The MCHA
In an early season series between two teams who were undefeated coming into the weekend, Adrian split with MSOE. Michael Schenfeld's unassisted goal in the second period proved to be the game-winner for MSOE Friday night, as it defeated Adrian, 3-1.  It was MSOE's first win ever against Adrian, as MSOE was 0-18 against Adrian in their short history. On Saturday, Adrian's Grant Telfer registered a game-winning goal of his own at 13:18 of the second, as Adrian earned a 3-2 victory.
Also in the MCHA
Lake Forest and Concordia (Wis.) also skated to a weekend split of their games. Lake Forest erupted for five goals in the third period Friday to win 6-3. Concordia (Wis.) had its own big third period on Saturday, scoring four times to secure a 5-2 win.
Lawrence swept Northland by scores of 5-3 and 6-2. Marian also swept its series with Finlandia by scores of 5-3 and 4-2.
The MIAC
Defending conference champion Hamline swept a home-and-home with St. Mary's to take a share of the conference lead. Six different players scored for Hamline Friday night, as the Pipers beat St. Mary's, 6-4. Scoring his second goal of the weekend, Ryan McElhone put away a rebound shot 43 seconds into overtime Saturday night to cap off the sweep, 4-3.
Also in the MIAC
St. Thomas kept pace with Hamline by sweeping its home-and-home against St. John's. Five different players scored for St. Thomas, as they downed St. John's, 5-3, on Friday. Another balanced offensive attack for St. Thomas paved the way for a 5-4 victory, as Chris Hickey's goal with 6:05 left to play provided the game-winner.
St. Olaf also has part of an early lead in the MIAC conference standings, thanks to a win and a tie of Concordia (Minn.) over the weekend. St. Olaf won handily, 5-1, on Friday, but settled for a 2-2 tie in the second game of the series on Saturday.
Bethel and Gustavus Adolpus split their series, as both teams won games on home ice. Gustavus won 4-1 on Friday, while Bethel returned the favor Saturday by beating the Gusties 3-2.
The NCHA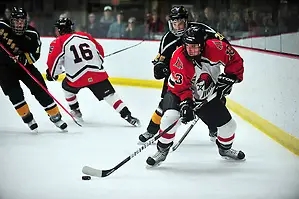 Wis.-River Falls took three out of a possible four points in its series with defending national champion St. Norbert this weekend. River Falls scored four first period goals to notch a 6-3 win on Friday. However, Saturday was a different story. St. Norbert had built a 4-0 lead at 1:44 of the third, but the Falcons scored five unanswered goals to take a 5-4 lead. Cody Keefer scored on a St. Norbert power play with just 2:27 left in regulation to force overtime.
Also in the NCHA
Wisconsin-Eau Claire and St. Scholastica split their home-and-home series, with both teams pleasing the home crowd with victories. Wis,-Eau Claire defeated St. Scholastica 5-1 on Friday. Jordan Singer had two goals to lead the way for Wis.-Eau Claire. The Blugolds are undefeated at home this season. Garet Chumley scored Saturday's game-winner on a power play, as St. Scholastica evened the weekend series.
Wis.-Superior had a three-point weekend on a trip to Wis.-Stevens Point over the weekend. Wis.-Stevens Point battled back from a 2-0 deficit Friday to take home a 3-3 tie with the Yellowjackets. On Saturday, Wis.-Superior scored five times, including two short-handed goals to win 5-2.
Nonconference
Augsburg's Jamison Wicks scored his first two collegiate goals as Augsburg beat Wisconsin-Stout 3-2 on Friday in the region's only nonconference game.