When discussing hockey players, we often turn to numbers to support just how effective a given individual is. In the case of Ohio State senior forward Natalie Spooner, most of the statistics fail to do her justice.
It is best just to concentrate on the number five, that worn by Spooner, because that is what rival coaches do when preparing to face the Buckeyes. First-year Ohio State coach Nate Handrahan knows that only too well, because as recently as last season, he was behind the Robert Morris bench, needing to devise a scheme to prevent Spooner from single-handedly destroying his Colonials in inter-league play.
"There are not very many players in my time in coaching that you have to come up with a particular game plan for one player," Handrahan said. "You can play a team game against certain players, play a certain way. She is explosive, she is dominating, and she's a handful for anybody — top defenseman in the country or anybody. She's certainly a horse."
According to Spooner, she tries to avoid worrying about what schemes opponents are throwing at her.
"I try just to play my game," she said. "Definitely, I feel like in series, always the second game once we've already played them once, they alter it a bit and I feel like I'm a little more covered."
Little wonder; when Spooner is not adequately covered, she blows up the scoresheet. In the season's first game versus Bemidji State, the Scarborough, Ont. native scored all of Ohio State's goals in a 4-4 tie, and then added the only goal of the resulting shootout. When Minnesota-Duluth visited Columbus, in November, she tallied four times in a 4-1 win for OSU in game one.
Regardless of what one may read on Internet message boards, Division I coaches are not idiots. Veterans like Steve Sertich and Shannon Miller make adjustments, and in the second game of each series, Spooner was held in check. Likely, those same coaches remember the lengths they need to go to neutralize her in games when voting for all-conference honors.
As a sophomore in 2009-10, Spooner was named to the All-WCHA First Team, despite being fifth in the league in points. Her junior season brought increased defensive scrutiny and she dropped to 17th in league points, but despite the return of Olympians like Hilary Knight, Meghan Duggan, Haley Irwin, Elin Holmlov, Pernilla Winberg, Jocelyne Lamoureux and Monique Lamoureux-Kolls and huge seasons from young players like Brianna Decker and Amanda Kessel, voters still found room for Spooner on the league's second team.
"People definitely try to put a certain line on against our line, especially now that I'm with [Laura McIntosh] and [Hokey Langan], I think we have a pretty strong line," Spooner said. "Or they'll have one player that tries to kind of follow me around. I think like some of the other teams try to match their 'D' up with our line; you just get used to it."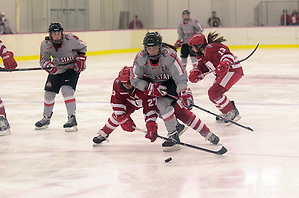 Senior McIntosh and junior Langan are dynamic scorers in their own right, so Handrahan has found putting his three best offensive producers on one line can be effective in multiple ways.
"I know that [Spooner] is going to break through against anybody. If they've got to put their best pairing together to play against that line and I have confidence that they're going to get their chances and opportunities and produce, then that opens up opportunities for some of our other lines to play against a two or a three pairing. Not everyone is as deep as Minnesota, where they got six 'D' that can roll and play. We change our strategy depending on the weekend, but again, they offer us some advantages."
Just as she tries to avoid concentrating on the opponents' strategy, Spooner doesn't want to be too concerned with how her own line chart reads.
"I try to play my best any line I'm on," she said. "I think playing with 'Mac' and Hokey now, I know that they're great players and if I give them the puck they're going to score, and hopefully, they'll do the same to me. Playing on the second line was fine, too, because we can spread out — Hokey and Mac played really well together. I knew that they'd get their job done on the first line, and hopefully, it would bring more to the second and third lines."
Handrahan plans to continue to mix it up and try different combinations.
"I really, truly believe that the regular season is a dress rehearsal for the end of the season, and the more variety and the more comfort that players have playing with different players, I think offers you some advantages late in the year," he said. "But I also think it is a credit to some of the other players that we have in our lineup. Kids like Taylor Kuehl who has stepped up and played pretty darn well, which gives us some comfort in putting players who can be so dominating all together and knowing we still got a few bullets in the chamber with Ally Tarr and Taylor and Danielle Gagne, who can go out and do some things offensively. That's not even talking about Tuominen, Hollowell, and Semenza, who are our energy line."
No matter what configuration Handrahan elects to use down the road, it's likely other teams will continue to be very aware of when number 5 is or is not on the ice. That attention keeps fans around the country that haven't watched her from fully appreciating just how great a player Spooner is. In that regard, her game may be better suited to international play, where given the deep Canadian roster, opponents cannot key on her to the same extent, as evidenced by her two goals against the United States in the championship of this year's Four Nations Cup.
"I just try to prove myself and prove myself as a player that can play at that level," she says. "I think every tournament that I've gone to so far I try to do that, and I think it's worked out well."
What hasn't always worked out well is the timing of international events and Hockey Canada commitments.
"I feel like a lot of the years, I've missed the Wisconsin weekend when we're at home," Spooner says. "I guess it's pretty unfortunate; I wish I could be with Ohio State, but you can't really be in two places at once."
Handrahan says that once she graduates, Spooner will be missed beyond her contributions on the ice.
"She has just such a youthful exuberance about her and a willingness to be a teammate and be involved," he said. "She's such a personality that is kind of infectious within the locker room. She has a pretty huge passion to play the game."
Once her NCAA eligibility is exhausted this season, the senior plans to return to Canada, play in women's professional leagues and continue to represent her country for a few years.
"My major is nutrition pre-med, so I think eventually, once I'm done with hockey, I'd like to go to med school," Spooner said. "I'm not really sure where I'd want to specialize in yet. It kind of changes all the time, but hopefully something in the medical field or nutrition wise."
While trying to decide, she has time for another pass through the WCHA, plus the postseason, where she and her classmates hope to take the Buckeyes to some uncharted territory.
"The time is now with regards to that bunch," Handrahan said. "They're a very driven group. They are hungry to take another step, not only for themselves as a group, but certainly for our program."
The coach believes the games to date can facilitate that advancement.
"We need to take all of the lessons that we've learned in the first half about who we are and what we need to do each and every night," he said. "You have to do that day in and day out and get better as the season goes on. I'm confident with the strength of the league and games that we play in, we're going to get our opportunities to win hockey games. We have to win the ones that if you put us on paper, that we're favored in. Last weekend, we just went and had a hiccup with Niagara with a tie. We played very poorly, and we played very well on Saturday night. We're striving for some consistency. I think that's been this program's m.o. over the years, having a solid first half and then maybe fading a little bit."
Number five in Scarlet and Gray is not likely to fade, nor are the memories of competing against her for rival players and coaches.