January and February have become common months for college hockey squads to hold benefit games and once again this year two perennial powers will be holding awareness nights.
For the fourth straight year Norwich will be holding a pink night at Krietzberg Arena. The Cadets will done special edition pink jerseys that were purchased last year and will be sold off for auction after next year's game. This year, Norwich will be raising money for the Carol Stephens Scholarshhip fund. Stephens was a professor at Norwich and this past summer passed away from a battle with cancer. The event will take place on Saturday, Jan. 28 against New England College.
You can view the full release on the Norwich athletics website: http://norwichathletics.com/sports/wice/2011-12/releases/Pink_Night_12-21-11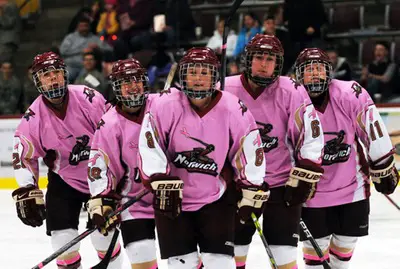 (picture from last year's "Cadets Skate for the Cure" night against St. Michael's. Frank Vanecek/Norwich University)
Elmira will also be holding a pink the rink event this Saturday against Neumann at the Murray Athletic Center.
release courtesy of the Elmira Sports Information Department
EC Women's Hockey Sponsors Pink in the Rink to Support Breast Cancer Awarenes
Elmira, NY – The #3 nationally-ranked Elmira College Women's Hockey team will hold a special "Pink in the Rink" event Friday, January 14th at 7:00 p.m. in conjunction with their ECAC West contest with the Neumann University Knights.  For this game only, the Elmira College Women's team will trade in its gold jerseys to wear special pink jerseys, which will be sold to raise funds for the Susan G. Komen Foundation.
 The event will feature various opportunities for fans to support Breast Cancer Awareness, including purchasing raffle tickets for themed gift baskets and purchasing game-worn Elmira College jerseys. There will also be a free public skate and opportunity for all fans in attendance who wish to skate with the EC Women's Hockey team, have their pictures taken and receive autographs from players.
Fan donations will be greatly appreciated in support of breast cancer awareness at this game. In addition, there will be an admission charge for this home contest of $5 for adults and $3 for students and children.  All proceeds for this game will benefit the Susan G. Komen Foundation.
Anyone interested in purchasing the special event Elmira College hockey jerseys may contact Coach Greg Fargo at (607) 735-1837 or [email protected] Please come out to the Murray Athletics Centerto enjoy great hockey and support a great cause. Fans are encouraged to wear pink and join Elmira College Women's Hockey in support of Pink in the Rink.