Browse the list of Minnesota Golden Gophers postseason award honorees and you'll find the likes of Nick Bjugstad with his scorer's touch and NHL-ready 6-foot-5 frame, the freshman phenom Kyle Rau, Nate Schmidt with his big shot and great vision, and the quiet competitiveness of goaltender Kent Patterson.
Notably absent from the list is Minnesota's leading points producer and, arguably, its most valuable player in sophomore forward Erik Haula.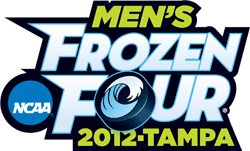 For complete Frozen Four coverage, visit USCHO's Frozen Four Central.
As Haula goes, it seems, Minnesota goes. That bodes well for the Gophers heading into next week's Frozen Four in Tampa, Fla., because right now it's go time for Haula, whose 48 points (20-28–48) is double his output as a freshman.
His goal 20 seconds into the second period of last Sunday's West Regional final against North Dakota put Minnesota in front 2-0 on their way to a 5-2 win for a berth in their first Frozen Four since 2005. The Gophers will face Boston College in Thursday's 8 p.m. EDT semifinal following that afternoon's clash between Ferris State and Union.
Haula's goal — scored just days after his 21st birthday — gave him a team-leading 10 points (5-5–10) in five postseason games.
"When your team plays well, obviously individuals are going to do better and this year we're going to the Frozen Four," Haula said in an attempt to downplay his playoff performance. "It's a great accomplishment but none of us could have done what we've done so far by themselves."
A native of Pori, Finland, a city on the Finnish west coast roughly comparable in area to New York City but in population to Duluth, Minn., Haula learned much of his English from members of the American-style football team his father, Tomi, once coached who frequently stayed at the Haula home.
The Haula family traveled frequently to North America in Erik's youth and, in fact, maintains a residence in Venice, Fla., only about an hour or so south of Tampa. Their travels led the Haulas to conclude that Erik's hockey and educational needs would be best served by a move to the U.S. or Canada.
"I sat down with my family and we came up with Shattuck [St. Mary's] because of the great history they've had there," Haula said of the Faribault, Minn., boarding school, home to such illustrious alumni as Sidney Crosby, Zach Parise and Jonathan Toews. "And we decided that I would want to go to college and work on my education as well."
Haula registered 84 points (26-58–84) playing for Shattuck in 2008-09 and 72 more (28-44–72) the following season in helping to lead the Omaha Lancers to the USHL semifinals. Now in his second season at Minnesota, Haula has no second thoughts about the path he chose.
"I just couldn't be more happy with the decisions I've made so far," said Haula.
Haula's effect upon his team, however, is not limited to this postseason run as the Minnesota Wild's seventh-round pick (182nd overall) in the 2009 NHL Entry Draft has made an impact one way or another on the Gophers going back to late last season.
Mired in a sixth-place tie with Colorado College in mid-February, Minnesota began a weekend series at home with Denver facing the unusual proposition of playing on the road to open the WCHA playoffs for the second straight season. Denver's 2-1 win on Friday night did nothing to alter that outlook.
The Gophers rebounded on Saturday, however, with a 7-3 win sparked, in part, by a goal and two assists from Haula, igniting a 5-0-2 finish for Minnesota that yielded home ice for the playoffs. Haula's seven points (2-5–7) in that season-ending stretch accounted for more than 25 percent of his season total of 24.
But Alaska-Anchorage held the Gophers, Haula included, in check to stun Minnesota on its home ice with 4-3 and 2-0 wins to sweep the Gophers out of the playoffs.
"You never want to end your season on a bad note and it was probably the biggest disappointment of my hockey career," Haula said of losing to Alaska-Anchorage and subsequently sitting out the WCHA Final Five. "It's always crucial to get that home-ice advantage and for us to really blow it last year …"
His voice trailed off as the frustration of it all clearly remains simmering within him nearly 13 months later.
Possibly motivated by the early playoff exit, Haula went on a tear to begin his second season by putting up 17 points (7-10–17) in the season's first seven games. In addition, he has 20 points (10-10–20) in his last 15 dating to a late-January series against St. Cloud State. That gives him 37 of his 48 total points in those 22 games, and Minnesota is 17-5 (.773) in that stretch.
"The season's usually [about] ups and downs and you've just got to keep trying to get better and try to work on things you need to," said Haula. "And I've been lucky enough to have a good finish here in the end."
"I've never played in an environment like I will right now. It's going to be the biggest stage of my career and I couldn't be more excited."
— Erik Haula
In between, though, came a 20-game, 11-point drought for Haula, and the Gophers suffered the effects in going just 11-8-1 (.575) in that time frame. Obviously, there is more to Minnesota's record on both ends of the spectrum than Haula's play, but the reflection of Haula's production on Minnesota's performance is enough to pique interest nonetheless.
"Erik got off to a great start and then in the middle of the year he kind of cooled and our team kind of cooled," said Minnesota coach Don Lucia, whose team is 12-1-1 (.893) this season when Haula scores a goal. "At that point in time it was Bjugstad's line that was carrying us.
"Now, all of a sudden, Haula's line is probably doing more offensive work than anybody."
By way of their first-place regular season finish, the Gophers, as chance would have it, earned a rematch with Alaska-Anchorage to open the playoffs for the second consecutive season. Haula, of course, relished the opportunity and took out his frustrations on the Seawolves to the tune of four goals, two assists, six shots, and a plus-6 plus/minus rating in Minnesota's sweep to advance to its first Final Five since 2010.
"Big-time players need to step up in the playoffs and he, obviously, did that against Alaska-[Anchorage]," said senior linemate Jake Hansen, who has benefited from Haula assists on 11 of his 15 goals. "He's playing well. He's making plays, whether it's making the right pass to set someone up or scoring the big goal."
As one of the few Gophers players not within a "CSI" episode's drive from home, Haula's opportunities to spend time with family are rare. So it was no surprise that Haula said his first call after the North Dakota win was to his father.
"My first question was if he'd booked the tickets already," Haula said of Tomi, who had indeed made such a purchase and will be flying in from Finland to see his son play.
After the disappointing finish to his freshman season, Haula said the success he's experiencing with this team has made life more enjoyable both on and off the ice.
"This is definitely the most fun that I've ever had [as a player]," said Haula. "I've never played in an environment like I will right now. It's going to be the biggest stage of my career and I couldn't be more excited."
Boston College earned its way to the Frozen Four in impressive fashion by way of consecutive shutouts over Air Force (2-0) and Minnesota-Duluth (4-0), but Haula is anything but concerned about facing the Eagles.
"I love all the pressure and all the hype that's building between us and BC and I just can't wait to play," Haula said. "It's going to be a great matchup because we're both pretty good defensively, we both have hot goalies, and both have, I think, closer to 10 people who have plus-20 points so it's definitely going to be a heavyweight tilt.
"We worked hard for this and we deserve it so it's rewarding to get [to the Frozen Four] but we're not satisfied yet."