Thoughts during the off weekend in the NCAA hockey tourney …
Hey NCAA, you listening?
There have been a lot of criticisms about the recently played NCAA regionals. The one thing fans can be assured of is that the coaches aren't happy, either. Complaints range from empty buildings, bad locations for teams to travel to, game times, TV exposure and ticket prices, and they were all subjects that were talked about by coaches to those who work behind the scenes in the college hockey business.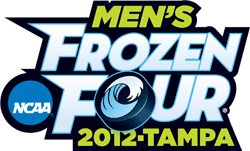 For complete Frozen Four coverage, visit USCHO's Frozen Four Central.
I do know that the coaches are in constant communication to try and find a better way to do the regionals. There is talk of a two-site, eight-team regional. There have been discussions of going back to campus sites. It is a problem they are aware of and working on.
My suggestion is this: If you think you are getting jobbed by the NCAA and its lack of concern for you, the fans, write directly to the NCAA. If it acts it proves it is concerned about how you, the money-paying consumer, feels. If they don't, it proves the point you have often made, which is the NCAA does not take care about college hockey fans. Don't bombard the message boards, go to the source. You have everything to gain and nothing to lose.
While on the ticket price subject, there are a few NCAA teams with slightly outrageous ticket prices. If you play in a nice arena with modern amenities you have a right to charge a bit more. There are a couple of teams that charge north of $30 for a ticket. That seems a little steep.
Turning pro early
Fans of their programs hate it when their kids turn pro early. Most coaches aren't thrilled, either, unless the kid is a legit NHL player who is turning pro early to play his one year in the AHL before jumping to the NHL.
There have been a rash of drafted and undrafted underclassmen signings so far this spring, notably Jason Zucker, Drew Shore, Anthony Bitetto, Matt Tennyson, JT Brown, Torey Krug, Reilly Smith, Chris Brown and Alex Chiasson. [View list of early departures]
As Michigan coach Red Berenson has often said, "If a kid is ready to leave early, I'll drive him to the airport myself." His comments on Brown seem to indicate he wasn't happy with the decision.
There have been some who have left early and are having solid careers with very little to no AHL time — Jack Johnson and Jonathan Toews come to mind right away. There is also a highway strewn with careers that never got out of minor league hockey, kids who should have stayed through their senior season.
The one to watch here is Krug. An undersized defenseman with good speed and skill, Krug jumped after leading the CCHA in points with a grand total of 29 (CCHA only), tied with Notre Dame dynamo T.J. Tynan (a Columbus draft pick who seems to be coming back to ND). In all games, he rang up 34 points which placed him eighth in the conference.
You can make a case here that Krug should have stayed for his senior year. You could also argue that he didn't have much to prove by staying. MSU is still a little ways away from being a consistent NCAA title contender and it wasn't going to happen on Krug's watch as captain. Defensemen develop at the pro level a little slower than forwards or goalies, and you need two to three years in the AHL at times to hone your craft. Maybe he gets a jump start on that process? Maybe he uses his North American training for a lengthy career in Europe?
Tennyson was more pro-ready in many respects. Big, strong, mobile and agile, Tennyson is not far off from being a top-four NHL defenseman. While another year at Western Michigan with the coaching staff it has would not have been a bad choice, you could argue that Tennyson was ready to accelerate the development process at the pro level and be challenged by better players and the grind of professional hockey.
Two key undrafted free-agent underclassmen who made great choices to stay in school are Danny DeKeyser at WMU and Andrej Sustr of Nebraska-Omaha. Standing 6-foot-2 and 6-8, respectively, these two talents and future NHL players just weren't ready physically to play professionally. Putting skill aside (both are pretty talented), their physical makeups dictated that another year at the NCAA level would improve their strength and physical maturity. Both are adding size but are still pretty lanky.
One thing I will say, and I have heard many scouts say it: If you are leaving early and you are not a dominant player at your position, why are you leaving? If you didn't dominate the level you were at, how are you going to be an impact player at a high level of pro hockey? Forget awards, all-conference teams and that stuff. We're talking pure impact player on a shift-by-shift and game-by-game basis.
There are some great kids who left early the past couple of years. The key is to take emotion out of it and just look at the player for what he is and what he projects to be in the organization that signed him. He might be a great kid, but how is he as a player? More importantly, what is he as a player at the next level? That is usually something a little different from what he is at the NCAA level.
Do that on this year's early departures and see who you think made a good move. I'm not saying they all should have stayed, but for those who think they have a good hockey mind, here is an exercise to stretch it a bit. Have some fun. Let me know what you came up with via Twitter @DaveStarmanCBS.
NCAA better?
While the debate over which is the better development route goes on, I'll offer this opinion up. When it comes to watching games, the NCAA is a better entertainment product than the CHL.
The skill level is higher from top to bottom in the lineup, players are older, more developed physically and have more hockey sense and savvy in the NCAA than the CHL. You have a better chance of seeing more really good hockey plays in an NCAA game.
The Hobey
The top three are in for the Hobey Baker Award, and all are good choices. The funny thing is you could take out two of the Hobey Hat Trick, add two others and the list would look just as good. It is a great year to be a Hobey voter! Congrats to Jack Connolly, new Maple Leafs player Spencer Abbott and Austin Smith.
I was on the voting committee once. You serve a three-year term. My first year we voted Ryan Duncan as our winner. It was mostly because in looking over his season, his road scoring and his ability to have big performances in big games was unmatched by anyone else on the list that year. The second was no contest — Kevin Porter was the winner by Halloween. He willed a young Michigan team to overachieve. My third year I actually had Matt Gilroy second on my ballot but he was a deserving winner, especially after seeing the play he made to create the third goal in the eventual 4-3 overtime win by Boston University over Miami in the national title game.
This year, using my time-tested formula that picked four of the last five winners correctly, I'm at a loss. You can go in any direction. I asked Minnesota-Duluth defenseman Brady Lamb about Jack Connolly while I was in Duluth. He said, "Well, this is the house that Jack built," referring to the new Amsoil Arena. I asked about Spencer Abbott while talking with Joey Diamond. Well, the answer is unprintable but let's just say that he thinks Abbott should win. Asking one NHL scout about Smith, the answer was simple: "He's legit."
These are tough choices this season for the voting 23 members. I still would like to know where Colorado College's Jaden Schwartz was in all of this.
Diamond a local hero
Shireen Saski went to speak to the fifth-grade classes at our son's career day event at school. In his grade are many youth hockey players. After her presentation about the world of sports reporting on television, the first question was by a kid who plays in the local youth hockey organization as a squirt. "Do you know Joey Diamond? He's from right here, you know!"
The State of Hockey
I'm always getting accused of bias toward one area or another or one team or another. My two favorite teams are the ones playing in the game I am doing that night, case closed. Most of the bias comments are laughable. That being said, I am a huge fan of the Xcel Energy Center and the hockey passion in Minneapolis and St. Paul.
Having been part of the working contingent at the 2011 Frozen Four, the 2012 WCHA Final Five and the recently held West Regional, all at Xcel, the one thing I can say is that this region is the hub of college hockey. (Small disclaimer: We're talking big metropolitan cities, not smaller ones where the school is the city like Ann Arbor or Grand Forks. That is a different situation.)
While I love Boston and its strong interest in Boston University, Boston College, Harvard and Northeastern hockey, I've yet to be in a casual restaurant near any of the schools mentioned and hear a discussion about the PairWise Rankings at tables other than mine. The cab drivers in St. Paul talk college hockey. At the airport the Delta folks at the ticket desk, after figuring out why I was in town, were able to size up the weekend tourney and have an opinion. I had a 10-minute discussion with the manager of the concierge desk at the airport Marriott about who should win the Hobey Baker Award two weeks ago. (FYI, he said Jack Connolly.)
The fact that Boston, greater Detroit and the Twin Cities area have this love for college hockey (you could add Denver to this also) is awesome.
Lastly
Thanks to Paul Rovnak, Jayson Hadju, Brian Kelley and Adam Bodnar for their help last week getting ready for the regionals. Thanks also to the coaches, assistants, players and staffs of Western Michigan, Boston University, Minnesota and North Dakota for their access and cooperation.
See you in Tampa.