TAMPA, Fla. — Union had a great season last year: The Schenectady, N.Y., program won its first regular season title and advanced to its first NCAA tournament, to boot. But the truth finally came out a month ago, from junior Jeremy Welsh.
"We can say it now, but it was huge," Welsh said about making the NCAA tournament last spring. "We had a huge selection show [party] and everyone was patting us on the back. We felt like we had already accomplished something, being the first Union team in the NCAA tournament.
"This year it was a completely different mind-set. If we didn't win two games it was going to be a disappointment. Last year we were happy to be here and it showed."
Under the collective guidance of captain Nolan Julseth-White and new head coach Rick Bennett, the 2011-12 Dutchmen are all business. No selection-show parties. No sighseeing trips in Atlantic City, Bridgeport or Tampa. No team-unifying hairdos, playoff beards, body piercings or music videos.
Happy to be here? They've barely had time to breathe, much less register where they are.
"We celebrated our successes: Obviously, when we won the ECAC playoffs, and obviously last weekend in Bridgeport, but we kind of celebrated that one night with the guys on the way back on the bus," said sophomore goaltender Troy Grosenick.
"And the following Monday it was back to work," he said.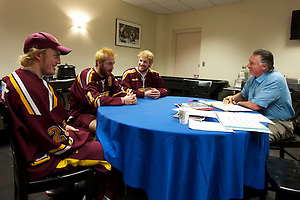 To emphasize a point, Union doesn't have playoff beards, frosted tips, bleached hair or any other visual indicators of a playoff hockey team. Even Minnesota's Golden Gophers — considered hockey heavyweights and perennial contenders — colored their collective hair to match their eponymous hue (and helmets).
"We haven't accomplished our main goal of the year," explained Grosenick. "We know that there's still work left to be done, so until we finish what we set out to do, it's all business."