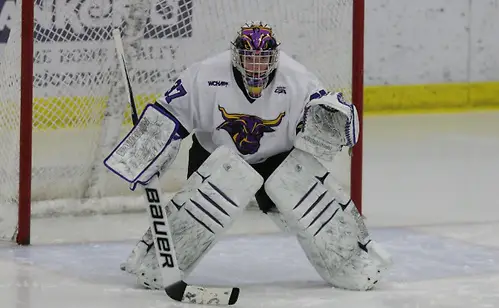 Candace: Well Arlan, what do we think? A new season has started, and I can't remember a weekend since I've followed the women's game when so many of the favorites have lost. Let's look at surprise no. 1 first: Minnesota State. In retrospect, perhaps their tie with Wisconsin was more than them just catching the Badgers flat at the start of the year. Certainly it looks that way after they shut down the high-flying North Dakota Sioux offense on Friday night in a 3-2 win.
Arlan: As far as favorites losing, we saw plenty of that during the final weekend of the conference tournaments in March when all of the champs from the regular season were beaten, half of them in the semifinals. What I heard from coaches then is similar to what I heard a lot from coaches this fall when working on the conference previews: They all say that parity is here and any team is capable of winning. Such statements have been made for years, but now I sense that coaches are more convinced that those sentiments have validity.
Last season, the general feeling around the WCHA was that Minnesota State was better than its record. Certainly splitting with both Mercyhurst and Robert Morris indicated that the Mavericks weren't a typical last-place team. Likely, MSU fell victim to the overall strength around the league, lost the head-to-head series with St. Cloud State, and was unable to pull off enough upsets to remain ahead of the Huskies. In part, I think some of the lower teams in a very strong league lose a bit of confidence as a season progresses and their efforts aren't rewarded. A new season offers a fresh start, and skaters like Tracy McCann and Lauren Smith and goaltender Danielle Butters have been playing well for the Mavericks.
Looked at from the side of the team without a nickname, that opening-night loss had to sting North Dakota. With the Lamoureux twins being seniors, this figures to be UND's best shot to compete for championships. Coming into the year, if you'd asked me what that team's weaknesses were likely to be, I'd have said inconsistency with team defense, including goaltending, and the high penalty minutes that it can rack up. The penalties were in evidence last weekend, but there was also less offense than I expected. Michelle Karvinen, UND's third-highest scorer as a rookie, missed the series due to injury, so that no doubt played a part.
The other big upsets in the WCHA came in Duluth, where you and I both underestimated Ohio State. Do you think we can expect the Buckeyes to remain in the top 10 now that they've gained entrance, or do those results say more about the Bulldogs?
Candace: Before answering that, I will say that yes, not having Michelle Karvinen hurts, but good teams need to find a way to overcome injuries and beat the teams they are supposed to beat. Even without Karvinen, the Sioux should have had enough to win that game. They were up 2-0 three minutes into the third period, and gave up three goals in the last 10 minutes of the game, the last coming with 38 seconds left. The Lamoureux twins combined on the first goal, but were shut down after that. Those two can't allow that to happen.
Regarding Ohio State and Minnesota-Duluth, my gut says it's more the latter than the former. I think it's certainly possible Ohio State may be better than we anticipated. Perhaps last season too many of the Buckeyes simply allowed Natalie Spooner and Laura McIntosh to shoulder the load because they'd done it for so long, and now that those two are gone others are stepping up.
However, I think we may be looking at Minnesota-Duluth through the prism of their history of having won more NCAA championships than any other team. The Bulldogs were certainly inconsistent last year, and, despite beating the Badgers in the WCHA tournament, were a clear notch below Minnesota and Wisconsin. On top of that, they lost Haley Irwin, their best player over the last several seasons, as well as their goaltender, Jennifer Harss to graduation. The Bulldogs have two freshmen goaltenders in Kayla Black and Sofia Carlstrom, and while Audrey Cournoyer is back as a senior, much of the team is young. I think there are some possible bright spots for the Bulldogs, and certainly Shannon Miller knows how to get the most out of her players, but this could be a year of struggle for Minnesota-Duluth. Before we move on to Clarkson, what's your take on Minnesota-Duluth?
Arlan: Obviously, the NCAA championships influence the way that we view the Bulldogs. But I've also seen them in years where it seems that they are going nowhere and one writes them off for dead, and then, like a slasher-film character, they are back wreaking havoc. In 2002, through the second half and as late as the WCHA tournament, they looked to be in total disarray. In 2007, I didn't think they were more than an average team in most of the games I watched them play. In the fall of 2009, it looked like it was going to be a very painful season in Duluth. Yet, the Bulldogs were NCAA champs in 2002 and 2010, and reached the title game in 2007. Miller is as good as anyone at using the early part of the season as training for what is to come. The Bulldogs were likely several notches below Wisconsin and Minnesota at various points of last season, but by March, if they were a notch below, it was a fine notch. There wasn't much separating Minnesota and UMD in the WCHA final. Harss was fantastic in net by the end, so they'll have to find someone that can assume her role. Perhaps Jenna McParland can provide much of what Irwin brought to the table, but McParland didn't play in the second game versus OSU. I expect UMD will struggle on more than one weekend, but they will still have a part to play before this story is completely written, and I wouldn't completely rule out a starring role. I hope to get to a Wisconsin and UMD game this weekend, and I should see Ohio State in a week and a half, so I'll have additional thoughts on those teams then.
You mentioned Clarkson, and the Golden Knights are one of a number of teams that are looking to see immediate impact from talented rookies. The Clarkson freshman class is regarded along the same lines as the group that are now juniors, such as goaltender Erica Howe and top forwards Carly Mercer and Jamie Lee Rattray. The Knights came through in a big way with a season-opening sweep of St. Lawrence, but both were one-goal games. The Saints were a second-half team a year ago, so I'd hate to be too quick to bury them and declare Clarkson to be the only team to watch in the North Country. What is your impression of Clarkson; can it remain in the top three in the ECAC, and perhaps challenge Cornell for supremacy?
Candace: It's a measure of how dominant Cornell and Harvard has been over the years in the ECAC that Clarkson can fly under the radar at all. The Golden Knights have generally been consistent over the last five or six seasons in finishing in the top half of the ECAC, and as high as second. Last year, they rebounded from a disappointing sixth place finish to capture third. Certainly with Erica Howe in net, Clarkson has to be considered a threat in the ECAC. She finished with a .927 save percentage and 1.75 goals-against average last season. It's the other end of the ice where Clarkson needs some impact players. Last year, Clarkson gave up more than three goals only three times, all losses. In most of their games, they gave up two or fewer goals, whether wins or losses. Any team that can consistently limit the opposition to two goals is in good shape; if defensemen Erin Ambrose and Renata Fast can provide some offense, and Cayley Mercer and Shannon MacAulay can step up, Clarkson will be dangerous.
Let's look at two teams who lost all-world goaltenders to graduation: Bemidji State and Providence. The two split their series over the weekend. Both teams delighted in playing spoiler last season, with Providence a hair's breath from capturing the Hockey East tournament. Do you think either team is in position to challenge again?
Arlan: At this point, no. I would guess both coaches are tinkering with their lineups, trying to figure out how best to fill the holes left in their rosters by graduation and settle on a goaltender rotation. Each team started a pair of goalies over the weekend, and solidifying that position quickly will go a long way to providing confidence for a team. Bemidji State lost 5-1 on Saturday, and that illustrates a couple of issues facing the Beavers. Steve Sertich's teams at Bemidji have never won when allowing five or more goals; that's just not who they are. At the same time, in the aftermath of Zuzana Tomcikova, scoring a single goal isn't going to be sufficient either. The Beavers will have to try to grind out 3-2 wins like they did on Friday night.
I spent much of last season waiting for Providence to fire, and it took most of the season before they started to play to a level that their talent suggested. Sometimes having a great goalie like Genevieve Lacasse can be a bit of a double-edged sword if the team relies too much on her to erase their miscues. Maybe the Friars will bear down with a new goaltender; Sarah Bryant is a rookie, and junior Nina Riley has only appeared in nine games. Providence also took a hit up front, graduating the team's top three scorers. Like Bemidji State, the Friars may be a dangerous opponent down the stretch, but I'm not expecting either to appear in the rankings during the 2012 portion of the schedule.
One team that lost a franchise goaltender but is still expected to be in the hunt is Northeastern. What did you think of the Huskies as they start the Chloe Desjardins era?
Candace: It's too early to say I think. They opened up nicely against Colgate and Syracuse, but neither of those teams are ones that Northeastern should lose to. Last season had to be bitterly disappointing for the Huskies, as the semifinal loss to Providence knocked them out of the NCAA tournament after they won the Hockey East regular season crown over Boston College. For the Huskies, Kendall Coyne has to avoid a sophomore slump, and Casey Pickett needs to produce again like she did last year. I'm sure Northeastern feels it has something to prove, which can always make a team dangerous. The question is, can the Huskies match Boston College and Boston University, who once again are the favorites in the conference.
Speaking of, those two squared off in their regular season opener, and the Eagles let a 2-1 lead slip. As was common last year, the Eagles outshot their opponent in a loss. You would have to think that after last year, Katie King Crowley would have stressed the need to tighten things up defensively, and yet the same pattern played out. Before we get to the Terriers, what's your take on the Eagles?
Arlan: Boston College is in year two of the situation that we spoke of with the last three teams: life after a world-class goaltender. I only saw the Eagles play in person once last year, and that was their final game versus Wisconsin. They did a lot of good things. Speedy people flew around the ice and handled the puck well. But in the end, they had the same problem that plagued them during many of their losses: BC allowed six goals. Outside of BU and Cornell, a team just can't win if that happens in March. Crowley said that she expects her team to be strong defensively this season, and one game is too soon to judge whether that will be the case. Either her team will need to lock down defensively such that the other team doesn't get any decent looks at the net, Corrine Boyles will need to show improvement in her second year as a starter, or the team will need to turn to Megan Miller or Taylor Blake in net. Otherwise, I don't see the ultimate end to the Eagles' season as being much different.
Boston University may have come into the season slightly under the radar, but if the Terriers are healthy, they could be close to the level that took them to the 2011 NCAA Championship game. Coming off of her performance at the Olympics and her rookie season, Marie-Philip Poulin looked to be the next big thing in women's hockey. If she is 100 percent for her junior year, considering the hiccups we've seen from teams that started the season ranked higher, are the Terriers now one of the three or four teams most likely to win it all?
Candace: When I look at the women's game for this year, until something changes drastically, I see currently a two-tiered structure. There's the likely winners: Minnesota and Wisconsin. And there's everyone else. Yes, BC has made the Frozen Four three times, but they've never been close in those games. BU made the final a couple of years ago, but lost handily to Wisconsin. Cornell is the only team besides Harvard to ever got close to breaking the WCHA hegemony, losing that triple-OT heartbreaker to Minnesota-Duluth in 2010. That sort of reminds me of the early years, where Harvard came close, losing a double-OT game to Minnesota-Duluth in 2003 and losing to Minnesota the following two years.
Cornell lost Rebecca Johnston, its leading scorer, and Amanda Mazzotta, its leading goaltender. Those are two big holes to fill. Every other team has question marks as well. There are a host of good teams, such as BC, BU, North Dakota, Cornell, and possibly Harvard, that I expect to probably make the NCAA tournament, but in terms of winning the whole shebang, I expect either the Gophers or Badgers to be skating with the trophy again.
To end our first Wednesday Women, first, what's your take on the NCAA tournament, and then let's look at something I find exciting: Penn State and RIT making their D-I debuts. The Nittany Lions split a series with Vermont, and RIT crushed Sacred Heart in two games after losing handily to Mercyhurst the previous weekend. What's your take on these new CHA squads? Certainly Penn State may have served notice with the split with an established D-I program, even if the Catamounts aren't exactly near the top.
Arlan: I'd say BC was close two years ago when it lost to Wisconsin on a late goal. Even though the semifinal loss in 2007 to UMD came in OT, I don't think anybody was close to the Badgers that year.
While I don't disagree with your breakdown, it should be noted that both Wisconsin and Minnesota have question marks at this point as well. For the Badgers, it is who will step up offensively if a team shuts down Brianna Decker. The loss of Hilary Knight, Brooke Ammerman, and Carolyne Prévost leaves some holes on the score sheet. Minnesota faces a similar problem after losing Jen Schoullis, Sarah Erickson, and Emily West. The early showings of Hannah Brandt and Maryanne Menefee have been impressive, but West scored at least a goal in all seven games of the team's postseason run a year ago, so until someone other than Amanda Kessel proves she can score at tournament time, the Gophers don't enjoy much separation from the pack. I do think a team has a better chance to survive with a suspect offense but a great defense in a win-or-go-home format, so the Badgers and Gophers look to be in better shape in that regard. I also expect Cornell and BU to be in the discussion for that reason.
The Penn State win over Vermont was the perfect cherry on top of a wild weekend. It is hard to evaluate a team like the Nittany Lions with so many rookies. Obviously, they've found a few people that can finish. But I'd expect that the second game is more indicative of what we can expect from Penn State over the season. Vermont has a new coach, former Amherst boss Jim Plumer, so there should be some inconsistency in its play as well as coach and players get to know each other. As for RIT, I doubt I'll have an idea on where the Tigers are until a month from now when they take on Colgate and Syracuse. RIT's next game is against the other Tigers, and Princeton was all over the map last year, beating Northeastern in its first game, shutting out Harvard in January, and then losing to the Crimson by nine a month later. RIT next plays Yale, a squad that looked nothing like a Division I program at times last year, so RIT is likely the favorite. A series against Penn State is tough to judge. So ask me about RIT in a month after they've played Colgate and Syracuse during Four Nations week. Those games figure to be close in either direction.
Candace:You are right about RIT's schedule, although if the Tigers can beat Princeton, it will at least show that perhaps the lopsided losses to Mercyhurst are not indicative of the team's strength. Penn State hosts Syracuse for a pair this weekend, so I'm curious how that will shake out.
Regarding Minnesota, yes, the Gophers lost West and Schoullis, but Brandt has looked awesome so far, leading the nation in scoring as a rookie with 15 points for a 3.75 points-per-game average. Menefree has also looked good. The Gophers also have Megan Bozek as a senior defesneman, and Noora Räty in goal, and of course Kessel, so there's still balance. For Wisconsin, you mention shutting down Decker, but teams still have to be able to do that, soemthing that's easier said than done. The Badgers also have Alex Rigsby in net, and Stefanie McKeough should hopefully get healthy before the end of the season and be able to anchor the back line. Yes, BU and Philip Poulin need to be considered, as do Cornell, North Dakota, and BC, but the holes for the Badgers and Gophers are not the holes that the rest of the teams have to deal with.