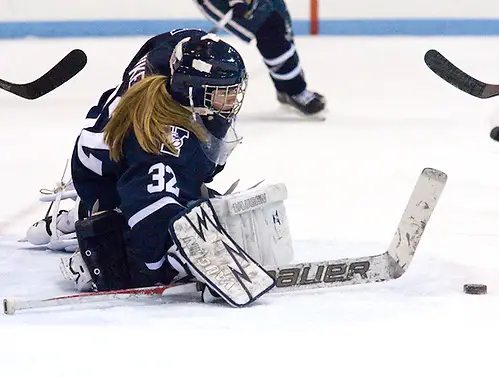 Candace: Even with several teams taking a bye week due to having players at the Four Nations Cup, there's still plenty to talk about. Before we get to the NCAA however, let's talk about the U.S. capturing its fifth Four Nations Cup. Kendall Coyne scored the game-winner, and Hilary Knight and Anne Schleper also scored. After the U.S. lost, 3-1, to Canada in the round robin, I'll admit I expected the same in the final, even after the team racked up 15 goals against Finland (I bet the Finns wish they had Noora Räty in goal in that game!). Three college standouts, Hilary Knight, Amanda Kessel, and Brianna Decker, led in overall scoring, and Jocelyne Lamoureux finished fifth, followed by Canada's Jennifer Wakefield, who played at Boston University and New Hampshire. Coyne notched four points to finish 10th. I think it definitely showcased how important the college game is to the growth of top players for both Canada and the U.S. What do you take away from the Four Nations, and how do you think the U.S. was able to rally from the first loss?
Arlan: Playing NCAA hockey is vital, particularly for the American players. The Canadians have another possible route, as a number have made their way to prime roles on the national team after playing for CIS programs, but I don't recall anyone from the United States bypassing college hockey and still popping up on her national team's roster. Of course, there are the rare talents like Natalie Darwitz or Coyne that will be appearing on senior national team rosters before they are old enough for college, but that is a case of "before the NCAA" rather than "instead of the NCAA." I believe that players do benefit from the regular training and competition opportunities that the NCAA experience provides, and once players graduate, they have to scramble to find a similar opportunity.
Coach Katey Stone's comments throughout the tournament indicate that she felt her U.S. squad was steadily improving throughout the Four Nations. Teams are together for such a short time that it has to be a quick learning curve. Canada centralizes a bit sooner, as someone like Marie-Philip Poulin was already absent from Boston University on November 3 while the American players were still competing with their college teams. I don't know if that contributed to the Canadians being more prepared for the round-robin meeting, or if we just say that these teams are pretty evenly matched of late and one may win one day and the other can flip the result in the next contest. It often comes down to playing well on the right day.
I do believe that the United States has closed the gap on Canada to some extent. After the 2006 Olympics, it was rather obvious that Canada was substantially better than its neighbors to the south. Look at a program such as Wisconsin. To that point, it had produced Canadian national team players such as Carla MacLeod, Meaghan Mikkelson, and Bobbi-Jo Slusar, and Kazmaier winner Sara Bauer, who was certainly of that caliber, and the only American players of that ilk were Molly Engstrom and Kerry Weiland. In the next generation, Badgers like Erika Lawler, Jessie Vetter, Meghan Duggan, Hilary Knight, and Brianna Decker have helped form the nucleus of Team USA. I think the increase in top-level American players also shows up in recent Kazmaier voting and NCAA point producers. There are still just as many great Canadian players, but I believe that the top of the talent pyramid in the United States is now broader than it was a few years ago. So many of the top Canadian players have headed to Cornell in recent years, and the fact that the Big Red are still looking for that first Frozen Four championship is due in large part to the fact that there is enough American talent available to form a competitive core for teams like Wisconsin and Minnesota.
In the end, I don't think that the Four Nations result substantially changes the fact that Canada will still be the favorite to claim the World Championship in Ottawa in 2013. Do you reach a different conclusion based on the results from Finland?
Candace: Well, home ice is huge, and Canada will definitely want to avenge losing in the gold medal game in 2009 and 2011, the latter of which the U.S. won in OT. Home ice probably helped Canada in 2010 at the Vancouver Olympics. I think the U.S. has to really look to Sochi as an opportunity to deny Canada a fourth straight gold medal. Perhaps with a couple more years to gel, the U.S. can break the Canadian Olympic hegemony.
Let's turn to the first puzzler to come out of the weekend: Princeton. Though I correctly picked the Tigers to beat Rensselaer in our picks contest (yay me!), I didn't see them scoring a six pack to do so. The next night, the Tigers battled Union to a draw. Union had tied a tough Quinnipiac squad the previous night, so that result isn't as weird as it might appear at first glance. What are we to make of the up-and down Tigers, who are currently ahead of Brown in the top eight in the ECAC?
Arlan: I watched the numbers on the scoreboard of RPI versus Princeton change about as fast as the total price at the gas pump, and I thought, "This isn't last year's Tigers." Jeff Kampersal must at times feel like he is trying to plug holes in a dike, because it seems Princeton either has trouble scoring or it can't be stopped by anyone. Very rarely have the two phases of the game been going well at the same time for the Tigers. Princeton lost five of its final seven games last season, so even though it has a .500 record thus far, I'm not optimistic about where its season is headed. The next seven games are at home, but the Tigers figure to be underdogs against St. Lawrence, Clarkson, and versus Ohio State for two. They surprised the Buckeyes with two ties a year ago, but that was when OSU had three players off on national team gigs.
If I look at last weekend's action from an RPI perspective, there is both good and bad news. Researching the Engineers before the season, I was surprised by how poor the numbers were for both their power play and goaltending. The PP has gotten a little better and converted on two of four chances against Princeton. The goaltending statistics are still underwhelming. At least RPI cut the goals allowed in half the next day versus Quinnipiac, but 22 shots still produced three goals. It is hard to win enough to make the playoffs at that rate.
Union may be the team near the bottom of the ECAC that is trending upward. The Dutchwomen have three wins; they only had four all of last season, and one came over Sacred Heart. Union was swept by RPI last year and tied Connecticut, but has wins against both teams this year. Claudia Asano Barcomb's team still doesn't score much, less than twice a game, but Shenae Lundberg's sophomore campaign in net is off to a much better start than her rookie season. Princeton will have its hands full holding off Union and perhaps Brown as well. Despite anemic offenses, they figure to be able to hold down scores and steal a game or two, just like the Tigers used to do. In what team from the bottom half of the ECAC would you invest in a futures market?
Candace: You know, Brown is currently 1-5 and the last team that would make the playoffs if the season ended today, but when I look at their results, I see a lot of upside. They've played a very top-heavy schedule, facing Cornell, Clarkson, Harvard, Dartmouth, and St. Lawrence, the elite of the ECAC. They've played all of those teams tough. The trip to the North Country started a little rough in a 4-1 loss to St. Lawrence Friday, but they rebounded well in playing No. 3 Clarkson very strong, being tied over halfway through the game. Clarkson only won 2-1. Cornell only beat the Bears 2-0, and the Dartmouth game was a 1-0 loss. In the only game against a team beneath them in the standings, the Bears beat Colgate, 4-1. Katie Jamieson and Aubree Moore have split time in net, and have very respectable statistics, with Jamieson at a 2.33 goals-against average and .936 save percentage and Moore at a 1.35 goals-against average and .949 save percentage. If the Bears can get some offense going, they could be troublesome. Offense has been in short supply. Their leading scorer is Sarah Robson, and she's averaging a half a point a game. In six games, the Bears have been shutout three times and scored only a single goal in two others. Considering that when Union traveled to the North Country, the Dutchwomen lost by scores of 6-0 and 6-1, I don't think they will challenge the Bears for the eighth playoff spot in the ECAC. Brown hosts the mercurial RIT Tigers for two games this weekend, a series the Bears really need to sweep to start establishing confidence.
I've also been a little surprised by Yale, which threw a scare into both Cornell and Dartmouth a few weeks ago. Considering that the Elis only won one game all last season, and it was an overtime decision against Union, it seems to show that the Elis are improving. They have a pair of freshmen in Janelle Ferrara and Jamie Haddad who are leading the team in scoring, with Ferrara averaging .750 points a game. What's your take on Brown and Yale?
Arlan: I think both are improving. We could talk about many teams, and that would be the conclusion, because by and large, these coaching staffs do a great job and teams are getting better. It doesn't always show up immediately, because they are always matching up against other teams on the rise. If it was like professional sports where teams could make trades, I'd bet that Amy Bourbeau would find some takers if she put either Jamieson or Moore on the trading block, as there are a number of teams with more uncertainty in goal.
I have it on good report that injuries were a big stumbling block for Yale a year ago. The Elis have a couple of dates with a rested Mercyhurst team this weekend, so it may be tough to get back into the win column. Thanksgiving and the Nutmeg Classic may be more to the Bulldogs' liking. Yale will be better and up its victory total from last season, but there is work to do before a return to postseason hockey is imminent.
Another team that had to deal with injuries is Clarkson. The Golden Knights only had 13 skaters per game last weekend, and one of the missing players was star rookie defenseman Erin Ambrose. Factors like her absence complicate the issue when trying to compare teams based on their scores versus common opponents. Plus, it isn't always what teams you play but when you play them.
For example, we liked Dartmouth, then we weren't as impressed by Dartmouth, but after the Big Green rallied behind Reagan Fischer to tie Boston College on Monday night, perhaps I was too hasty to cast them aside. DC is 4-1-1, with some extra time off to prepare for Cornell, with Harvard looming on the distant horizon. Do we need to take another look at the Big Green after they badly outshot the Eagles over the second and third periods?
Candace: I had never quite cast Dartmouth aside. They are a glass half-full team at the moment. On the one hand, they are winning games. On the other, they are making things very difficult on themselves. I didn't see the game against Boston College, but I wonder if the Eagles went into a shell in the third period and just tried to preserve the win. That doesn't usually work well, and it could account for the shots. BC rarely gets outshot; in fact, it's usually the Eagles that outshoot teams by a wide margin and still lose. Sometimes, it's that they are desperate and just follow the old coaches' axiom of "Get the puck on net." Still, there is something to be said for quality shots, ones that generate good rebounds down low, instead of just shooting to get the puck on net and hope for the best. Except for their blowout loss to Quinnipiac, every game Dartmouth has played has been a close one, including ones against teams that they need to beat by better margins. If they keep rolling the dice like they have been, a few more losses will creep into the column.
Another team we may need to take a look at is New Hampshire. They seem to be like Princeton on steroids. After the back-to-back sweeps by Wisconsin and St. Lawrence, I'd kind of given up on the Wildcats. They played Dartmouth tough, but if you look at the schedule, EVERYBODY plays Dartmouth tough. The Big Green don't win easy, so I don't know what to take from that. Over the weekend however, they upset a suddenly vulnerable-looking Boston University and tied a very good Providence team with a third-period short-handed goal. I know the Terriers didn't have Poulin, but the Terriers I still thought had enough to win that game. I'm not ready to write the Wildcats back into the picture though. They are on the road against Maine Saturday, which is another team that I had given up on, then host Quinnipiac before a Thanksgiving series at home where they get the chance to play lamb chops to Minnesota's lion.
Maine meanwhile, got three points against Bemidji to beak a four-game losing streak. After the New Hampshire game, the Black Bears are off from official action until the end of November, when they travel to Boston College for a two-game set. What's your take on those middling Hockey East squads?
Arlan: My mind is a jumbled mess when I contemplate New Hampshire, and I think that's only minimally due to your use of a Thanksgiving metaphor where the rodent Gophers have somehow usurped UNH's place in the cat family. I expected the Wildcats to make progress, but their record was actually heading in the wrong direction until the weekend, when they took three out of four points against teams that looked to be bound for the top half of the league. Now I'm not sure where any of the league's teams are heading, which teams are middling, and if there is really much separation at all. BC, BU, Providence — they all allow nearly three goals a game. That's too high for an elite team; it's almost twice what Northeastern allowed in winning Hockey East last time. The Huskies have allowed the fewest goals in the conference, and they are the only team yielding goals at less than two per contest. But I've watched NU twice surrender leads to an extra attacker in the final minute. Do we have confidence that any of these teams can stop a puck with a game or season on the line?
I'm sure somebody will get it figured out. However, if we need to factor in potential improvement, then we need to consider more teams. I got my first look at Vermont on Sunday, and I saw a lot of problems, but they are the type of things that can be fixed. Time and again the Catamounts didn't handle the puck well enough. They'd have people open and there were plays to be made, and they either wouldn't see it or the recognition would take too long and the moment was gone. Other times, instead of being strong on the puck and protecting it, Vermont would leave the puck in a vulnerable spot or try to move it through bodies. That was combined with penalties that may not have been plentiful but were just plain bad. I know that the Catamounts are young, but they need to grow up fast if they want to compete, because offensive-zone penalties in the final minute of a period won't fly. And it just kills momentum when a team scores a big goal to tie or take the lead but it can't get through the next shift without committing a penalty. Many of the flaws could be cleaned up in a month, if the players are sincerely committed to the team. Because for all of the mistakes and things that Vermont did wrong, it still carried the play to Northeastern for long stretches.
I also got to watch Maine play in person, and as nice as it is to have video feeds available, give me live every time. My column this week will cover what I saw from the Black Bears, Bemidji State, Lindenwood, and St. Cloud State. My quick conclusion regarding Maine is that though sophomore Megan Treacy may be doing fine in goal, at this point, the Bears are a far more competitive team with a healthy Brittany Ott between the pipes. Sometimes a team just responds better with a senior with whom they've gone to battle many times, and Ott will take it personally and do anything necessary to keep the puck out of the net. The troubling thing for Maine is how badly they were dominated for long stretches by the last-place team in the WCHA. They did win the series, though, which is the important thing when heading on the road, particularly to a destination where visitors haven't enjoyed much success.
In any case, a big weekend is coming up for the league: PC at BU, BC home-and-home with Northeastern, and Harvard at BU. Does the Terriers slump end?
Candace: I guess the Terriers are in a little mini-slump, losing two of their last three and tying the other one, but to be fair, two of those games were against arch-rival Boston College, where, as far a I am concerned, all bets are off. I have a feeling the Terriers will beat Providence. I think Providence is in its own zone in a way; they are better than most of the other Hockey East teams, but are just a notch behind Boston University and Boston College. BC smoked them, 6-1, a couple of weeks ago, but then again, the Eagles smoked BU, 7-1, at around the same time, so who knows. I'll be very interested to see how the Crimson do against the Terriers. Yes, Harvard is undefeated, but except for Quinnipiac, I don't feel the Crimson have played any upper-echelon teams yet, so this is really, I think, our first good read on how good the Crimson are. BU should have Poulin back, so we can't make excuses for the Terriers either.  I have someone currently working on a feature on the Crimson that will run later this week, but what's your take on Harvard so far?
Also, we have a barnburner coming in Columbus, with Wisconsin traveling to Ohio State. I think it will give us a good read on whether Wisconsin has truly turned a corner, because as recently as last season, this is a series that wouldn't have even been up for discussion, in terms of who would win. I do believe that Mark Johnson is one of the best coaches not just in women's hockey, but in the entire college game, up there with Jerry York. What do you think; should we expect that the Badgers will flex their muscle and challenge mighty Minnesota? Those two squads meet in Minneapolis on the first weekend of December; will you be traveling for that one?
Arlan:  So far, so good for Harvard, but I'm looking forward to some of the games that the Crimson will play in November. Quinnipiac has been a little hot and cold, so it is difficult to slot Harvard based on that 2-0 win. The same can be said of BU to an extent, but after Harvard meets teams like Cornell, Northeastern, and Dartmouth in addition to the Terriers, we should have a better idea of whether Stone's charges will be able to overcome the loss of Josephine Pucci and Marissa Gedman. It is one thing to do so against middle-of-the-pack opponents, but an entirely different hurdle to clear against those at or near the top 10.
In the one game where I watched the Badgers, they didn't have that much muscle to flex. Johnson has made improvements, but I'd say that the six points up for grabs in Columbus could easily wind up in either team's column. Yes, Wisconsin was the favorite when the teams played, but OSU took the most recent meeting and there have been other games where the Badgers didn't score the deciding goal until the third period or overtime. The Buckeyes seemed to match up better against Wisconsin than a higher-ranked team such as North Dakota did. The Badgers weren't exactly a juggernaut in Mankato or Duluth, so it will be interesting to see whether the recent gains they've made carry over to the road in Columbus.
Unlike the other series between the WCHA's Big Three, where any team can win at any time, historically, the stronger club has won the lion's share of the head-to-head games between Wisconsin and Minnesota. The one exception occurred three years ago during the Olympic year when the Badgers were scuffling until they swept a previously undefeated Gophers club. So while I think that Johnson's team is perfectly capable of taking a game or even the series in Minnesota, past performance doesn't really indicate that. Those games are still more than a couple weeks away, so a lot can change before then.
I saw a couple things at games last weekend that are rare. In Bemidji, a team came from three goals down to win in the third period. I'll have to do some checking to find the last time that happened while I was attending a game. And in St. Cloud, I witnessed a first for me: a pane of glass absolutely shattering at a women's game when players crashed into the boards. Lindenwood's Alison Wickenheiser was driving to the net when a St. Cloud skater slid into her and both players had little time to prepare for the end boards. Wickenheiser wound up upside down as she reached the wall and her skates hit the glass. The glass rained down, primarily on Wickenheiser. That was a little like watching a car wreck, and I was thankful when both were eventually able to stand. It took quite a while before Wickenheiser did, and once she could, she was shaking glass out of her jersey and hair. The officials took the first intermission early with six minutes left in the first period so that cleanup and repairs could occur, and once play resumed, Wickenheiser didn't miss a shift. Scary stuff.
Do you have any standout memories involving breaking glass at a rink?
Candace: Only vague mental flashes of videos showing guys getting checked into the boards and the glass breaking. I've seen slap shots break the glass at Denver University once or twice, and it's always impressive. It sure sounds like the one with Wickenheiser was more impressive. I'm glad both players were OK.