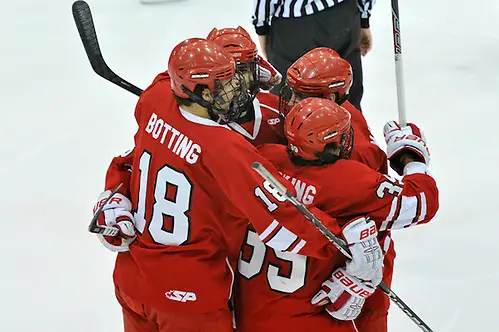 Naughty or nice? That's for Santa to decide.
Still, if you were to ask each of the SUNYAC's nine head coaches, they would swear that none of them are deserving of any stockings chucked full of coal. Indeed, they'd convince you that they've all been good lads who deserve something special under the tree.
We won't ask any of the league's referees their opinion on that but instead we'll take their requests straight to the North Pole.
For Oswego coach Ed Gosek, a healthy Jon Whitelaw.
Who could lose their top scorer – and team captain – without missing a beat?
Nobody, that's who, not even the Lakers, who initially fared well after Whitelaw was felled by injury a month ago. Then they dropped two games in a row and "tumbled" in the rankings from No. 1 to No. 2.
Word is that Whitelaw will be dropped off by Santa in time for Oswego's Pathfinder Bank tourney.
For Plattsburgh's Bob Emery, another Jensen or two.
Not that there are any more of those stashed in Sweden (by way of Denmark) who could join up with Nick and Alex in the Cardinals lineup.
Still, front liners who can score, eat up major minutes, and even take the odd turn on defense the way these brothers can just don't grow on trees. Not even Swedish spruces.
For Geneseo's Chris Schultz, several months of reliable babysitting.
The father of two young sons — including two-month old Drew — has his Ice Knights contending for a SUNYAC title, and could even score his first NCAA tourney berth, which would keep him really busy deep into March.
Two kids are a true handful, so somebody is going to have to give Mrs. Schultz a breather.
For Buffalo State's Nick Carriere, a cool nickname like his dad's.
Even then, he should be careful what he asks for. After all, father Larry earned his moniker "the Hawk" the hard way, through repeated blows to the nose during his lengthy NHL career.
Nick's schnozz is nice and straight, so perhaps "the Thin Man" would be more fitting.
For Brockport's Brian Dickinson, the key to a spare room in Trenton, Ontario.
Dickinson does a great deal of recruiting of Canadian Junior A teams, and recently has mined a host of prospects from the OJHL's Trenton Golden Hawks.
It would save the old goalie a bit of wear and tear, not to mention stretch the recruiting budget a little further.
For Fredonia's Jeff Meredith, a framed piece of parchment.
One that would illustrate his coaching tree.
Meredith, who has been at the helm in Fredonia for a quarter century, has sent several former proteges on to coaching gigs of their own. That includes SUNYAC rival bench bosses Carriere and Dickinson.
It would be nice for Meredith to have a visual reminder of his impressive legacy.
For Potsdam's Chris Bernard, an unlimited gas card.
With his Bears having been forced out of their Maxcy Hall home for the season due to renovations, Bernard has had to spend a little more time on the road, what with the hour-long round trip game day commutes to Massena, and all.
Maybe add a little money for coffee, while you're at it.
For Cortland's Joe Baldarotta, 12 months of Movember.
The effervescent Red Dragons coach is the possessor of the SUNYAC's best 'stache, and with a full year to work with, could use it to raise untold sums of money for good causes.
For Morrisville's Kevin Krogol, a shorter job title.
Or rather, to have the "interim" tag dropped so that he can be named the Mustangs' full time head coach.
Krogol, a Morrisville assistant last year, was thrust into the breach a month before this season with the sudden resignation of his boss, Brian Grady.
The 'Stangs have recorded just one win so far, but have been highly competitive, and Krogol has earned the opportunity to put his own stamp on the club.
And for all the fans of SUNYAC hockey, this space wishes you all the blessings of the holiday season, and some great pucks to watch in the coming New Year.