We're waist-deep in holiday madness, so here's a shimmering lifeline of hockey happiness to hold on to for the next two weeks. Assuming the world doesn't end, of course.
This isn't all, you know: Check out the last two entries in the ECAC Hockey blog for more reflections and wrap-ups on the semester that was.
Breakout team of the first half
They may not be juggernauts, but the Quinnipiac Bobcats are playing like giants, if nothing else.
Their accomplishments have been pixilated numerous times, but what's once more for the record? QU has the best offense (3.88 goals per game) and the best defense (1.12 goals against per game) in league play. Yes, that's a 1.12: In eight league games, the 'Cats have allowed nine goals. The power play is scoring 20 percent of the time, the penalty kill is extinguishing 93 percent of opponents' advantages, and they're doing it all without the emergence of a true superstar.
Senior Jeremy Langlois is the closest thing the Bobcats have to a stellar producer so far, and Langlois is no slouch with 10 goals and 18 points in 16 games overall. Beyond him, though, coach Rand Pecknold is still waiting for another thoroughbred to break from the pack. Langlois is the only player with more than five goals, and only he and classmate Clay Harvey (2-10–12) can boast double-digit points on this 12-3-2 squad.
Fortunately, QU's depth (16 players with goals) and defense/goaltending (Eric Hartzell has an .937 overall save percentage) are maintaining the Bobcats' roll. Unbeaten in 10 straight, the Q could give up 37 more goals over its remaining 14 games and still match its program-best 2.09 league GAA, set in 2008-'09.
Breakout player of the first half
Who do you think it would be?
You're wrong.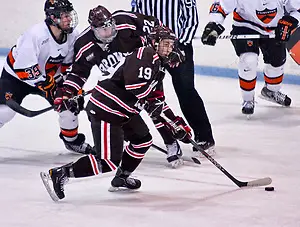 My pick for breakout player of the first half is Brown's Matt Lorito. Why, you ask loudly and confrontationally? Why not Greg Carey or Kyle Flanagan? Why not Langlois or Antoine Laganiere? Why Lorito, whose team is averaging barely two goals a game and has yet to put a digit in the league's W column?
Because he accounts for a significantly bigger chunk of his team's production than any other candidate, that's why. Lorito's nine goals account for 36 percent of Bruno's overall goal total. Thirty-six percent! The other players in the running hovered just above 20 percent. Speaking of the two-zero, that's how much of Brown's scoring has gone through Lorito first. One of every five Brown goals this year has been generated in part by this sophomore's abilities.
For those who argue that a full third of his goals were scored against Army — and it's true, he had all three of the Bears' strikes that night — I will counter that were it not for those goals, he would still lead the team by a two-goal cushion and count for 27 percent of its tallies.
Team most in need of the break
It's a tie between Harvard and St. Lawrence.
The Crimson, who appeared poised for a serious run this season, have instead been wracked by a wide-spread cheating scandal that has led to the departure of four players for at least a year, if not longer. This leaves the team critically short-handed on defense, as three of the players were defensemen (two were regulars) and the fourth was an experienced goalie.
The last game the Crimson played with their season-opening roster was a 1-0 loss to Colgate on Nov. 17. Since then, the squad played to a 2-2 tie at Merrimack and fell 5-0 to Massachusetts-Lowell at home. This is a team in need of some time off.
St. Lawrence isn't faring much better. The Saints stormed out to a 5-1-1 record to open the campaign but are 2-7-1 since. What was once a 3.71 goals-per-game offense became a 2.10 offense. The defense and goaltending pitched two shutouts and two one-goal games in a four-game stretch during the hot streak; since then the Saints have held foes to two goals in a game only twice. Opponents' power plays are converting 23 percent of the time, and SLU is surrendering 31 shots a game. It's a good time for a reboot in Canton.
Team poised for a second-half surge
Ready for this one? Princeton.
The Tigers may not be turning many heads right now, but they are definitely positioned to jump ahead a few spots come 2013. Princeton is hanging around the middle of the pack in most statistical categories but has the advantage of playing eight of its remaining 14 league games at home, including four in a row as part of a five-game home stand in January.
The squad will have to tangle Hockey East opponents Merrimack and Vermont in the Catamount Cup to close out 2012, but 2013 will be kind to the road-weary Ivy.
For the record, Quinnipiac resumes play with seven straight home contests, will lace 'em up (at least) 11 more times in Hamden in 2013, and play only six road tilts. Sure, the Bobcats look like the more obvious "surge" contender, but greater a surge can there be on top of a 10-game unbeaten streak?
Roughest road ahead
Next year doesn't look much better than this year for Harvard. The Crimson suit up in white for a game against Northeastern on Dec. 29, but it's all road sweaters after that: The Cambridge club hits the road for seven straight games, including a brutal four-game run of Quinnipiac, Boston University, Dartmouth and Yale. A Tuesday night contest at Union leads into home games that Friday and Saturday, a road game at Rensselaer, and bam, top-ranked Boston College in the Beanpot.
One 

A few last thoughts

• Cornell has allowed one goal — no more, no less — in each of its last four games. The Big Red are still the Big Red.

• Clarkson has 11 home games and six road games left. While the Knights may be 1-4-1 at home, Cheel is still an awfully tough road venue.

• Dartmouth is 6-0 at home and scoring more than four goals a game at Thompson Arena.

• Quinnipiac, on the other hand, is 7-0-1 on the road, and scoring nearly three-and-a-half goals a game away from home.

Happy holidays, everyone. As a favorite teacher of mine once said, don't do anything I wouldn't do … but if you do, take pictures.