A picture might be worth a thousand words. But some pictures elicit so much more than that.
To North Dakota fans, Allison Davis O'Keefe's "One Goal" and its pictures of the players, coaches, fans and community surrounding the 2010-11 Fighting Sioux hockey team illustrate, with little text necessary, the raw emotion of a team focused on that one goal.
The final full season under the Fighting Sioux banner had high stakes and high emotions, and "One Goal" captures both in 71 stunning black-and-white looks into the locker room, the offices and the arenas where the team's mission and accomplishments unfolded.
When the carpet was pulled out from under a rolling Sioux squad with a 2-0 loss to Michigan in the 2011 Frozen Four semifinal, players agonized over their failure to accomplish what they considered to be their only objective. But as O'Keefe found out in her behind-the-scenes look at one of the most prominent, yet private, teams in college hockey, the bigger picture and ultimate goal does not fall on deaf ears in the bowels of Ralph Engelstad Arena. And the pain of that loss pales in comparison to the immense tradition and honor that emanates from this team and community, as "One Goal" demonstrates.
"For me, this book is about skill, focus and determination," O'Keefe wrote in her afterword. "But also, as I learned, camaraderie, sacrifice, elation, struggle and, ultimately, a twist of fate, a bounce of the puck."
O'Keefe spent most of the season with the team through its ups and downs en route to a 32-8-3 record and a Frozen Four appearance. But when the team lost on its way to the only prize coach Dave Hakstol and his squad wanted, the lessons learned in O'Keefe's first personal photojournalism project after a career covering politics and news nationally for CBS could not be confined to a 200-by-85-foot sheet of ice.
That became the undermining theme, then, especially after the original "One Goal" wasn't achieved.
"Because in the beginning, maybe, they would say, 'In the end, you'll have this project, we'll win, and there will be a book to be a memento to this whole event,'" O'Keefe said. "But it became about what you can learn along the way and what you can learn from losing."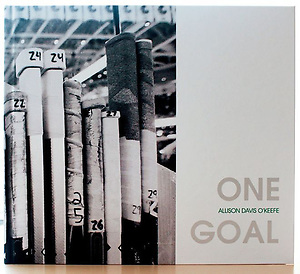 The book goes beyond the ice sheet, capturing the community surrounding the team to create a feeling. That helps to drive the intensity of the book, O'Keefe said.
"It's a sense of place," she said. "Where you are — you're meant to feel cold.
"[A picture of] the kids getting ready for the game. Some of the fans are super intense. You can see how many people are here. They have cheerleaders. To me, that feels super intense and that's how I want it to feel."
A team game, and a team project
O'Keefe was afforded credentials to almost every aspect of the season — from the locker room to the Thursday night team dinner table. And before long, it seemed that the New York native became a part of the team, helping to capture the essence of victory and hard work.
O'Keefe may have had a head start on earning trust with Hakstol — they are cousins by marriage. But that didn't mean she cut any corners.
"I think I had an 'in' into this team," O'Keefe said, "but that doesn't mean that I just walked into the locker room and started taking pictures. It took time. I had to build trust with Dave and with the team."
For a full season, she followed the likes of Chay Genoway, Jason Gregoire, Matt Frattin and the 23 other players who had no other goal that season but to win it all. And that focus drove the project.
"They meant business, and they were out for it from the very beginning, and they really wanted it no matter what," O'Keefe said. "They still had a lot of fun along the way. But I think it was so expected."
The book isn't chronological, strictly speaking. But to an extent it feels that way. The pictures start out laid back and carefree — an overhead view of the ice at a game against Bemidji State, or a tranquil North Dakota landscape. But as the book goes on, through big game after big game in the WCHA, through the Final Five and through the NCAA Midwest Regional in Green Bay, the goal comes into focus.
And then slips away. You can see it in Frattin's eyes as he watches the seconds tick away in the semifinal loss to Michigan. Then you see the complete dejection in Frattin as he buries his face in his hands on the next page.
Failing to reach that ultimate goal was heart-wrenching for O'Keefe, too, she admitted.
"I did feel connected to these guys," she said. "I thought that they expected to win and that was going to be the end goal and that was going to be the result."
But, like the unpredictable bounce of a puck, that wasn't the result. O'Keefe wasn't upset that the fairy tale didn't turn out the way the team wanted.
"I didn't have any full expectations," she said. "I just wanted to go through it with them. I just wanted to experience what they experience. I wanted to give a sense from the inside and figure out why everyone loves this team so much. And honestly, I don't really think I have the answers. But I hope I show a little bit of it. It's a unique experience."
Hakstol revisited
One of the most interesting aspects of the book is the look into the otherwise-closed-off life of Hakstol.
Hakstol is stoic and reserved on the bench and for the media, rarely causing controversy anywhere. But his emotional side exudes throughout, as pictures of him with his fists in the air celebrating a win, or embracing his wife or looking after his kids show a personable side that undoubtedly exists, even if television cameras or column inches in a newspaper don't show it.
And that curiosity perhaps makes Hakstol's presence in the book an interesting twist.
"He's the leader of the team and I wanted him to be a character throughout," O'Keefe said.
O'Keefe didn't publish too many words and quotes in this book, but she talked extensively with Hakstol before, during and after the 2010-11 season in preparing the book. What she learned about Hakstol and his ability to think beyond the rink becomes a defining theme of the book.
One Hakstol quote, underscoring a picture of him talking to his players in the Ralph locker room, says it all about what really goes through his mind: "It's not just about hockey. We all certainly know that. There's a bigger picture here for every individual and everybody that's part of it. It's called growing up."
Many of his quotes went unpublished, but O'Keefe said she hopes to have the opportunity to publish those in another way to show Hakstol in that different light.
"I would love for that to come out, if somebody would be interested to know him better," O'Keefe said. "Those are little more insight into him as a leader. I think that's what I talked about a little bit, or at least tried to talk about, is that they're always taking cues from him, but he's still in that [learning] process too. …
"Nine years that he's been coaching, and he's still learning. About a year after this we were talking, and he said, 'I really wish I had let them relish their wins, and how it important it is that you recognize your accomplishments.'"
O'Keefe added that Genoway, captain that season, was a driving force behind the team's focus, too. "You have to do things the right way. It's about winning, and winning the right way," O'Keefe said. "But that's the thing, right? It's about life lessons and learning how to do the right things for all of us."
"One Goal" is available at the Ralph Engelstad Arena's Sioux Shop or on the Sioux Shop website. Signed copies are also available; her contact information is available at her personal website, www.allisondavisokeefe.com.