There probably isn't anyone on the 1972-73 University of Quebec men's hockey team who remembers being on the wrong end of a 13-0 loss against Clarkson. Same goes for the 1996-97 St. Lawrence team that lost to Boston College 6-4.
That, though, won't be said for the Boston University team that fell to BC 5-2 on Dec. 1. Or for the Alabama-Huntsville team that lost 5-2 to the Eagles on Saturday at the Mariucci Classic.
Jerry York: 925 wins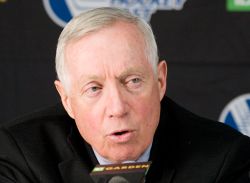 • The legend becomes the leader: A retrospective on Boston College coach Jerry York's career
• BC 5, UAH 2: York gets record as BC beats Alabama-Huntsville
• Jerry York's coaching career
• Rankings: All-time coaching wins leaders
• Commentary: Mason as classy as ever as wins record set to pass to a friend
All of those teams are now strung together by a common bond: being victims of major milestone victories for Boston College coach Jerry York, who in early December beat rival Boston University to tie the all-time wins mark held by Ron Mason of 924 wins. It took 27 days before the Eagles earned their next win, thanks to a Providence team that scored with 10.5 seconds left in regulation on Dec. 7 to earn a 3-3 tie right before the holiday break.
But Saturday's win over Alabama-Huntsville ended a long wait, even if it was somewhat unceremonious (and as you'll read, that's just how York likes it). Win No. 925 is his, making York the king of college hockey coaches.
It was Quebec that provided York's first win as he began his coaching career at Clarkson. (Games against teams that now would be considered exhibition foes then counted toward a team's record.) St. Lawrence was York's 500th victim. And for the 923 other victories, there are plenty of stories, memories and laughs to fill a full novel.
Here, though, we'll keep it simple as we take a retrospective look at one of college hockey's legends.
A modest beginning
York likely will be most remembered for his legacy at Boston College, including six Hockey East regular season titles, nine league postseason titles, 12 NCAA tournament appearances, 10 Frozen Fours, seven national title game appearances and, of course, four national titles.
"It's hard for people to believe this because he's been around for so long, he's been so successful and he's won so many games, but I still don't think he gets the credit he deserves."
— Boston University coach Jack Parker
But it was humble beginnings at Clarkson in Potsdam, N.Y., that started this legendary coaching career.
In seven years, things didn't exactly come easy for York and his club. The apex at Clarkson came in 1977 when York's club captured the ECAC championship. Little did anyone know that the hardware and championship ring would be the first of many.
Deciding to take a step forward in 1979, York headed to the CCHA to coach what he hoped would become an upstart Bowling Green team. After two seasons of building the program, York won three straight CCHA titles in 1982, '83 and '84.
It was that '84 team that, of course, will stand out in York's mind. That was York's first NCAA champion, a team he continually references as the "blueprint" for every future team.
That blueprint has manifested itself most at York's alma mater, where he took over a program in turmoil in 1994. The rest, as they say, is history, all of which has made him a hometown legend.
The hidden Boston legend
York is easily recognizable on the Boston sports scene. Despite the town featuring names like Super Bowl-winning coach Bill Belichick, Stanley Cup champion coach Claude Julien and NBA champion coach Doc Rivers, York, with four national titles since 2001, has all three trumped in the ring department. You'd never know that, though, by following him around on a daily basis.
York resides in his childhood home in Watertown, Mass., just minutes from the Boston College campus. On the average morning you can find him at the Dunkin' Donuts in Watertown Square. If you don't see him there, possibly you'll find him on campus at the chapel or St. Ignatius Church, where he attends daily mass.
"It is kind of like a throwback to the '50s, kind of an old values type of thing," Hockey East commissioner Joe Bertagna says.
Truth is, York doesn't like the limelight. While anyone who knows him uses words like "fiercely competitive" to describe the 19-year veteran behind the BC bench, York shies away from anything that places him at the center of attention.
Bertagna should know. He recalls having to introduce him a few years back when York received the Ace Bailey "Good Guy" award. While Bertagna waxed poetic about the great career that York had enjoyed, the coaching veteran wanted nothing of it.
"I wasn't halfway through what I was going to say and he was already making his way up to the podium and standing there like he wanted to get that part over with," Bertagna says.
That's Jerry York. He always wants everyone else to get the credit. As his Eagles have won a number of national titles — including three of the last five — the procedure for presenting the NCAA championship trophy has gradually morphed. Gone are the days of handing it to the captains. Now ESPN makes a production of handing it to the head coach.
While York obliges, the trophy sometimes looks like a hot potato once the cameras go off. The first second possible, York hands it off to his captain and then sits back near the bench with his coaches to watch the team celebrate.
"He's constantly thinking about other people," recalls Bertagna, who says there is one consistency for the morning after each year's Hockey East tournament: a text message from York thanking Bertagna and his staff for running a first-class event.
"I look at the time of the message and sometimes it's right before the [NCAA] selection show, or maybe it's even during the show," Bertagna says.
College hockey's gentleman
York's demeanor has often earned him the title of "college hockey's gentleman." Almost always calm and mild-mannered, it's rare that you'll ever hear York complain. And if he does, you know you should listen.
"Jerry is one of the coaches that if he raises a question, there's probably some merit to it," says Frank Cole, a longtime Hockey East official who now is the NCAA's coordinator of officiating. "He's not a chronic complainer. He keeps his players composed and focused on the job at hand."
Bertagna agrees.
"I don't hear from him very much throughout the year in terms of [complaints about] officials, so in turn when I do hear from him, I'll be the first to admit it gets my attention even more," Bertagna says. "It has to be something fairly extreme for him to pick up the phone and make a call."
The gentlemanly image of the coach certainly rubs off on his players. Countless stories are told of York's players acting much like the head coach. One though has to wonder, is that a product of what the players learn from the mentor, or the type of player York and his staff bring to Chestnut Hill?
"All coaches have to go after a certain type of kid that fits the [hockey] formula, whether it be speed or things like that, but I'm not the first to wonder that BC always has very nice kids," Bertagna says. "Do they feed off the coach or are those the type of kids they recruit?"
Associate head coach Mike Cavanaugh, who has been with York for all 19 seasons while at BC and a previous season at Bowling Green, says he's never felt the need to recruit a Jerry York-type player.
For him, it's always been about recruiting a player who fits what he calls part of the "BC fabric."
"That's how Jerry wants us to think about it: He doesn't need to be a Jerry York type of guy, he needs to be a Boston College type of guy," Cavanaugh says. "We have our mission here that we're going to challenge you to go to school, to be terrific in the community and as a hockey player. But that has to evolve over time. We have to continue getting better."
Respect of the rival
The college hockey rivalry between Boston College and Boston University could be the most intense in the nation. The two schools are separated by less than four miles and the local transit line, the "T," runs directly between both campuses, making both venues easy access for one another.
That was on display last weekend when BU and BC squared off, the wins record on the line. Days before the series, BU coach Jack Parker said that he was happy for York that he, inevitably, would break the record. But he also said he didn't want it to happen against BU.
Parker got half his wish as BU won Friday at home. A loss on Saturday gave York the record-tying win, but Parker still took consolation.
"I just said congratulations on tying the record," Parker says when asked to share what he told York after Saturday's game. "I will call him now and congratulate him when he gets [the next] W. I'm just glad I didn't have to do it on the ice."
All of that said, Parker went on unsolicited to talk more about York.
"It's hard for people to believe this because he's been around for so long, he's been so successful and he's won so many games, but I still don't think he gets the credit he deserves," Parker says.
"He's a very good coach who's run great programs at three different places and has done an unbelievable job of making [BC] the best it's ever been. This is a place where they've had two other coaches who have won 500 games. This place has had a lot of good hockey for a long, long time. And he's the best they've ever had here."
The toughest battle
While York might be able to talk for hours about his team's biggest games on the ice, perhaps the biggest battle York has won was one with cancer in the summer of 2005. During a routine physical, doctors discovered that York had an abnormal blood count.
Follow up tests revealed early stages of prostate cancer. Little was said publicly. Before most even knew of it, York had surgery to remove his prostate and since then has been cancer-free.
That doesn't mean that he didn't have concerns, as Cavanaugh recounted in a somewhat comical story.
"When Jerry first got diagnosed with prostate cancer, it was in the summer," Cavanaugh says. "We were recruiting a boy out of Minnesota. I told him I'd go with him on the visit so he didn't have to go alone.
"So we fly out to Minnesota and we're staying at the St. Paul Hotel. We go up to visit the boy, we come home and park the car and we're walking into the hotel.
"His operation was about two weeks out. We're walking in and Jerry says to me, 'How do you think the visit went?' I said, 'I think it went well.' He says, 'Do you think we can get him?' I said, 'I don't know, if Minnesota gets involved, it will be tough to beat them.'"
It was the words out of York's mouth next that shocked Cavanaugh.
"He said, 'Cav, look at the bar in that hotel.'
"I said, 'What?' He said, 'Look at the bar in that hotel. You can't walk by a bar like that without going in and having a beer.'"
Those who have been around York know that he's not one to drink alcohol much, particularly beer. Cavanaugh says he may have a glass of red wine with dinner on occasion, but beer is almost never his drink of choice. "I could count the number of beers he'd had on one hand," Cavanaugh says.
"So I looked at him and said, 'Are you serious?' And he says, 'Yeah, what a terrific bar this is.'"
It was then that it hit Cavanaugh that maybe York wanted more to spend the time together fearing the worst from cancer than he really cared about having a beer at a fancy bar.
"I looked him and said, 'Jerry, you know you're going to beat this cancer. You're going to be OK,'" Cavanaugh says.
"I get a kick out of it because at the time I think he thought he might not live much longer so he needed to go have that beer."
While the anecdote may be funny, York's ability to battle the cancer had a large impact on his team.
"I think it was inspirational," Cavanaugh says. "Prostate cancer is pretty curable these days, but there's still the fact that when you hear someone of his ilk, that he has cancer, it's scary."
Numbers of historic proportions
Passing Mason for wins with 925 is a milestone that must be celebrated. Though Parker is still on York's heels, just 40 wins behind, there aren't many coaches nowadays who will ever come close to 925 wins in their careers.
Truth is, most coaches nowadays don't have the longevity of York or Parker. NHL aspirations, not to mention simply the pressure to succeed, knock most coaches out of the game well before 500 wins.
"I think if I ever took a head coaching job, and I'm 44, hopefully I could coach for 20 years, so for me to get to 500 wins, I'd had to average 25 a year," Cavanaugh says. "I think of a 20-win season as pretty remarkable."
Looking at York's numbers, the bulk of his wins have come at Boston College. York began his career with 125 wins in seven seasons at Clarkson, then won 342 games (and a national championship) in 15 season at Bowling Green. But at BC, it's been a world of milestones.
Win No. 500 came in York's second year at the Heights. By 2008, win No. 800 was in the books. And last season, 900 came during the Eagles' dramatic playoff run that led to York's fourth national title in 11 seasons.
And while Friday's victory No. 925 places him at the top of a heap of college hockey's greatest coaches, if York and his Eagles keep the torrid pace of victories, York, at 67 years old, could reach the holy grail of coaching — 1,000 wins — before he celebrates his 70th birthday.
"When Ron [Mason] retired, I remember consciously thinking that [1,000 wins] is safe," Bertagna says.
Now, it seems like York reaching 1,000 victories is destiny. Though his birth certificate would tell you his age is 67, his vivacious attitude and spirit that he displays behind the bench, in his office or walking the bowels of any arena might make you think he doesn't qualify for AARP.
Cavanaugh says part of that is that consistently throughout his career, York has been able to adjust to the times in each generation he has coached.
"If you drew parallels with any successful person, whether it be in business or music or entertainment, or whether it be in coaching, they're able to adapt to the generational differences," Cavanaugh says. "That's one of Jerry's strengths."
He recalls his first season as York's assistant, 1992, at Bowling Green, that York brought a Counting Crows CD to the locker room.
"The kids would all laugh when he'd put it on. But that was his way of telling the kids he's hip to their culture," Cavanaugh says.
This past season, he came into the locker room and asked the players if they'd downloaded the new Tim McGraw song. And while some of the players chuckled, it was questions like this that proved to Cavanaugh York's ability to have longevity.
"He's not bringing in CDs anymore," Cavanaugh says, "and that's my point."