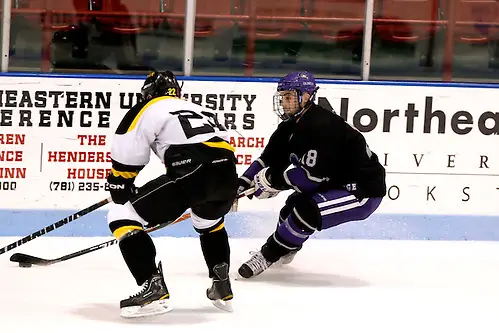 You're not going to find many programs that underwent more offseason change in the ECAC Northeast than Curry College.
New coaching staff. New attitude. Many new players.
However, the goals have always remained the same for the Colonels. Plant yourself in the top echelon of the league, give yourself a chance to win the conference every year, and live with the results at the end at this proud Milton, Mass. school.
Under first-year coach T.J. Manastersky, they appear well on their way.
"We've been through a lot, a lot of ups and downs, but all hockey teams do that," Manastersky said. "We've always looked at this season as just trying to get better every day. We've long been in a search for an identity as a team. And we are getting closer."
Just in time, too. Because starting on Sunday, when the Colonels take on Wentworth, Curry will open up a defining run through the conference that will ultimately judge this season's progress.
Curry is 3-1-1 in the league, good for seven points and a second-place standing behind the frontrunner, Western New England. There have been positive signs that Manastersky has witnessed so far, as well as some negatives, but from the "is what it is" files, Curry will take where they are right now, all while knowing it can get better over these next three weeks.
"We are learning more about ourselves, and with this group, that is important," Manastersky said. "We know what we need to be successful, and I believe we're on the right track. What we have to do now is stay on track, continue on with the plan, and be ready for anything."
The Colonels entered their holiday break last month on a high note, winning two of their final three games, including a 5-2 league victory over Salve Regina and a 3-2 nonleague win over Skidmore, so it was one of those deals in which some of the players and coaches might not have wanted it to end. Manastersky though, put a plan in place for the players to stay hungry for more than holiday treats during the layoff.
"That was a bit of a concern, how they'd come back, what they'd do on their break. So, we took away all of their excuses. We prepared a program for them, we wanted them to hold themselves accountable, and they put in the work," he said. "You never know who has the most access to fitness centers and ice time, but the guys really worked. You could tell when we came back, the team was in a really good place. There was a positive energy, and they were ready."
The statistics, throughout the season, bear that out. Headed into this week's action, the Colonels had five players in double-digit scoring, led by senior forward Ian DeLong, who had nine goals and 17 points. He was joined by two other seniors in that group — forward Connor Hendry (six goals, 14 points) and defenseman Brett Kaneshiro (11 assists).
As a team, Curry was second in the league in offense at four goals a game, and was first in short-handed tallies with three.
"It's fun to come to the rink these days," Manastersky said. "We work hard, we maintain our focus, and we have fun."
That is important for a rookie coach. After all, you want to know that he's stopping to take a breath every now and again, and enjoying the ride. It's a tough ride, at times, in a difficult conference, but when you have talent, and more importantly, you know how to mentor and cultivate that talent, well you can afford a smile every now and again. Besides, there's already one coach in Massachusetts who never looks like he has fun: Patriots coach Bill Belichick.
"I'm still trying to find the right balance as a coach," Manastersky said. "You go about your business as a coach, and you have to focus on the big picture always, and prioritization is a key, and is always a challenge. This is a sprint for us, and you have to look at it as a week-to-week thing.
"You want to be able to turn it off sometimes and enjoy other things. But when you have a passion for it, it always calls you back. So, it's great to be back, great that we had a good break, and now we're ready to get back after it."
The conference is up for grabs this season. If you look at the standings headed into this week, only four points separate the league leader from the seventh-place team. As Johnson and Wales coach Erik Noack — who tells it like it is — said earlier this month, "I think this year, anybody can beat anyone. And I've said that a few times before in past years, and maybe not believed it. But this year, I do. It's going to be very interesting down the stretch here."
Well, the Colonels are now upon that stretch run. Including Wentworth, Curry will meet three conference foes — Becker and Noack's Wildcats are the others — in an eight-day span.
"Every night is going to be a dogfight," Manastersky said. "We're a bad weekend away from being in next-to-last place. This is going to come right down to the wire. It's going to come down to the team that stays healthy, and that is playing the best at the right time.
"It's going to be a heck of a finish."