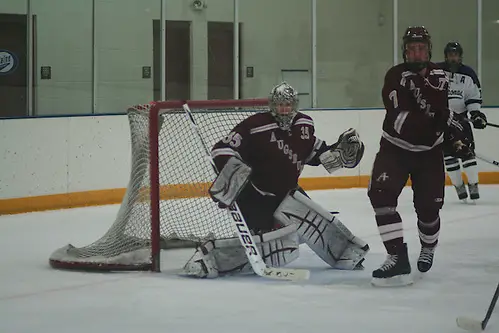 It's tough to keep getting up when you repeatedly get knocked down, and few teams have been knocked down as often as Augsburg this season.
The Auggies are in the grip of a seven-game winless streak, which has included a pair of ties and two losses by two goals or less.
Augsburg sits at 3-11-3 overall and 2-5-2 in the Minnesota Intercollegiate Athletic Conference, and coach Christopher Brown said his team simply hasn't been able to put it all together to have success since earning an 8-2 win over Wisconsin-Superior on the road on Dec. 7.
"We haven't been able to put all phases of the game together where we have the right attitude and the ability to score and defend," Brown said. "We are not the type of team where we have one or two phases of the game working and we come out on top."
Augsburg skated to a pair of ties this past weekend against Hamline. The first game ended in a 1-1 tie and the finale ended in a 2-2 deadlock.
Typically, Brown is accustomed to seeing his teams pick up their energy and build momentum during the second half of the season.
"We came into the weekend on life support with our playoff hopes, but in the past, we have usually done very well in the second half of the season," Brown said. "I was hoping that it would start this past weekend. We need to play with more confidence, which is hard to do when you have struggled."
Augsburg has scored 37 goals this year and allowed 56.
Ben McClellan leads the team with six goals and six assists, while B.J. McClellan has tallied five goals and three assists. Derek Loisel and Landon Olson have come through with four goals apiece, and Niklas Almstrom and Thomas Paine have each racked up three goals.
Justin Lochner has spent most of the time in goal this season, playing and starting in 16 games. He has allowed 47 goals and has tallied 415 saves.
If there are positives as a team, it is that the Auggies have been good at limiting power-play opportunities for opponents. Teams are just 9-of-59 against Augsburg on the power play.
The Auggies have also limited their penalties, tallying just 82 on the season.
"I like where we are with the power play and I feel like we have been a disciplined team; those are things you can build on," Brown said. "We've been playing hard defensively lately and that is a good sign. But we haven't been able to score goals. We have to be able to find ways to score."
Eight games still remain on the schedule for Augsburg, starting with a two-game set against St. Mary's this weekend.
While the playoffs are likely out of reach, Brown wants his team to finish the season strong.
"We need to have pride," Brown said. "It's been a long season and now that we are down to crunch time, the players need to have pride and continue to give a great effort. Everyone plays hard at this level. The good teams play with poise, execute, and have consistency. I want us to go out and play hard and play smart and we'll see what happens."
******
First-place showdown
St. Thomas and St. Mary's played in the marquee series of the weekend, as first place was on the line in the conference.
The Tommies and Cardinals played to a 0-0 tie in the opener before the Tommies came to life offensively in the finale and rolled to a 7-2 win.
Six players scored for St.Thomas in the win, with Tyler Gubb coming through with two goals and an assist. Drew Fielding made 13 saves.
In the scoreless tie on Friday, Fielding made 29 saves while St. Mary's goalie Andy Scheib racked up 38 saves. It was the first scoreless tie for the Tommies in at least 25 years.
St. Thomas is 7-2-1 in the conference while St. Mary's is 5-2-1.
Oles stay in contention
St. Olaf is currently in second place in the conference standings with a 6-2 record after sweeping Bethel this past weekend.
The Oles picked up a 5-2 win in the opener and capped the weekend with a 6-4 win.
Andrew Anderson scored twice in the first game, while Henrik Wood racked up 15 saves. In the finale, St. Olaf erased a 3-0 deficit by scoring four unanswered goals in the second period.
Jeff Harris paced the offense with a pair of goals and Anderson scored a goal while dishing out two assists as St. Olaf set the stage for a key showdown with St. Thomas this weekend.
Johnnies keep hope alive
St. John's came through with an important sweep of Concordia over the weekend and stayed within striking distance of the fifth and final league playoff berth.
The Johnnies knocked off the Cobbers, 2-1, on Friday and capped the weekend with a 3-1 win as they improved to 3-3-2 in MIAC play.
Saxton Soley tallied 22 saves, and while he is only a freshman, he leads the conference in win percentage (.700).
The success of St. John's shouldn't be a surprise. The Johnnies have either beaten or tied the Cobbers in 26 of their last 30 meetings, including a 20-3-2 mark in their last 25 match-ups.