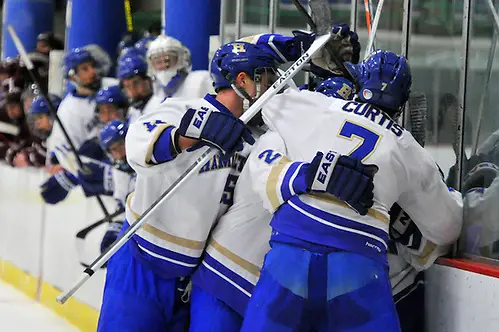 Sometimes, it's all about staying true to your core values. For the Hamilton Continentals, who have lost 75 man games to injury in their 20 games this season, playing fast, disciplined, physical, and being hard to play against, is a mantra that is carrying the core group and 10 freshmen toward the end of the regular season and the NESCAC conference tournament.
"Our biggest challenge to overcome has been the number of injuries," noted second year coach Rob Haberbusch. "There are some key players that we are really missing, but we are working hard to get layers up to speed and overcoming the losses. Michael DiMare broke his thumb early in the year, and still played and managed six points with that injury. He then broke his ankle and is out for the season, so that is certainly a loss offensively for us. So far this season, we have played six overtime games [2-1-3 record] and three 1-0 games that we came out on the short end of in the league. We have to play things pretty tigh,t and especially in this league where there is so little separation from top to bottom, anyone can beat anyone on any night."
Currently, the Continentals sit in the eighth and final playoff spot in the standings, but are just one point behind seventh place Connecticut College, who Hamilton faces on Friday night. The direct competition against other contenders for the slots is something Haberbusch isn't afraid to see his team take on.
"We control our own destiny," noted Haberbusch. "We aren't looking ahead to anything except playing Conn on Friday night. That is the only game that matters at this point. We may have played our best hockey game of the season against them the first time around. We came out of the first period in a 2-0 hole, but clawed our way back to tie it and never quit on fighting back. I hope we can build on that energy on Friday night. Regardless who is in our lineup, we focus on being a fast team that plays hard, that plays physical but is disciplined, and is hard to play against for opponents. We want to bring all of those values as a team to the ice on Friday and hopefully pick up some points."
While the freshmen and younger players have gained valuable ice time due to the injury bug Hamilton has had to endure, they are now expected to produce for the team and help create the success needed to ensure a place in the conference tournament that will start in just a couple of weeks.
"These are the guys we are relying on now," said Haberbusch. "Obviously, we have had some challenges scoring goals, and certainly the injuries have played into that some. We can't make any excuses. We have guys that are now in roles and are working on the power play, which we could use some more success on. We have to stay focused and execute some fundamentals about creating traffic, getting shots to the net, and batting in some rebounds. The goals don't have to be pretty, and we could use some of those ugly goals for sure."
So far this season, Hamilton is averaging less than two goals per game offensively, so with the number of overtime and one-goal games the Continentals have played this season, the style of play has all the look and feel of a playoff hockey game.
"No doubt the playoffs for us have already started," said Haberbusch. "We have to take care of our own game, and we won't need any help from anyone else if we can do that successfully. We have had a lot of different players in different roles this season, but all have gained very valuable experience with the opportunities and time missed by other players due to injury. Now is the time for everyone to step up their collective game and really focus on our values as a team. Yes, we may play with some system stuff we do based on line-up changes, but at the end of the day, this team needs to stay true to our core values of how we play  and if we do that and compete hard, we will be in position to win some hockey games."
The second time around has also magnified some things about the league for the coach that merely reinforce his messaging about preparation and execution to his team.
"I don't think I have ever seen any conference where the difference between the top and the bottom teams in the league is so small," said Haberbusch. "This conference is just so competitive, and literally anyone can beat anyone else, so being ready to compete and play hard for the full 60 minutes is so important in having any success in this league. I knew coming in how good the conference was, and now it seems amazing about just how close all of the teams are and playing at a very high level."
For Connecticut College, the motivation is of equal importance in creating a gap to the eight spot and perhaps gaining some ground on the six seed with just two weekends remaining. The first game ended in a tie, so the tiebreaker head-to-head is also up for grabs on Friday night and just adds to the laser-like focus Haberbusch is creating for his team.
"I am not thinking about anything besides or beyond Friday night," said Haberbusch. "I don't want our team thinking about it either. You asked about the final weekend at home against Williams or Middlebury and a potential playoff preview, and I can't even think about next weekend or even the next game beyond Friday night right now. That is the challenge for our team, and that is the immediate need to focus and prepare."
So hop on the bus boys; playing it fast, hard, disciplined, and physical will be keys to your success and in case you forget, you can bet your coach will remind you prior to the game with the Camels on Friday night.