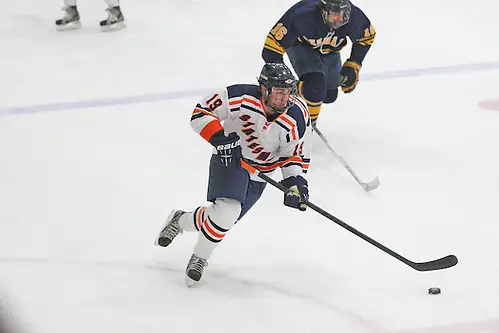 For a freshman, Hobart College forward Mac Olson has been pretty well-traveled.
A native of Grosse Pointe, Mich., Olson got his start at the high school level by tallying 43 goals and 76 points in 48 games for the University of Detroit Jesuit, while twice earning All-State accolades for the Cubs.
He spent the next three seasons playing junior "A" hockey with Chicago and Des Moines of the United States Hockey League, sandwiched around a 55-game stint with Wichita Falls of the North American Hockey League. His best campaign came with Wichita Falls in 2010-11, when he scored 19 goals and added 18 assists for 37 points in 39 games with the Wildcats.
Olson, 21, is currently ranked second in scoring for the Statesmen, having collected eight goals and 13 assists for 21 points in his first 22 games with Hobart. His biggest college point to date came 1:15 into overtime on Feb. 1, when he put a puck past Utica goaltender Nick Therrien to lift No. 5 Hobart to a 4-3 victory and avenge an earlier loss to the No. 8 Pioneers.
"I got it back to the point, and a shot was deflected to Frank Salituro," recalled Olson. "He found me back door, and it was a great play on his part — I didn't have to do too much."
After returning to Des Moines from Wichita Falls last season, and playing in 25 games with the Buccaneers, the 5-foot-9-inch, 175-pound Olson shifted gears north to the Carleton Place Canadians of the Central Canada Hockey League, and posted eight goals and 16 points in 19 outings.
"I had a chance to play for a lot of teams and move around, and it was a good experience," said Olson, who skated with future Division I players and NHL draft choices. "I faced some adversity, but it got me to where I am, and I'm happy to be at Hobart."
He tallied two goals and two assists against Salve Regina in his collegiate debut in late October before adding an assist against Cortland in his second game. He also posted three assists at Nazareth on Nov. 17.
"He's been a big addition," said Hobart coach Mark Taylor. "He's played well almost everywhere on the ice — center, wing, and special teams."
Following his OT goal against Utica on Friday, Olson was working on a three-game goal-scoring streak, plus a seven-game point-producing string in which he had collected four goals and nine points. Both came to an end in Sunday's 1-0 loss at Utica.
Hobart (17-3-2 overall, 9-2-1 ECAC West) will visit both Manhattanville and Neumann next weekend before wrapping up the regular season on Feb. 16 against Elmira.
"Obviously, we'd like to win a championship this year, and in the next three years," said Olson, an economics major. "I'd like to have the chance to play professionally; but if not, I'd like to do something in wealth management, or in stocks as a trader."
Right now, his stock at Hobart is trending pretty high.
"He's been a huge addition to our program," reiterated Taylor.
**************************************
ECAC West Notes
No. 8 Utica (17-4 overall, 8-3 ECAC West) suffered just its second setback in its last 13 games in Friday's OT defeat against Hobart. Nick Therrien made 34 saves in the loss, while top scorer Louis Educate notched his team-leading 15th goal on a first-period power play. Educate then scored the only goal of the game the next night, with just under five minutes remaining in regulation, as Utica topped Hobart for the second time in three meetings this winter. This week: vs. Nazareth, at Nazareth.
No. 12 Manhattanville (12-7-2, 5-4-2) snapped a three-game losing skid by beating and tying Neumann by 5-2 and 2-2 counts, respectively, in a home-and-home match-up. Matt Coleman scored twice for the Valiants in the victory, while Luc Van Natter assisted on both goals in the tie, and Brian Fleming made 48 saves in all on the weekend to improve to 9-6-2 on the year. This week: vs. Hobart, vs. Elmira.
Elmira (10-12, 5-7) used its two wins in a home-and-home against Nazareth to leapfrog Neumann for fourth place in the league by a point. Carter Shinkaruk assisted on both Soaring Eagles' scores in the opener in a 2-0 win, while Ryan deMelo picked up the shutout with 33 saves. In the rematch with Nazareth, a 5-2 win, Jarryd ten Vaanholt scored twice, while Mark Morikawa had a goal and an assist, and Greg Whittle and Jesper Strale each had two assists in Elmira's regular-season home finale. This week: at Neumann, at Manhattanville.
Neumann (12-6-3, 4-6-1) saw its seven-game win streak come to an end with a loss and tie at Manhattanville that dropped the Knights out of the top 15 in the USCHO Division III Poll. Brealy Torris made a total of 59 saves in the two games, while Jordan Zalba registered a total of three assists. Chris Bournazos, Aaron Keaney, and Scott Farrell are tied for the Neumann scoring lead with 16 points apiece, while Bournazos leads the Knights with 12 goals. This week: vs. Elmira, vs. Hobart.
Nazareth (6-14-1, 1-10) has dropped three straight games since registering its first-ever ECAC West win over Manhattanville on Jan. 25. Joe Gladnick made 48 saves in a 2-0 loss to Elmira on Friday night for the Golden Flyers, while Ed Zdolshek made 28 stops in the second game. Nazareth leading scorer Mark Zavorin recorded a goal and an assist in the rematch with Elmira, and now has 11 goals and 22 points in 21 games on the season. This week: at Utica, vs. Utica.