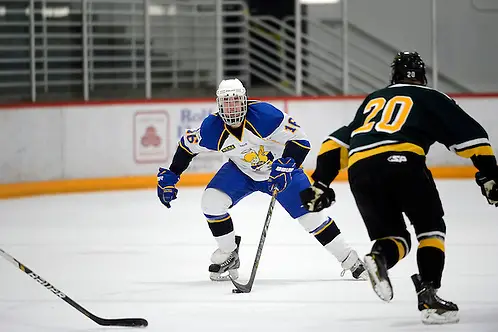 While it hasn't been the season they envisioned, the St. Scholastica Saints are trying to end it on a high note.
Last weekend, St. Scholastica knocked off No. 4 St. Norbert and No. 14 Wisconsin-Stevens Point to complete its best series of the season. More impressively, both victories came on the road. Winning at St. Norbert is huge, considering the Green Knights are extremely tough at home.
On Friday, the Saints (10-12-1) stunned St. Norbert, 5-2, followed by a 6-3 victory at Stevens Point on Saturday. Saints forward Tyler Miller posted two goals and two assists against St. Norbert. Miller, a senior, was held scoreless against Wis.-Stevens Point, but played solidly on both ends of the ice.
For his efforts, Miller was named NCHA Player of the Week on Feb. 5.
Against St. Norbert, the Saints went down 1-0, but rallied to take a 3-1 lead and never looked back. On Saturday, at Stevens Point, forward Brandon Nowakowski was the hero, scoring twice and providing an assist.
With the regular season winding down this weekend, the Saints could be peaking at the right time. After falling to Wis.-Stevens Point on Jan. 11, St. Scholastica has gone 6-1-1, pulling it out of the cellar in the NCHA.
With a 6-9-1 conference mark, the Saints are tied with Wisconsin-Superior for fourth place.
Coming into the season, the Saints held high expectations, but dug themselves a hole with a 1-5 start. From Nov. 30-Jan. 11, St. Scholastica limped to a 1-6 record. However, in the past few weeks, the Saints have raised their offensive output, which has been key to its late-season surge.
Senior forward Brett Corcoran has led the charge with 24 points (10 goals, 14 assists), followed by Miller (7 goals, 15 assists) and Nowakowski (12 goals, 10 assists).
Defensively, freshman Brenden Kotyk has also provided a scoring spark from the blue line (7 goals, 10 assists).
On Friday, the Saints will have another golden opportunity for an upset when they travel to first-place Wisconsin-Eau Claire, ranked fourth in the latest USCHO.com Division III poll. The Blugolds have already locked up the No. 1 seed in the NCHA playoffs, so the Saints might catch the Blugolds looking ahead to next weekend. On Saturday, St. Scholastica concludes the regular season at home against Wisconsin-River Falls.