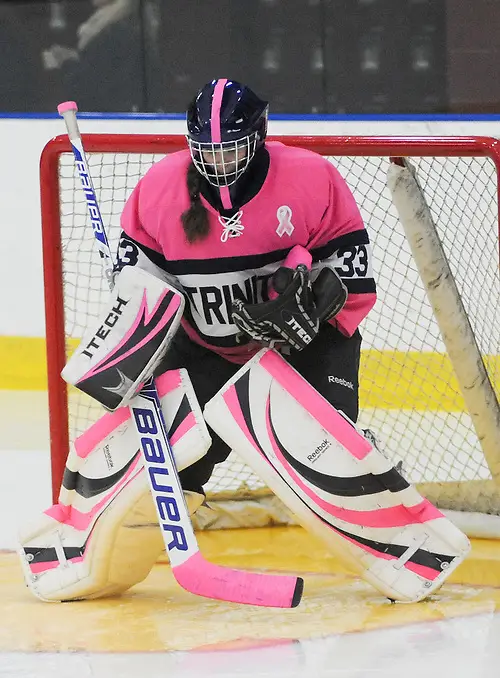 Four out of the five Division III women's conferences wrapped up their respective regular seasons this past weekend. As per the norm, the MIAC is the lone conference still left to finish up, as the Minnesota schools have one more regular season weekend remaining before holding their five-team postseason tournament over the course of next week.
Plattsburgh (ECAC West), Norwich (ECAC East), Middlebury (NESCAC), and Wis. River Falls (NCHA) each claimed their respective conference's regular season titles and have secured hosting rights throughout their duration in their league playoffs.
For this week's column we'll take a look at each conference individually and analyze the teams to keep an eye on, as well as make some predictions on how each conference's end of season awards will shake out.
ECAC West
No. 1 Plattsburgh (bye)
No. 2 Elmira (bye)
No. 6 Neumann at No. 3 Oswego
No. 5 Potsdam at No. 4 Utica
On paper, this seems like a two-horse race between Plattsburgh and Elmira. Plattsburgh will host the ECAC West final four weekend for the first time since 2010, after finishing the regular season unbeaten.
Favorite: Plattsburgh
The Cardinals on home ice are going to be a tough out, led by senior forward and Laura Hurd Award frontrunner Teal Gove. They've fallen short the past two seasons in the ECAC West finals with back-to-back losses to RIT. However, with RIT gone to Division I, Plattsburgh looks primed to not only take a conference title this year, but possibly win the whole thing.
Sleeper: Utica
Utica has quietly been one of the best teams in the country in the second half of the season. The Pioneers are 11-2-2 in their last 15, and that includes a 3-3 tie at Plattsburgh, which was the Cardinals lone blemish in an otherwise perfect league record this season. Led by junior forward Megan Myers' 16 goals and 12 assists for 28 points, the Pioneers could pull some surprises in the ECAC West.
Player of the Year — Teal Gove, Plattsburgh
Goalie of the Year — Sydney Aveson, Plattsburgh
Rookie of the Year — Olivia Nystrom, Elmira
Coach of the Year — Kevin Houle, Plattsburgh
ECAC East
No. 8 Plymouth State at No. 1 Norwich
No. 7 New England College at No. 2 Manhattanville
No. 6 Southern Maine at No. 3 Salve Regina
No. 5 Massachusetts-Boston at No. 4 Castleton
Once again, on paper this would appear to be a two-horse race. Manhattanville and Norwich have met in the last two ECAC East Tournament championship games, with each team winning once. This season, they seem to have risen to the cream of the crop again. They split the season series this year, with each team winning at the other's home rink.
Favorite: Norwich
It's tough not to call Norwich a favorite, given its explosive firepower up front led by the Tori Charron–Jillayne DeBus–Renee Lortie line. However, Manhattanville isn't intimidated playing at Kreitzberg Arena. Norwich's home rink has almost become a second home for Manhattanville after the Cadets have hosted the last two ECAC East Tournaments, as well as had Manhattanville up to play in the East/West Hockey Classic to open the season the last two years. Just last week, Manhattanville upset Norwich, 3-2, to end the Cadets' 12-game winning streak. It's a toss up on this one.
Sleeper: Salve Regina
Salve Regina is a team that has given Manhattanville and Norwich fits at times by playing a trap. Norwich tied Salve Regina twice in the past three seasons, while Manhattanville has lost to the Seahawks last year and needed overtime to beat them earlier this season. Led by potential All-American candidate Rachel Porter on defense, Salve Regina could play spoiler in preventing Manhattanville and Norwich from getting a chance at a rubber match this season.
Player of the Year — Tori Charron, Norwich
Goalie of the Year — Mary Evans, Manhattanville
Rookie of the Year — Nicoline Jensen, Castleton
Coach of the Year — Ashley Kilstein, Plymouth State
NESCAC
No. 8 Colby at No. 1 Middlebury
No. 7 Williams at No. 2 Bowdoin
No. 6 Hamilton at No. 3 Amherst
No. 5 Connecticut College at No. 4 Trinity
Unlike the ECAC East and ECAC West, the NESCAC and the NCHA are a bit more wide open heading into the conference tournament. The NESCAC certainly has its frontrunners with Bowdoin and Middlebury, but Amherst, Trinity, Connecticut College, Williams, and Hamilton have shown the ability to play with anyone in the league on any given night.
Favorite: Middlebury
Middlebury on its big ice sheet at Kenyon Arena is going to being an awfully tough task to overcome. However, that's not to say that they are even close to unbeatable. Coach Bill Mandigo's squad lost four of seven before finishing off the regular season with a big 3-1 win at Elmira. Sophomore forwards Emily Fluke and Hannah Bielawski share the team lead for points with 25. The Panthers also have seniors Lauren Greer and Madison Styrbicki as well on a small, but speedy, hockey team.
Sleeper: Trinity
Trinity is capable of beating anyone in this tournament, and it starts with one of the nation's best goalies in Alexa Pujol. Pujols' .952 save percentage leads the country, and her 1.45 goals-against average also ranks among the nation's elite. Trinity is also another under the radar team in the second half, with a 10-3-1 mark over their last 14 games.
Player of the Year — Geneva Lloyd, Amherst
Goalie of the Year — Alexa Pujol, Trinity
Rookie of the Year — Rachel Kennedy, Bowdoin
Coach of the Year — Marissa O'Neill, Bowdoin
NCHA
No. 8 Wisconsin-Eau Claire at No. 1 Wisconsin-River Falls
No. 7 St. Scholastica at No. 2 Lake Forest
No. 6 Wisconsin-Stevens Point at No. 3 Adrian
No. 5 St. Norbert at No. 4 Wisconsin-Superior
Much like the NESCAC, the NCHA has been an extremely competitive conference this season. Wis.-River Falls still emerged on top when the regular season dust settled, but the Falcons are still in for a dogfight to try and claim the O'Brien Cup title for the second year in a row. Unlike every other conference, the NCHA quarterfinal round is a two-game series (mini-game if necessary) with a first to three points format rather than single elimination. It could make for some exciting hockey, with nearly all four match-ups having the potential to go either way.
Favorite: Wis.-River Falls
Wis.-River Falls is the slight favorite, but I'd say out of the four conferences, the Falcons are definitely one of the most vulnerable for an upset. Wis.-Superior, Lake Fores, and Wis.-Stevens Point have all beaten Wis.-River Falls this season, while Wis.-Eau Claire battled the Falcons to two ties. Wis.-River Falls does have the dynamic offensive trio of Kait Mason (17-12-29), Chloe Kinsel (17-12-29,) and Katie Batters (19-8-27) that no one else in the NCHA can match up with.
Sleeper: Wis.-Superior
Who isn't a sleeper in this tournament? Any team can beat any of the others, and they have proven that throughout the season. I'll still pick Wis.-Superior though, as they are 8-1-2 in their last 11 games, including being the only team to put a blemish on Gustavus Adolphus' otherwise perfect record with a 1-1 tie on Feb. 5. Sophomore forward Dani Schultz is one of the conference's best players, and the Yellow Jackets will also have the added motivation of knowing that if they make a Cinderella run, they could be playing the final four on home ice, as Wessman Arena has been selected as the predetermined site for this year's D-III women's championship.
Player of the Year — Nina Waidacher, St. Scholastica
Rookie of the Year — Michelle Greeneway, Lake Forest
Goalie of the Year — Brittany Zeches, Adrian
Coach of the Year — Carisa Zaban, Lake Forest