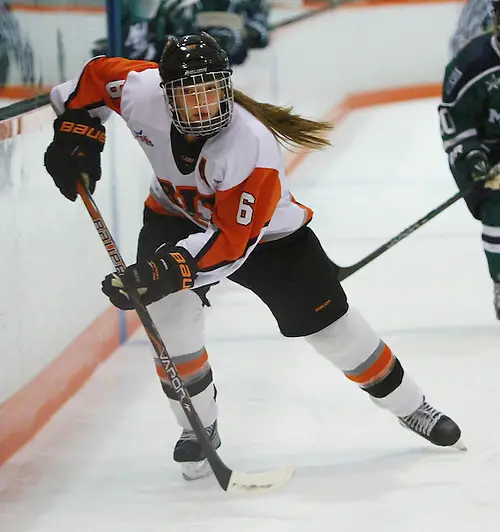 Who knew what to expect from the CHA in its first season as a six-team league? Certainly no one foresaw a year in which Robert Morris would devote its season to promoting parity and perplexing prognosticators, but beyond that, it was difficult to say what direction a conference with half new members would take.
Surprisingly or not, the returns are mostly positive. A lot of the credit for that can be attributed to the Rochester Institute of Technology Tigers, the new kid that really isn't all that new.
Unlike Lindenwood and Penn State, where the first D-I rosters included double-digit counts of freshmen, RIT had no more new blood than a typical established team. In many ways, that's what the Tigers already are.
Syracuse coach Paul Flanagan said, "I look at an RIT, and yeah, they were Division-III, but you know what? That team knows how to play. They're well coached. They won a national championship. Like I said to our team when we prepared to play them the first time, 'Don't judge them as a D-III team.' They're a team that knows how to win."
The Tigers arrived in the CHA with the 2012 NCAA Division-III Championship trophy, and while that trophy doesn't count for much in their new home, the experiences that went into earning it do. They arrived at the 2011 D-III championship game with a gaudy 26-1-2 record as a heavy favorite on their home ice, having allowed as many as three goals only once all year.
Just over 15 minutes into the game, Norwich had already reached three goals and added insurance power-play goals in each of the final two periods, wresting away the title from RIT by a 5-2 score.
"Obviously, our sophomore year losing — no one wants that to happen," said current senior Tenecia Hiller. "But we used it, I guess you could say, as motivation coming into our junior year. We knew that we wanted to make it back to the national championship game."
They did, but not without some adversity. RIT brought a 26-1-1 record to the 2012 D-III Frozen Four, which it again hosted. ECAC West rival Plattsburgh scored with under five minutes to play in the semifinal to force overtime.
"It's obviously nerve-racking," Hiller said. "We have a lot of confidence in our team, and we knew that we could pull through. Not panicking I guess was the key in that one."
Lindsay Grigg scored the game-winner 2:30 into the extra session on an assist from Ariane Yokoyama, and the Tigers were back in the ultimate game, with Norwich once again standing between them and a celebration.
"The rematch was exactly what we wanted, just to prove that we could win the national championship, especially against them," Hiller said.
That they did, scoring three unanswered third-period goals to claim a 4-1 victory. But rather than making a title defense, the Tigers jumped up to the Division-I level for the 2012-13 season.
"It's actually really special, especially because we were able to win a national championship all together and grow as a team, and competing at the Division-I level makes it even better for us," said senior captain Kim Schlattman.
Because the players and the coaching staff all came from the same background, the step up was a step somewhat into the unknown.
"We weren't really expecting too much coming into the season," Schlattman said. "We just wanted to try and compete at the highest level we could."
By and large, they have competed successfully. Not that there hasn't been the occasional bump in the road, such as the season opener.
"The first game woke us up," RIT coach Scott McDonald said. "We had a rude awakening that first weekend against Mercyhurst back in September. It was just their sheer speed. You could scout it, look at it, talk about it, but until you're on the ice with it, you just don't know how quick it actually is."
The Lakers scored eight seconds into the game and made it 2-0 by the 0:18 mark.
"I think the skill level and the speed of the game kind of surprised us in certain games," Schlattman said. "At the same time, we were able to step up and quickly improve as a team to get to that level."
After being swept by Mercyhurst and defeating Sacred Heart twice, RIT hung with Princeton until the third period before falling, 2-1.
"I thought we've come around a lot faster than I expected at the start of the year," McDonald said. "I thought it would take a lot more time to get up to speed with things.
October 20 brought the program's first win at D-I over a full-time D-I opponent, handling Yale by a 3-0 score.
Sophomore goaltender Ali Binnington recorded that historic shutout, stopping all 21 shots that she faced. She's seen an average of 27 shots a game this year, after only having about a third of that action as a rookie while in D-III.
"Last year, getting 10 to 15 shots a game, it's kind of hard staying mentally focused, but when you're getting upwards of 30 shots a game, it's a lot easier to stay in them, especially when the games are a lot closer and you're either tied, or coming from behind or keeping a one-goal lead," she said. "I think that definitely helps to keep me more focused and into the game."
The workload isn't the only thing that has picked up this season.
"I think there's definitely a lot of difference in D-III to D-I," Binnington said. "Obviously, the players are a lot faster; they're shooting the pucks a lot harder. But I think the biggest difference that I've noticed is the other team's ability to capitalize on mistakes. So as a goaltender, rebound control is really important to avoid giving teams a second chance, or else they'll put the puck in the back of the net. I think that's been the biggest difference, is just the ability of other teams to capitalize on the mistakes we make."
The Tigers have had to work to minimize those mistakes.
"It's a lot more mental, the game," Hiller said. "You have to be very prepared, very focused. The game is not just about speed, strength. It's a mental focus, and I'd say that's probably the most important part of preparing for games."
That's where RIT has had to rely on its captain.
Schlattman said, "It's kind of out of our control to control their physical play, but you want to keep them all in line and make sure they're focused for every game."
The win over Yale started a stretch that saw the Tigers perform at a 4-1-2 clip. Even when winning, RIT played a lot of close games.
"I think every game that we've played is really tough," Hiller said. "You never know how it's going to come out. Teams are always playing their best. It's kind of a lot different than what we played in D-III. Every team is very strong."
Eventually, that grind takes a toll.
"I think we've been competitive in pretty much every game we've played except for a couple games there right around Christmas time," McDonald said. "Every shift, the consistent effort that you just got to put in. After that first weekend, every little mistake went in the net. You can't take one second off. You could do that at Division-III; you could take some shifts off here and there and get away with it or develop some bad habits. It was just we can't do that anymore here, or we're going to be in for a real long season."
As they soon found out, the season can be plenty long as it is.
"When you start almost a full month ahead of Division-III, or even probably six weeks ahead of Division-III, and it was an adjustment for the entire team," McDonald said. "Add six weeks to your season, so by the time you hit Christmas, it's like you've played your full season already, but you're only halfway through. I think with the level of player that we have, a high-end Division-III player and some of those bubble kids, we don't have the height or the size on the team. We started getting banged up near Christmas time, so we were playing with a short bench as well. Some of those teams, that's not the teams you want to be playing with a short bench."
That was apparent in an 8-2 loss at current No. 8 North Dakota to start December, the team's most lopsided defeat outside of the opening weekend. However, the team hinted at its potential the day before in a 3-2 loss that was tied in the third period.
"I think as we've taken it game by game, we've surprised ourselves at different times, especially playing some of the top teams," Schlattman said. "We've actually been able to compete really well against those teams."
What RIT had difficulty doing as the first half wound down was score. It exceeded two goals only once in its final dozen games of 2012.
"We wanted the schedule the way it was," McDonald said. "We were on the road quite a bit; we were in some big arenas, playing some really good schools, some top-10 schools. We wanted to see the level. We just wanted to be competitive, and that was the bottom line. Heading down the stretch run now for our league, we look back on those games and even though we lost them, that certainly made our team better and more competitive within our own league."
One certainly can't fault the Tigers' performance in the CHA. They finished the regular season 7-8-5 in the conference, and excepting their four losses to league champion Mercyhurst, they didn't lose by more than one goal.
"It seems like every game we're in, it's one goal either way," McDonald said. "I've never tied so many games in my life. But winning and losing one-goal games, that seems to be the normal thing this year."
Those are the games where the Tigers' championship DNA shows through.
"Division-III recruiting, you look for the players that were missed or wanted a specific major," McDonald said. "Our school is unique to some majors, so you're going to get that kid anyway, but you're always looking for that bubble player that could go either way, and I think that's why we were at the level that we were in Division-III. Coming in here without the national player, but we had good depth at Division-III. We had a balance with the team, where it's not one line scoring all our goals or you could shut down one or two kids. It's been scoring by committee, and it's been the same way this year, where it's one line after another that can chip in. Certainly, we don't have the offensive numbers that we did, which was expected, but we've been in a lot of close games, a lot of big games. I think the mental part of it, they've been prepared for these tough games. They thrive in those tough games at Division-III, and now we have a full season of it. That's where they've been excelling at."
The results that really made one take notice of RIT were three wins and a tie in four games versus last season's CHA tournament champion, Robert Morris. Those games were a big reason why the Tigers were able to take the third seed in this year's conference tourney, as they tied the Colonials in the standings and finished ahead of the other two new programs, Lindenwood and Penn State.
"We're definitely happy with how the team is performing," Binnington said. "We had a little bit of an upper edge there, because coming from last year, we have more experience playing in those big games, playing in those national championship games. We're used to tight competition, so I think we had a little bit of an upper edge there, whereas they weren't really used to that. So I think that's what's kind of helped us have more success than they have this year."
The championship experience wasn't their only advantage over new teams.
"We already have really good chemistry," Schlattman said. "It's easy to build off each other. A lot of our systems have remained the same, so we're able to just grow as a team to compete at a higher level, instead of having to start from square one and learn all the new things."
The Tigers will host Penn State in a best-of-three quarterfinal starting on Friday. That's fitting, because RIT also made its mark at the gate, averaging almost 700 fans per game, seventh-highest of all D-I programs. McDonald said it's not just the quantity of fans, but the atmosphere that they provide.
"We actually have real fans that buy the shirts, wear the shirts, wear the game jerseys during game days at school," he said. "They're here for our games pretty consistently."
The team's hope is to finish the season in Erie, Pa., where Mercyhurst hosts the tournament semis and finals.
"We're definitely looking forward to the possibility of getting to that final weekend, but at the same time, we're not looking past the first weekend," Binnington said.
Their odds to do so look good. RIT went 3-0-1 versus the Nitanny Lions on the season as well. Plus, the tournament is new territory for Penn State.
"As far as the national tournament stuff, even if it's not Division-I experience, it's still NCAA national tournament experience," McDonald said. "Mercyhurst has been there; obviously, they've done very well in our league going to eight straight national tournaments. So they've been there and seen it all. Other than that in our league, no one else has been to a national tournament. It gives you an edge, because our girls know that it's a different game. It's a completely different intensity than the regular season. Everyone is bumped and bruised. You're not playing with one foot out the door waiting for your season to be over. You're jumping right in — you don't want your season to be over. That's the mentality that we've had the past couple years with virtually the same team back that we had last year."
Without a CHA automatic bid, the season will end for the Tigers with their final league tournament game, and so will the careers of Hiller and Schlattman and their classmates. They will end their varsity careers not with a question as to whether or not they would have been able to compete at the Division-I level, but the knowledge that they fit into the game just fine. For Binnington, the journey continues for a couple of more seasons.
"I'm definitely looking forward to that challenge," she said. "Coming in as a freshman, got the experience to win a national championship, and then getting to play at the Division-I level for three years, I couldn't ask for anything more. It'll be pretty cool to see how our team progresses through those three years and to see what we're capable of and where we can go."