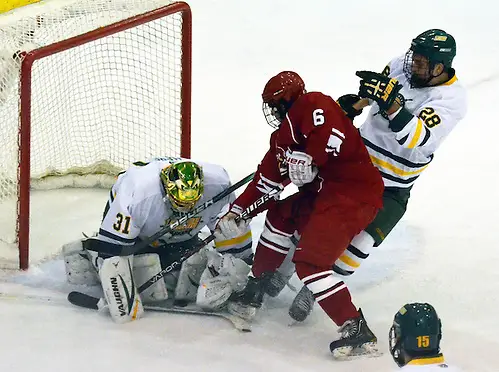 This is the last regularly-scheduled SUNYAC column of the season, and, of course, there is a wide-open stretch of ice to cover, not the least of which is Saturday's league championship tilt pitting No. 1 Oswego and No. 2 Plattsburgh.
How fitting.
Those two old foes are about to meet for the SUNYAC title for the fourth time in the past six years. and the 10th time since 1998 (with the Cardinals emerging the victor six times, including last year).
It's almost like a rite of winter.
Needless to say, motivation shouldn't be any problem when the teams line up at Oswego's Campus Athletic Center.
"Of course it's on (our) minds during the week," said Oswego coach Ed Gosek. "But once you come to the rink on game day, your mind has got to be clear. The rivalry part leads to the pressure. But the reality is, we don't need to play with the emotion; we need to play with the passion."
Plattsburgh has won the past three meetings with the Lakers — two of them in Oswego — including both regular season meetings this year.
All three were decided by a slim, one-goal margin.
It goes without saying that the teams are highly respectful, and perhaps a little wary, of each other.
"Oswego the past couple of years has been a very opportunistic team," said Cardinals veteran bench boss Bob Emery. "They have a ton of experience (and) they have a great power play. To have a chance, we will have to be very disciplined in many areas. And obviously we will have to be good defensively. They are super good!"
Gosek echoed the sentiment.
"Plattsburgh is disciplined," he said. "So they don't put you on the power play. And they have a commitment of blocking shots, and are willing to do the little things that make a difference in the playoffs. They do it all year long. We do it, but I wish we did it more."
Awards
With the end of the season comes the announcement of the league's individual awards.
Geneseo's Chris Schultz was named Coach of the Year, while Oswego forward Paul Rodrigues earned Player of the Year honors and Plattsburgh first year forward Kevin Emmerling was named Rookie of the Year.
It was Schultz's second CoY award in the past three years, and as is his self-effacing manner, he downplayed his selection.
"I was very surprised that I received the honor," he said. "The others were more deserving than me. I thought that Bob (Emery) and Ed (Gosek) would be the two going toe-to-toe for the award. Bob took a very young team to new heights and Ed, as always, has his team primed for another championship. But, there are criteria that go into the vote, and I guess the other coaches felt that our team met those criteria the most. I'm really happy for my coaching staff and at the end of the day, it is the players that deserve the award. As a staff, we are honored to just be a part of a tight-knit coaching community within our conference. I would give the shirt off my back for every coach in our conference."
Gosek was pleased with the selection of Rodrigues, who edged linemate Luke Moodie for the SUNYAC regular season scoring crown with 25 points.
"Paul has been very consistent over the last four years," Gosek said. "However, at the end of last season, he made a commitment to get in the best shape he could, dropping 15 pounds and getting in the best shape of his life. It has allowed him to log a lot of valuable minutes for us. Power play, penalty kill, and five-on-five. He is a dynamic player that plays both ends of the ice. Moodie, (Jon) Whitelaw, and Rodrigues will go down as one of the best line combinations in Oswego history."
Emery said that while Emmerling possesses a superior skill-set, it's his internal motor that sets him apart.
"Kevin is very dynamic offensively," said Emery, "but his bear attribute is his lateral skating ability and his quick hands."
While not counted among the official SUNYAC awards, the league's nine head coaches have in recent years passed along their own plaudits, including an All-Rookie Team. Coaches are not allowed to vote for their own players. This year's selectees, as compiled by USCHO colleague, Russell Jaslow are:
F: Luke Baleshta (Plattsburgh)
F: Kevin Emmerling (Plattsburgh)
F: David Ripple (Geneseo)
D: Nate Brown (Geneseo)
D: Alex Lubczuk (Geneseo)
G: Jared Lockhurst (Brockport)
The coaches also named Plattsburgh's Brandon Beadow as Best Defensive Defenseman (for the second straight year), and tabbed Jared Docking (Plattsburgh) and Matt Singleton (Oswego) as co-honorees for Best Defensive Forward. It is the third consecutive time Docking has been so named.
Other reflections
Geneseo threatened to interrupt the Oswego/Plattsburgh grip on SUNYAC superiority — and even held first place in the next to last weekend of the season — before suffering a late swoon that culminated in last Saturday's 5-1 semifinal loss at Plattsburgh.
Even so, Schultz said that there was much to be pleased with his Ice Knights' season.
"I'm really proud of our compete factor," he said. "We went through some early-season losses where we were the better team on the ice, but not the scoreboard. Our players battled through the adversity and always answered the call to not just play, but compete.
"We found our identity and started rolling on November 16 in our victory over Plattsburgh at home. From there, we started rolling. Our power play was the biggest surprise. We worked over 30 percent in conference, and that alone will win you a lot of hockey games. Our young players played like veterans (and) our seniors led by example. The team realized that you do not need skill or intelligence to work like dogs. The low of the year was certainly last Saturday night's loss. I think a good hockey game was taken out of our hands by other circumstances that we could not control. But at the end of the day, Plattsburgh was the better team, as the scoreboard indicated."
Morrisville finished the season tied (with Cortland) for eighth place (with eight points), but after starting out 0-6 in league play, managed to haul itself into playoff contention before running out of steam in the final weeks.
Even so, Mustangs' interim coach Kevin Krogol, who took over shortly before the beginning of the year, felt that his club made big strides as the year wore on.
"Overall, I thought we had a pretty good year," said Krogol. "When you take out the wins and losses and really break things down, I think it's pretty evident that we are a much-improved team. It did take us a little while to find our stride, but (that's) to be expected with such a young team. We don't feel that there were many games throughout the year that we didn't have a chance to win, as can be seen by our six one-goal losses. Overall, I think this will be an outstanding learning year for our young team. We are losing some key guys, but with what we are bringing back and the personnel we are bringing in, we're very excited for next season.
"I would have to say that I was proud of every single one of our guys this year, because of the obvious situation we were put in at the beginning of the year. With the coaching change that close to the start of the season, it would've been easy for guys to fold or quit altogether."
Krogol is hoping to have the "interim" tag removed from his title, and if all goes well, he should be given the job permanently soon.
"I will apply for the job, go through the interview process, and hope for the best," he said. "I've had great support from everybody here at Morrisville State, and feel very positive about situation."
As stated at the outset, this will be the last entry in this year's SUNYAC diary. That said, it has been a pleasure to fill this space each week with stories about the student athletes who bring competition, class, and credit to their institutions and fans of the game. There were too many stories to tell, but perhaps some of those can wait until next year. As it was, we managed to feature players from each of the nine schools, personally see each team at least twice, and visit five of the SUNYAC's nine home rinks. Margaret H., the better half of your SUNYAC correspondent, was a faithful partner in this effort, conducting her own personal popcorn survey of each rink visited. Her verdict? Buffalo State in a rout.