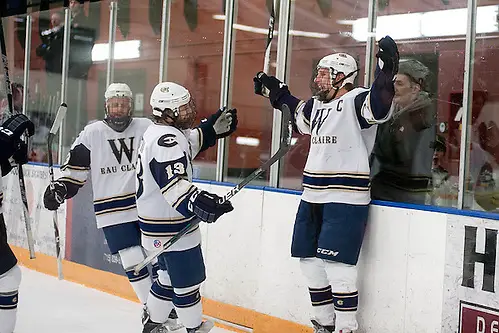 Well, so much for postseason rust.
After enjoying a two-week bye from competition, Wisconsin-Eau Claire began the NCHA playoffs with a dominating 7-2 win over Wisconsin-River Falls on Saturday. This Saturday, the Blugolds (20-4-2) will try to win the Peter's Cup championship and advance to the NCAA Division III tournament, which begins March 6.
Wis.-Eau Claire will meet two-time defending national champion St. Norbert in Saturday's tournament final. The pucks drops at 7 p.m. in Eau Claire.
Against sixth-seeded Wis.-River Falls, the top-seed Blugolds jumped out to an early 2-0 lead and never looked back. Wis.-Eau Claire, ranked second in the latest USCHO.com D-III poll, used balanced scoring and steadfast goaltending to end the Falcons' season.
"That was our concern going into the bye week, not having any games for two weeks, that was a huge concern of our coaching staff here and how we're going to respond," Blugolds coach Matt Loen said. "We had a little bit of a sluggish practice (last) Wednesday, so we decided to get after the guys a little bit and get them to focus a little more and realize how important that game was."
The Blugolds' coaching staff was looking for a strong response, and their players delivered. Loen said his team had crisp practices on Thursday and Friday, which were a catalyst for Saturday's blowout.
Loen was impressed with forward Mark Pustin, who tallied one goal and two assists. With 26 points, Pustin is the Blugolds' second-leading scorer, behind senior Jordan Singer.
"I don't think he'd been playing that well, as of late, so it was nice to get a good performance out of him," Loen said. "I think we were a little disappointed in where he was at the last few games, and he turned it up a notch and played a real good game, so hopefully that can continue."
Perhaps Falcons goalie Scott Lewan had an off night, or the Blugolds enjoyed what Loen calls "puck luck;" either way, Wis.-Eau Claire flexed its offensive muscle against a strong netminder on a formidable team.
Now the real challenge begins: knocking off mighty St. Norbert. In three previous meetings this season, the Blugolds went 2-0-1 against the Green Knights, including a 5-3 victory on St. Norbert's home ice. St. Norbert losing at home happens about as often as a lunar eclipse.
"We got a few timely goals and some lucky goals; obviously, anytime you can win there, you'll take it," Loen said. "At the game here, we gave them six power plays and they didn't score on us. If we give them that many chances again, it's probably going to be a different story. We know we're in for a battle, they're well-coached, they're a good team. We're just happy to have the game at our rink, and hopefully we can continue to get some lucky bounces."
While the Blugolds have a potent offensive attack, their backbone is senior goalie Brandon Stephenson. The NCHA recently named Stephenson its 2012-13 Player of the Year. The senior netminder is the first Blugold to earn Player of the Year honors since 1995.
Loen is quite familiar with that player, too.
"Actually, the last one was me," Loen said. "I think it's awesome for Brandon because he's kind of been on the radar. The last couple of years, he's been very consistent, a top player on our team and in our league. But because of other situations, he hasn't gotten any accolades.'
Loen knows firsthand what it takes to earn Player of the Year in the ultra-competitive NCHA. He couldn't be prouder of Stephenson.
"It's awesome for him; he's a great person, he deserves it, he works hard," Loen said. "He's a focused goaltender and a great teammate, a great kid and a great student. Obviously, on the program side, it's awesome for Wisconsin-Eau Claire to get some recognition across D-III hockey. We've had a couple, (Player of the Years) but we haven't had one in a very long time."