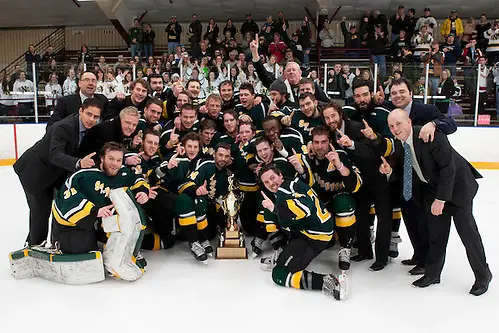 Just when you think the St. Norbert men's hockey team is letting their guard down, the NCAA Division III powerhouse reaffirms itself as one of the most resilient programs in the country.
On Saturday, in a battle with Wisconsin-Eau Claire for the NCHA tournament title, St. Norbert blanked the favored Blugolds, 3-0, on the road. Saturday's victory was the Green Knights' first this season against Wis.-Eau Claire, and it gave them a first-round bye for the NCAA D-III playoffs, which begin tonight.
On Saturday, St. Norbert (23-5-1) will host the winner of tonight's St. John's/Wis.-Eau Claire tournament opener in Eau Claire.
During the regular season, the Green Knights went 0-2-1 against the Blugolds; however, as St. Norbert coach Tim Coghlin pointed out, every game was close.
"The first game, they won 5-3 and scored on an empty-netter; that game could have gone either way," Coghlin said. "The second game, (a tie) could have gone either way. And then when we went into Eau Claire about a month ago, it was an interesting time because everything was on the line. If we would have won that game, we would have been in charge of the NCHA. But they beat us 3-0 in a well-played game that was more evenly-played than the score would indicate. Now, a month later, with everything on the line, we beat them 3-0 in a game that could have gone either way. We've played a lot of meaningful games where it's meant a lot to win. It's been a more evenly-played series than the scores would indicate."
Coghlin believes the Green Knights have improved steadily in the past month, which could be scary for the rest of the D-III field. Since losing to St. Scholastica on Feb. 1, the Green Knights have rolled off seven consecutive wins.
"We are executing at a higher level, and we are competing better defensively, and we're creating more offensively through hard-nosed defensive play," Coghlin said. "In the first half of the year, I thought we relied heavily on special teams and power play, and it worked out well getting the 'Ws' that we did. Now, you're looking at a more difficult time to score goals, and you have to manufacture goals."
During Saturday's win, the Green Knights received two goals from Chris Rial, a versatile defensive sophomore from Las Vegas. Rial, 6-foot-5 and 190 pounds, came to St. Norbert after a brief stint as a walk-on at the University of Minnesota.
"He scored a huge goal in the national tournament last year, so he was very opportunistic in what he had; he had some chances and made some plays," Coghlin said. "It's that time of year where it's difficult to score goals. I just like that our compete level is back where we think it needs to be to continue to get better."
Goalie David Jacobson, another standout sophomore, stopped 32 shots en route to his sixth shutout of the season.
"He had to make a few quality stops in the first period, but down the road, he didn't have as many quality stops as (Blugolds goalie) Brandon Stephenson had," Coghlin said. "He's a tough kid who competes hard every day; it doesn't matter if you're playing pond hockey or playing for the Peter's Cup, you're going to get the same commitment from him. and that's what we saw last year when we went on our big run."
If Wis.-Eau Claire tops St. John's tonight, the Blugolds will have another shot at the Green Knights in the D-III quarterfinal round in De Pere, Wis. While St. Norbert almost never falls at home, the Blugolds did defeat the Green Knights on their home ice in November.
"Saturday's a single-game elimination, which our program, since 2003, has seen a lot of single-elimination play," Coghlin said.
Through the past decade, the Green Knights have been extremely efficient at winning when the season is on the line. Can the two-time defending national champs return to the Frozen Four? We'll find out on Saturday.