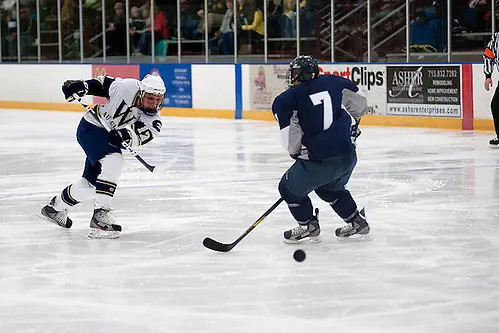 It's only fitting that the Wisconsin-Eau Claire men's hockey team ends its historic season at a place where the most memorable hockey game in U.S. history occurred 33 years ago.
On Saturday, the Blugolds continued their best season ever by upsetting defending Division III national champion St. Norbert, 3-1, to advance to the Frozen Four in Lake Placid, N.Y. The Blugolds will have a chance to earn their first D-III title at the historic site of the U.S. Olympic team's dramatic upset of the U.S.S.R. at the 1980 Winter Olympics.
Wis.-Eau Claire faces Utica (N.Y.) in a national semifinal contest on Friday at 7:30 p.m. (Eastern). If the Blugolds defeat Utica, they will battle the winner of the Oswego State/Norwich game on Saturday night.
For senior forward Jordan Singer, four long years of helping build the Blugolds' program has paid off with a trip to Lake Placid.
"It's definitely sunken in, just being at Lake Placid and being in the Herb Brooks Arena, I think that's when it really sunk in for me, at least," Singer said. "Just getting here, seeing the town and seeing the whole Olympic atmosphere with all the Olympic training facilities, I think that's when it really sunk in for most of the guys."
On Wednesday night, the Blugolds had their first practice at Herb Brooks Arena, named after the legendary coach of the 1980 U.S. Olympic team.
After losing to St. Norbert in the NCHA tournament final on March 2, it seemed unlikely that Wis.-Eau Claire would earn a trip to the Frozen Four. However, the resilient Blugolds knocked off St. John's in the opening round of the NCAA D-III tournament and, despite playing the Green Knights on their home ice, pulled off a two-goal win in the quarterfinals.
Losing the NCHA tournament title might have actually helped the Blugolds restore their focus.
"It was a big game, and our team was inexperienced in playing in big games; they've never done it, so that really helped us with knowing what mindset we needed to have going into the NCAA tournament and going back to St. Norbert," Singer said. "We knew how a big-game atmosphere was going to play out, and that really helped."
Defensively, senior goalie Brandon Stephenson stoned St. Norbert with 39 saves, keeping alive his outstanding season. On offense, the Blugolds have received solid contributions from all of its lines, using a balanced scoring attack. Singer, the Blugolds' leading scorer this season (33 points), is pleased to spread the wealth to teammates.
"I would like to be playing a little bit better and scoring more, but my team is playing really well right now, and we're getting scoring from every line," Singer said. "And we have a great goaltender who is just stopping everything he's seeing right now. We have great confidence in him."
While the Blugolds are certainly enjoying their first trip to the Frozen Four, they're not satisfied with simply making the tournament. They've come too far this season without leaving Lake Placid with a national title.
"We're not coming out here for a tourist attraction or anything like that; we kind of got that out of our system today," Singer said. "We talked about it all week. We're here for a business trip, and that's how we're going to treat it. We have one goal in mind, and that's to bring back some hardware."
With Frozen Four mainstays Norwich and Oswego State clinching another berth to the season's final weekend, the Blugolds are the new kids on the block, but considering a group of no-name college kids made history at Lake Placid in 1980, it could be time for a new program to reign supreme in D-III.
"Every hockey fan has seen the movie 'Miracle,' and it's always been a dream of mine to come here, and seeing it firsthand, it's definitely a dream come true, for sure," Singer said.