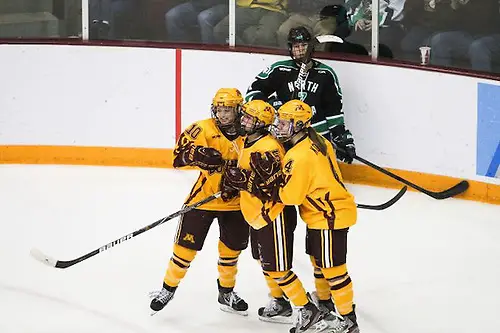 Readers of this article likely fall into one of two groups: people who are Minnesota fans and already know about all that it has accomplished this season, and those who are sick of hearing about the Gophers, their records, and streaks.
Sorry, you'll have to either indulge me for one more milestone or skip the rest of this paragraph. The NCAA record for fewest goals allowed in a season is 36 by Wisconsin in 2007. Through its first 39 games, Minnesota has allowed 31 goals. After a couple of porous months by its standards, allowing eight goals in January and nine tallies in February, the Minnesota defense has rebounded to yield but two scores through five games in the postseason.
An obvious reason for this is the play of goaltender Noora Räty, a two-time Olympian and twice a Patty Kazmaier Award Top-Three Finalist. However, she's not the only miserly Gopher. On Friday, Minnesota will entertain a Boston College team whose primary goaltender has three shutouts on the year. Minnesota backup netminder Amanda Leveille has matched that total, and Leveille has only made three starts. Another big component in the Gophers' defensive success can be found on its blue line, where Megan Bozek, WCHA Defensive Player of the Year and another finalist for the Kazmaier, is the shortest defenseman at five feet nine inches, and all six have competed on national teams for their respective countries at some level.
A less-discussed factor in Minnesota's team defense is its strength at the center position. Hannah Brandt, Kelly Terry, and Sarah Davis, the centers of the top three lines, have handled their playmaking responsibilities well, combining to dish out 89 assists. Even more, they've each delivered in their defensive zone, and as coach Brad Frost has said many times, it all starts for his team in first playing good defense.
"That's something that I take a lot of pride in, even in practice and in games," Davis said. "You look at our team, and we have no problem scoring. So I just try to focus on things I can control, and my D-zone is definitely something like that."
Terry started the season on Davis' right wing, but as she did last year, moved to the center spot on a different line part way through.
"Before coming here, I'd actually never played on the wing, but Sarah Davis and I had played together in the past, so [Frost] wanted to keep us together," Terry said. "Going back to center was kind of like going back home, I guess, really used to it. It's definitely a higher level than I'm used to at center playing D-zone and everything, but our systems are great and our coaches are really great at teaching us proper body position and making us play like defense in the D-zone."
Brandt has also had to make an adjustment, because although she has been primarily a center on her previous teams, the requirements change at the collegiate level.
"That was probably the one thing I really focused on, if you can pick anything, that this team really drills into you as a freshman, especially as a center, that the D-zone is the most important," she said. "They know that the offensive plays will come, but they really want you to play well in the defensive zone. If you can't keep the other team from scoring, you're not really going to go anywhere."
As the WCHA's Rookie of the Year, Brandt can compare her game to that of the two most recent winners of the same award in Hockey East from Boston College, freshman Haley Skarupa and sophomore Alex Carpenter.
"It's definitely going to be fun to play against them," Brandt said. "I've really only played with them at USA Hockey stuff, and it'll be exciting to finally get to play against them in the college. It should be a pretty good matchup, and I really look forward to it."
Plans can change depending on how games unfold, but taking advantage of the last line change, Frost may choose to put Brandt's top line out against other units for the Eagles to get the offensive and defensive matches that he prefers.
"I think we have a ton of depth on this team, and any center can be out there at any time and get the job done," Davis said. "It's something that we take very seriously in practice, and something that we go over, and over, and over again. But obviously, it's worth it; it's very important to do so."
Terry said that the coaches continue to enforce playing both offense and defense, in both practice and games.
"I think that's a big part of it is the way we practice," she said. "We do a lot of D-zone coverage things. Instead of just having the defense working on it, it will be defense and centers."
In recent weeks, Frost has often chosen to play Terry's line against the top offensive threat of an opponent. She said that she and her wings, Rachael Bona and Becky Kortum, embrace that role.
"When we're out there against the top line, we kind of look at each other and [say], 'Be aware; don't change our game plan, but be aware of who we're up against.' That keeps us motivated on the ice. We know that they're going to generate a lot of offense, so we really focus on shutting them down, because that will give our top scoring line chances to score against maybe their second or third line."
She took advantage of a scoring chance on a power play against North Dakota in Saturday's NCAA quarterfinal, and Terry's ninth goal of the season at 18:51 of the third overtime kept Minnesota's fantasy season alive. That's been a hallmark of this team's run; it's not always those that one would expect to score that come through when a goal is most needed.
"We call [senior defenseman] Mira [Jalosuo] 'The Clutch' now because she has scored some huge goals for us this season, but honestly, I don't care who scores it, as long as we score," Davis said. "When you play six periods, anyone on the ice doesn't care who scores. Just we want to score. Who knows? I might score, I might not, but I just want to be on the winning end, so hopefully we can make that happen."
One area where the Gophers did not win versus UND was the faceoff battle, losing one more draw than they won in the contest, despite winning 56 percent of all faceoffs over the course of the season.
"We talked this past week on how we have to get more intense on faceoffs, including everyone, not just the center," Davis said. "I think we've done a pretty good job. But you do come up against great players like [Jocelyne] Lamoureux or [Josefine] Jakobsen; sometimes you just don't know why you can't win it. It's just something you kind of work on everyday and hope that it's in your favor in that game."
When games get down to the wire, seemingly innocent draws can quickly evolve into game-changing plays. It's an area where Brandt can look to her junior teammates that share her position.
"The faceoffs at this level are super intense, and every single one is like a do-or-die situation," Brandt said. "Especially in the defensive zone, we really have to focus on them. It's been really helpful to faceoff against players like Sarah Davis and Kelly Terry in practice, because they're really good at them, and I just hope to learn from them."
For some game situations, everyone is learning as they go. As the third overtime versus UND dragged along, it entered uncharted territory, Minnesota's senior class had played a triple-overtime game as freshmen, but that one ended 1:16 into the third OT, while this one nearly completed that session.
"I think like in U-12s, I had a state championship game go to like six or seven overtimes, but that's five or 10-minute periods," Brandt said. "Nothing like that. Hopefully, I don't have to do that again, but it was fun to come out on the winning side of it."
All those extra minutes had an impact days later, according to Brandt when I spoke to her before she took to the ice for practice on Wednesday.
"I'm definitely still feeling it a little bit, but starting today, I'm hoping to feel a little better in practice," she said. "I think we did a really good job of recovering from it, and I think we'll be ready to go on Friday."
Such a marathon takes a toll while it is underway as well, and most skaters were moving noticeably slower at the end of the game than they had earlier in it. Terry was one who continued to roll along, seemingly unfatigued.
"Cal [Dietz] is our trainer; he does a great job of keeping us prepared," Terry said. "That's always been a part of my game is skating, and I know that I won't play well unless I'm in shape, so I really try and focus on that in practices and off-ice training and everything."
Really trying is a staple in everything Terry does, and it especially shines through in her play without the puck.
"I'm a really competitive person by nature, and I don't like to get beat," she said. "I'll always work extra hard. Especially if they beat me once, I don't want it to happen again. It's part of the game that I find really fun. If you have a really good forecheck and you don't let them get the puck out, it's almost as satisfying as scoring a goal. That generates a lot of offense and a lot of momentum for our team."
While the forecheck may provide a spark, it is hard to top the momentum that the team gained from Terry's game-winner last weekend. In the aftermath of Jalosuo's goal against Bemidji State in the team's only previous overtime game this season, Minnesota responded by posting six straight shutouts. Of course on that occasion, what was at stake was a game and a winning streak, not a whole season.
"Looking back, it'll have been a helpful thing for us," Brandt said. "At the time, it was a little stressful and nerve-racking, but even now looking back, I think it was helpful for the team to face that adversity. I look forward to seeing how that helps us this Friday."
The memory of the overtime win isn't the only thing that the Gophers will carry into Friday's game. Minnesota's last postseason loss came two years ago in Boston to none other than the Eagles. BC jumped on Minnesota right from the start, scoring just 24 seconds into the game and taking a four-goal lead before it was 14 minutes old before winning, 4-1
"My freshman year, it's constantly in the back of my head," Davis said. "We're just going to prepare this week as if we were playing any other team, Wisconsin, St. Cloud [State], any team like that. It's been working out pretty good for us so far, preparation, so we've just got to continue that for a big game on Friday."