The most talked-about team in this year's Frozen Four field has got to be the Yale Bulldogs. Quinnipiac, St. Cloud State and Massachusetts-Lowell have their own compelling angles, but there is something singular about Yale among a quartet of unique cases.
Is it the novelty of a non-scholarship, Ivy League program competing on the ultimate stage? Yes. Is it the highly implausible, neigh impossible gauntlet the Bulldogs ran en route to Pittsburgh? Yes.
2013 NCAA Frozen Four
Follow all of our coverage at Frozen Four Central
NCAA tournament page, with bracket
Is it that Yale is new to this pedestal? Well, the three other competitors can say that much.
The Bulldogs' story is a little different.
"I think the '51 and '52 teams were equally good. The '51 team had a better record, but we didn't go out West that year at Christmas," explained Larry Noble Jr., who captained the 1953 edition of the Bulldogs icers. "In '52, we went out and played Denver, Colorado College and Minnesota — two games each — and we split with them, which is not bad, 3-3."
That 1952 squad was talented, but also a bit cynical, smarting from the recent slight by the NCAA selection committee, which had the previous season spurned the 15-2-1 Bulldogs in favor of Brown and Boston University.
"The '51 team, we only lost two and tied one. We were, if not the best, then one of the two best teams in the East, and the selection committee — I'm not sure who it was made up of — was highly influenced by the Boston sportswriters. They were always pushing [Boston College] and BU to go out as the two [Eastern] representatives," said Noble, whose father — Lawrence Noble Sr. — captained the 1927 Elis and coached the '28 and '29 teams to a 32-2-2 combined record as a law student.
That 1951 team had only one loss at the time the selection committee was supposed to meet. With a tough decision looming, the group delayed the vote until the Harvard-Yale game, the penultimate of Yale's regular season. Harvard won.
"Two hours later, they selected two other teams," Noble said.
So in 1952, the Blue were big, bad … and burning for a shot. But with two Eastern spots open in the national semifinals, it looked doubtful that the political powers in charge would take a gamble on Yale.
"They decided that BC, BU, Yale and St. Lawrence were the four best teams, and they really couldn't decide among them," Noble said, "so they decreed that there would be a playoff among these four teams. BC and BU thought they deserved to be picked, like they always did, and refused to play in the playoff. So, I think to their huge surprise, the selection committee picked Yale and St. Lawrence."
And just like that, the Yale Bulldogs were in what would later be called the Frozen Four, matched up against December opponent Colorado College. The berth was the first such achievement for the program, and until last weekend, the last.
"So that team was not new to us, nor was the location which — very significantly — is at 6,000 feet altitude, giving CC a huge home advantage," Harry Havemeyer, captain of that '52 squad, said by email from London. "So we were prepared for that and confident. We stayed at the Broadmoor Hotel [both times]. Colorado College would have been favored, having home-ice advantage.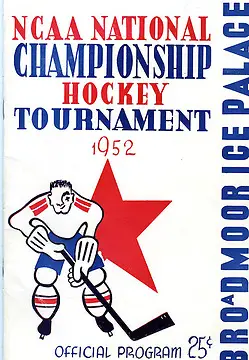 "As for the game itself, we outplayed them for the first two periods and had a lead. However, in the third period, fatigue began to set in and some of us were taking oxygen on line changes. We hung in there but finally lost by one goal. In the consolation game against St. Lawrence, who had lost to Michigan, we swamped them 4-0. In the final, Michigan defeated CC to win the championship.
"I think we all felt that had we had more time to acclimatize, we could have defeated CC, but that Michigan was a clearly better team that we could not have beaten. [They] deserved to be the champion."
Suffice to say, this year's Bulldogs bear little resemblance to Havemeyer and Noble's team, now 61 years in the past. But that's not to say there is no common thread.
Per Noble, a longtime season ticketholder at Ingalls Rink, "the coaching is and was first-rate."
While Yale now follows the lead of Keith Allain (Yale class of 1980), the Bulldogs marched to the beat of "Iron Man" Murray Murdoch for 27 years, between 1938 and 1965.
So called for never missing a game in 11 years with the NHL's New York Rangers, Murdoch guided Yale to a 271-234-20 record and places 95th on the list of all-time collegiate wins.
"Murray was a wonderful human being and an excellent coach," wrote Havemeyer, who penned a book — "Remembering Murray Murdoch" — about his college hockey experience. "For that era, when there was no recruiting, I can't imagine a better choice. He would choose the players he wanted and support them. He came to Yale from being the 'Iron Man' of hockey on the Rangers, at the urging of their president, John Reed Kilpatrick [a Yale alumnus]. It was a stroke of genius."
Noble remembers Murdoch with fondness and respect as well, and appreciates what Allain has been able to do with equal admiration.
"[Murdoch] was a very good coach. The team members liked him, we wanted to play well for him, and he was technically excellent," Noble said. "And Keith Allain — who I saw playing here at Yale as a goaltender some years ago — obviously has tremendous talent, bringing out the best qualities in his players and organizing a team that plays very well together. [Allain] made a team or two with equal or better talent than this [current] team, but I've never seen a Yale team in recent years play as well together as a group."
Both Noble and Havemeyer feel oddly connected, yet simultaneously unfamiliar with the game as it is played today.
"I've been reading that this is Yale's first finals appearance 'in the modern era,' and I'm thinking, 'The modern era? Wait a minute, what does that make me?'", Noble laughed.
But despite some disappointments (the ferocity of recruiting, the age of incoming players), they still sincerely enjoy the game and Yale Bulldogs hockey.
"I think the game is better now than it ever has been," Noble said. "I'm glad to see that the NHL influence on fighting has lessened. I always hated that aspect of it. I loved the way the Russian teams played — they weren't so physical, but were highly skilled some years ago."
And both agree that the only way to play is your way.
"My advice [to the current Bulldogs] would be play the same game you know and don't get discouraged if you fall behind a bit," Havemeyer said.
Elis past and present know that there is only one way to play hockey at Yale, and that is to play Yale hockey.