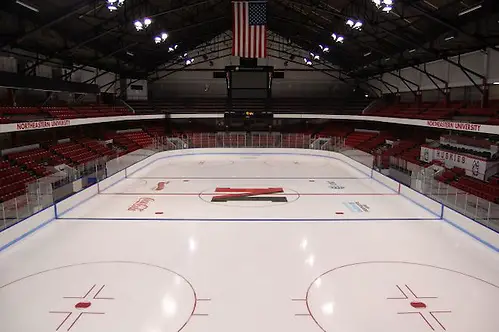 With the goal of catching a game at all the NCAA Division I venues by the time I reach the half-century mark (aka, the Big 5-0), I hit the road last season for the Northeast to check off many of the venues I hadn't been to.
I've been lucky enough to soak in the great atmospheres at North Dakota, Wisconsin, Air Force, Denver, Colorado College, Minnesota, St. Cloud State, Michigan, Michigan State, Western Michigan, Notre Dame, Nebraska-Omaha and Miami. Previously, I'd also enjoyed games at Maine, New Hampshire, Vermont, Boston College, Harvard, Princeton, St. Lawrence, Yale and Rensselaer, among others.
So this trip was about checking off some more places. Whoever says 13 is an unlucky number needs to channel their inner Bill Guerin and just get out there. I was driving to 13 different men's college hockey venues across five states in the Northeast.
The schedule included visits to Dartmouth in New Hampshire; Brown in Rhode Island; Quinnipiac and Connecticut in Connecticut; Cornell, Union and Army in New York; and Boston University, Northeastern, Massachusetts, Massachusetts-Lowell, Merrimack and Holy Cross across Massachusetts.
Here's a recap, with a few awards, followed by my top five from the journey:
The Cracker Box Award
To Lawler Arena, Merrimack. I always thought the king of the college hockey Cracker Box was Cornell, but Merrimack is a close second. With a low ceiling and cramped seating, this arena packs 'em in. But Lawler Arena can't carry Lynah Rink's jockey strap for game day atmosphere on a good day. The crowd was less than engaged. At its highest point above the team benches, there's a suite level where many fans spent more time stuffing their faces with nachos than cheering on the Warriors.
They Definitely Need A New Arena Award
To Freitas Ice Forum, Connecticut. The Huskies join Hockey East in 2014-15 and it's hard to imagine their tiny on-campus venue will be a suitable host. My high school hockey venue was nicer. Granted, UConn will play Hockey East games at the XL Center in downtown Hartford, but the beauty of college hockey is the on-campus experience, plus Hartford is more 30 minutes away from campus by car.
The I Love Throwbacks Award
To Northeastern's Matthews Arena. While the atmosphere for the game I caught was sub-par (a Sunday night affair), I just love this place. Opened in 1910, it's so old that it hosted the NHL's Bruins before the original Boston Garden was built. And I can still see my late father driving up from Hartford, where I was born and raised, to catch the old New England Whalers of the WHA play here in the early 1970s.
BC, BU, Harvard and Northeastern — Boston's four Division I college hockey programs — all started here. So why not hold a Beanpot here once every four years? What, a home-ice advantage for Northeastern? Please. Tradition calls for it — a Beanpot at its original home every four years.
And finally …
The Bad Karma Award
To me. I wasn't the greatest karma for many of the home teams on my trip, with the hosts recording just a 7-5-1 mark.
Here were my top five places from my journey to 13 schools:
5. Messa Rink, Union — Schenectady, N.Y.
I loved this place. It has a barn feel and cowbells reign supreme. During the national anthem, fans bust out with a unison cheer of "U!" And the campus? Beautiful.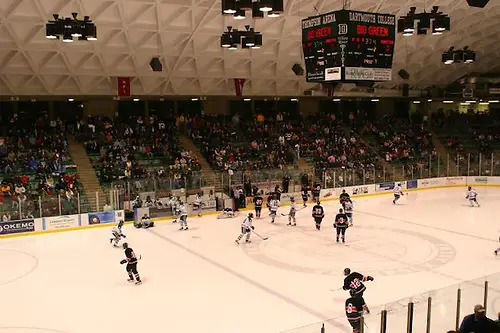 4. Thompson Arena, Dartmouth — Hanover, N.H.
Let's just get this out of the way. I always enjoy visiting Dartmouth and Hanover. To me, it's the Mayberry of a New England college town. The campus is gorgeous, too, and I love how the school has blended in its sports venues into the campus, including Thompson Arena, which opened in 1973. The Big Green's basketball team was playing across the street at the same time the hockey team was, but I snuck a peek across the street between periods and you could literally count the number of fans at the hoops game. Dartmouth loves its hockey and Thompson was packed. The Big Green jumped out to a lead and then held off a late surge to win. It was one of the better atmospheres on my trip.
3. Agganis Arena, Boston University — Boston
I caught an awesome matchup, BU hosting BC. The last time I caught a BU home game it was at Walter Brown Arena, which is still used by the Terriers women's team. I wondered if this new arena might be too big and too corporate for the men. Well, for the game against the cross-town rivals Eagles it certainly wasn't. I had a grand time. The students were loud and proud and the place was jumping — and there's not a bad seat in the house. BC went home a winner, though.
2. TD Bank Sports Center, Quinnipiac — Hamden, Conn.
When I was growing up in Hartford as a kid, Quinnipiac was considered an afterthought for just about everything — academics, athletics, you name it. Today, this school 40 minutes south of the state capital has everything going for it. The academics are outstanding; the campus, impressive; and the college hockey venue? Awesome. The student section was pretty wild, too, to say nothing of the team. I caught the Bobcats capturing yet another ECAC Hockey victory.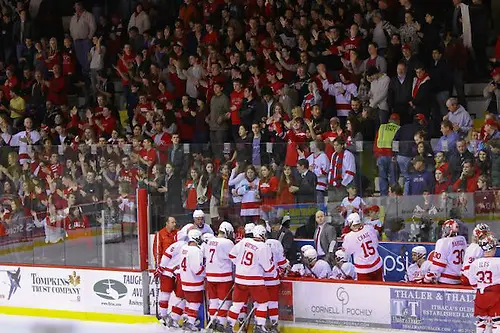 1. Lynah Rink, Cornell — Ithaca, N.Y.
It's the Fenway Park of college hockey, which is to say, if you like your space, this ain't your place. The roof is low, the seats tightly-packed together, the aisles cramped, and standing room is few and far between. And the students? Well, they're nuts. I snuck down to the student section and let my ears soak in all that makes the Lynah faithful the best student section in all of college hockey.
In a few years, I look forward to coming back to this region to see new, on-campus arenas at Penn State, Colgate and Rochester Institute of Technology, and who knows, possibly UConn, too. But before then, I've already got my trip planned for next season — I'm looking forward to getting back to the Land of the Irish to see their still fairly new pad, plus hit up Michigan's Upper Peninsula and across into Minnesota to soak in the great game-day experience that is college pucks.
Joe Connor is a freelance college hockey writer and author of the annually-updated online travel companion, "A Fan's Guide to the Ultimate College Hockey Experience," which is available for purchase exclusively at his web site, www.mrsportstravel.com.