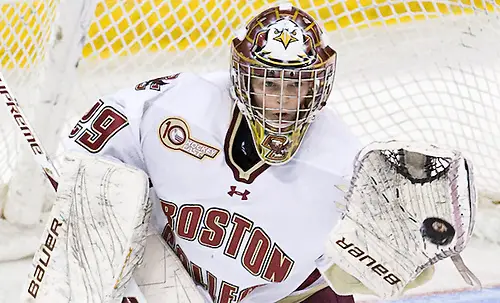 The fact that the Eagles have yet to hoist a Hockey East regular-season banner is all the more perplexing given they have reached the Frozen Four in each of the last three seasons. Boston College appears destined to advance to the Frozen Four hosted by Quinnipiac with the 2014 Hockey East crown already secured in its trophy case.
Even with its favored status, BC has some big holes to fill.
Blake Bolden, the anchor on the Eagles' blue line has graduated, as has defenseman Dru Burns. However, coach Katie King Crowley has talent poised to step into those roles.
"On defense we have Emily Pfalzer, who will be coming back off an injury," she said. "We're excited to have her for full go on defense with Lexi Bender and Kaliya Johnson, who I think had their best game in the last game of our season — as freshmen, played like juniors if you ask me."
Up front, in addition to graduates such as Ashley Motherwell and Caitlin Walsh, King Crowley needs to reconfigure to cope with the loss of Alex Carpenter to United States national team centralization.
"Alex Carpenter — obviously, we're going to miss her," King Crowley said. "When you have a kid put up 70 points, she's a dominant player. We're happy for her and the opportunity that she's going to get with the national team."
The loss does not leave BC devoid of talent at the forward position, where last season's Hockey East Rookie of the Year returns after competing for a spot on the United States roster as well.
"We're fortunate to get [sophomore] Haley Skarupa back," King Crowley said. "She had an injury the second half of the year, so now she's back to being fully healthy. [Junior] Emily Field scored some really big goals for us this past year; she's coming back. Then we have seniors Melissa Bizzari and Taylor Wasylk up front who have been through a lot in their three years here, and I think will use that experience to help them this year."
Another strong recruiting class joins the squad.
"We have Kristin Capuzano coming from Mississauga Chiefs and she was the captain of the Canadian U-18 team," King Crowley said. "She's going to bring some experience in that realm and also some leadership for the younger kids.
"We have our two Honeybaked twins, Andie Anastos and Haley McLean, who've played together and they've known each other for a long time. Those two, hopefully, will feel comfortable quickly. Andie is a unique player in that she's always been a multi-sport athlete. She's played basketball and was on a really good basketball team, so we're excited to have her in a single-sport atmosphere where she can excel at hockey and continue to just get better. McLean will add some speed and quickness and can put the puck in the net from what we've seen in the past."
The Eagles appear to be set in goal.
"We're real excited for [Corinne] Boyles to be back; she had a phenomenal year for us last year and logged a lot of minutes for us," King Crowley said. "Now, she's been here and she's a fifth-year [player], so she really had a chance to experience a lot. Her sophomore year was behind Molly Schaus and she was able to learn a lot from her. Now she's very seasoned and knows what it's like to play in big games and knows what she has to do to prepare for those games."
With Boyles, Skarupa, and the rest, BC figures to win enough of those big games to emerge on top.