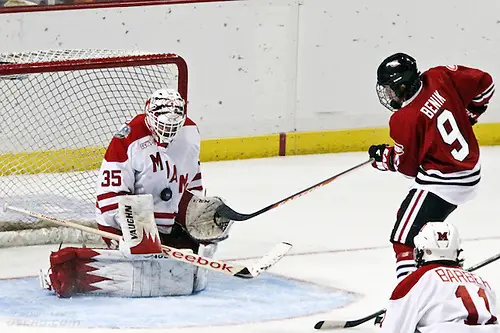 There's always a lot to get excited about when the season opens, and here are five players — some obvious, some not — that I'll be watching.
Boo Nieves, Michigan
Let me share this story. I saw Boo while I was still scouting amateurs for Toronto two years ago. He was playing in the USHL at the end of the season and I knew he was a Michigan commit. I saw two games and said to myself and a colleague, "I don't see what Michigan sees."
Now, I had seen Nieves play as a kid back out east and knew he was a big-deal player. So I'm thinking maybe he's a late bloomer. Then the Rangers grab him in the second round and I say, OK, the Rangers tend to do well with American kids in the draft so maybe I saw two lousy games. Maybe he had the flu. Who knows?
I'm in Ann Arbor last season to do a Michigan game and I tell Boo this story. He laughs and says, "I agree, I wasn't real good in that USHL stint I had. I didn't start to feel more like myself until I got here." It certainly made me feel better about my scouting abilities.
It seemed like it was about the first weekend of December when Nieves started to do things that made him look like a pro. I saw most of Michigan's games either live or on film in the early part of the season, and despite how bad they looked at times he was emerging. His quick cutbacks, change-of-pace plays on the rush, ability to find seams and the way he made any line he was on better really caught my eye.
In the second half of the season, there were times he looked like a senior. His ability to slow the game down, make "little things" plays and also make big plays stood out. He impacted shifts, he helped Michigan decide games, and he showed he could play big minutes and in key spots. He looked like a first-round pick.
Sophomore seasons can be tricky for breakout freshmen, but Nieves is surrounded by some good offensive players. His former coach in prep school, Michigan alum Matt Herr, told me Nieves can be the type of player that can be an elite player at the NCAA level. I'd keep an eye on Nieves. Big Ten defenses certainly will.
Matt Grzelcyk, Boston University
I think he could be a big-time player this season. He was great last year and under new coach David Quinn, a former BU defenseman who is all energy and very demanding, a player with Grzelcyk's skills could be scary. His playmaking skills are a combination of tremendous vision, excellent passing skills, quick release and an ability to get shots to the net.
He has the skating skills to put teams on their heels. He has an accurate shot and likes to use it. He has that Jon Merrill ability to not get caught in a bad spot with the puck and has the hand and foot skills to get out of trouble when under pressure.
Grzelcyk has above-average hockey sense and can keep a forecheck honest because he either can throw a great first pass or look off an option and keep it himself. Players that can create space for themselves are rare, and he has that ability. He should have a big season.
Joey Benik, St. Cloud State
So I'll share another story.
Last year I was sitting in the ESPNU studios as an analyst (along with Michigan State coach Tom Anastos) during the NCAA regionals when Benik went off for four goals in two games, helping St. Cloud State to the Frozen Four. The common question around the studio was, "Who is this kid?"
So I pop out the computer, look him up in Rinknet and see that he was as offensively prolific in Minnesota high school play as anyone I had ever looked up. His numbers in Penticton of the BCHL also were pretty special. The Minnesota guys must know him, so I made a couple of calls and was amazed at what I was hearing from some Minnesota-based amateur scouts from around the NHL.
The general theme was that Benik had played in a high school program (St. Francis) that was good but he was clearly the superior player in the program. His goal-scoring numbers were off the charts, Gretzky like, but that was a bit of a byproduct of the league. Then he went to the BCHL and outscored teammate Mario Lucia his last year there. He put up 152 points in two years.
One line stuck out that night. It was one scout who said, "When the top-end guys clear out after this year, he could finish in the top two or three in scoring on the team. When he is a senior, he could lead the NCAA in scoring. He could become a really special NCAA player."
Pretty high praise but not surprising to Huskies coach Bob Motzko. During a chat at NCHC media day, Motzko said that what we saw in the regionals wasn't shocking considering his talent level and track record. Benik suffered an injury 20 minutes into his first practice at St. Cloud State and it took him a while to get back in the lineup and playing again. Once he got comfortable and adjusted, a half a season later then every other freshman, he started to put it together.
Benik is coming into this season hoping to ride the momentum of last season and off a great summer workout plan. The more Minnesotans I talk to, the more I get the feeling this is a player to keep in your line of vision.
Josh Atkinson, Alaska
I got a chance to see Alaska play about eight games last season and this kid stood out every game. At the NCAA level he is an impact player who will be a well-tracked free agent as he gets older if he keeps developing. His coach, Dallas Ferguson, was a pretty dynamic offensive defenseman at Alaska so Atkinson is in great hands the next three years.
Atkinson is a playmaker who is composed with the puck. Teams with speed that closed on him quickly and stayed in his face gave him some trouble but he also showed great ability to feel pressure and move the puck. He has his oops moments but also made some really composed plays, especially on the road. The three road buildings I saw him in were Notre Dame, Michigan and Ferris State, and he was a factor in those games — including sweeps in Ann Arbor and South Bend on back-to-back weekends. He had a goal, an assist, a plus-1 rating and a 5-1 record in those six games, which are great results for a freshman defenseman in those atmospheres.
Atkinson could use another step to make his puck movement skills that much more effective, and his defensive game could be inconsistent but he was only a rookie. Now, one year better and one summer off-ice program later, he could be poised for a big season.
Tommy Fallen, Yale
When you are the national champs, you should have a player on the watch list. Yale has some elite offensive guys and solid all-around players. I think Fallen is underrated.
He reminds me of Kevin Peel, a former Yale defenseman. Both have a big shot, both can skate, both are tenacious, and both have hockey sense. Fallen showed he knew when to use the big shot and when to move the puck. His skating ability allowed him to make plays in all three zones, and he kept his game pretty low risk.
Composure was a big part of his game last year, and when you have good foot speed and confidence you can make the better-than-average play in tough areas. I think Dillon Simpson is the elite defenseman in the West, and there are aspects of Simpson's game that you can find in Fallen.
Fallen had nine shots on goal, was plus-3 and had an assist in Yale's NCAA tournament games. A lot of what he did was not in the box score. He has that ability to make you watch him play. Do yourself a favor and go watch.
There are many players that would be on a college hockey watch list but these are just five that came to mind as opening weekend came calling.