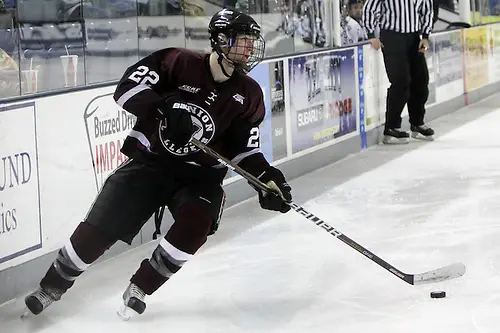 Coming off a two-title, Frozen Four campaign in 2011-12, Union showed that it had nothing if not great timing last season.
The Dutchmen peaked with two seven-game unbeaten streaks at just the right times: One helped the team open the season 6-1-1; the other carried Union through the league playoffs, into the NCAA tournament and on to the East Regional final.
Union's second straight Whitelaw Cup — awarded to the ECAC Hockey tournament champion — wasn't worth much to that regional final opponent, runaway regular season champion Quinnipiac, which dismantled the Dutchmen 5-1 to advance to Pittsburgh.
It was a tough result for Union, especially in light of the fact that the Dutchmen had just dispatched of defending national champion Boston College by the same 5-1 score the night before. If the program hopes to match the accomplishments of its past two teams, it will have to succeed while ascending a steep learning curve.
Union lost seven players from last year's crew, including two early departures: Juniors Josh Jooris (29-59–88 in 117 career games) and Troy Grosenick (.930 save percentage and 1.89 GAA in 71 appearances) forfeited their senior seasons in exchange for professional contracts. Along with the graduation of other major contributors, Union is looking a bit wet behind the ears in advance of another tooth-and-nail ECAC schedule.
"[Consistency] is the name of the game. If we have to rely on our freshmen this season, it's going to be a long ride," said third-year coach Rick Bennett. "Last time I checked, you're not going to put a 'C' or an 'A' on freshmen, so our upperclassmen are really going to have to step it up this year. We'll rely on them a ton. Whatever we lost this year, so be it. Every coach has lost some players, so we've got no excuse at all."
Defensemen Mat Bodie and Shayne Gostisbehere will be expected to play top-tandem minutes with top-tandem results on an otherwise inexperienced blue line. The pair ought to be up for it, having averaged 38 games apiece over their five combined campaigns.
Third-year goaltender Colin Stevens has played well through enough Division I minutes to reassure Schenectady supporters, posting .931/1.62 numbers in a dozen appearances last year, and .921/1.96 in 23 career outings.
It's always hard to tell what the rookies will bring to the table — they will undoubtedly have to produce in order for Union to win this season — but one newcomer who will be tough to miss is forward Eli Lichtenwald. The 6-foot-6, 235-pound Saskatchewan forward could make life difficult for league goalies and defenders.
Bennett knows the challenges that lie ahead, but he has no time for doubt.
"It's 22 league battles," he said, "and you have to be ready to go."
About the Dutchmen
2012-13 overall record: 22-13-5
2012-13 ECAC Hockey record: 10-8-4 (fourth)
2013-14 predicted finish: Tied for third in the coaches' poll and fourth in the media poll
Key losses: F Kyle Bodie, D Greg Coburn, F Wayne Simpson, G Troy Grosenick, F Josh Jooris
Players to watch: D Mat Bodie, F Daniel Carr, F Daniel Ciampini, D Shayne Gostisbehere
Impact rookies: D Noah Henry, F Eli Lichtenwald, F Mike Vecchione
Why the Dutchmen will finish higher than predicted: Colin Stevens will quickly prove to be the next great Union goalkeeper, following in the footsteps of Keith Kinkaid and Troy Grosenick.
Why the Dutchmen will finish lower than predicted: Stevens and his fellow returners are slow to pick up where they left off, leaving too much responsibility at the feet of ill-prepared freshmen.