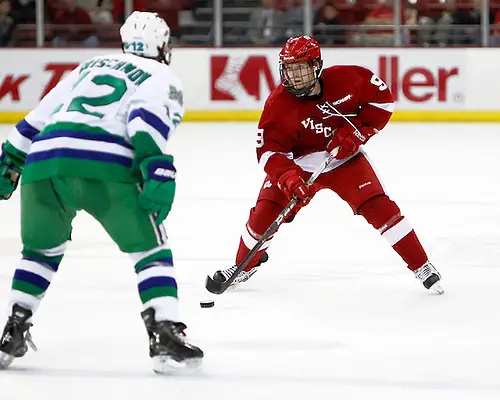 After winning the postseason title in its last season in the WCHA, Wisconsin looks poised to find success in the Big Ten this season.
One thing the Badgers have going for them is experience, with the team returning a majority of its scoring leaders from last season. The lack of turnover led to the Badgers being picked as the preseason favorite in the conference by the coaches.
"It's almost a natural thing to happen because of the fact that we are an upperclassmen team," Wisconsin coach Mike Eaves said at the league's media day. "I don't think it changes anything we do in terms of our expectations and the way we want to conduct our business."
Three of the four Badgers players with 30 or more points last season — Michael Mersch, Mark Zengerle and Tyler Barnes — were juniors and will return for their senior seasons. Nic Kerdiles was one of the nation's top-scoring freshmen last season with 11 goals and 22 assists in 32 games.
This season, Kerdiles will make the move from wing to center.
"Nic has been a center in his life, I think he likes that position," Eaves said. "I think he gets more touches in the middle, so it's a pretty natural progression."
Wisconsin also will have experience between the pipes in juniors Joel Rumpel and Landon Peterson. They split time early the past two seasons, with Rumpel getting most of the calls later in the year.
"In the beginning of the year, we've done this the last couple of years, we've switched back and forth," Eaves said. "And then at the end of the year you want to see who is doing well and who has the hot hand and you try to ride them a little bit more."
Even on a team loaded with experience, Eaves said that he fully expects to need to call on his younger players at some point during the season.
"We've brought in five young men," Eaves said. "Out of that five, we'll need a couple of them to step up and hopefully be positive factors after Christmastime, because it will take a little bit to get used to this level."
The Badgers' incoming freshmen are Grant Besse, Aidan Cavallini, Tim Davison, Corbin McGuire and Jedd Soleway.
About the Badgers
2012-13 record: 22-13-7
2012-13 WCHA record: 13-8-7 (tie-fourth)
2013-14 predicted finish (coaches' poll): First
Key losses: F Derek Lee, D John Ramage
Players to watch: F Tyler Barnes, F Michael Mersch, F Mark Zengerle, G Joel Rumpel
Impact rookie: F Grant Besse
Why the Badgers will match their selection in the coaches' poll: Nic Kerdiles could be in for a big season after switching from wing to center, which could be a scary thing for opponents because he averaged more than one point per game as a freshman.
Why the Badgers will finish lower than the coaches' poll: The Badgers suffered from a slow start last season, going 2-7-5 in their first 14 games. If they have a similar start this year, and another team in the small six-team conference gets hot early, the hole may be too large to climb out of. That being said, the Badgers don't play a conference game until late November.